Dovetailing Two Worlds: A Frontier House Survives Two Centuries
See how one couple renovated this 1830s log cabin on the Canadian frontier to create a modern rustic home.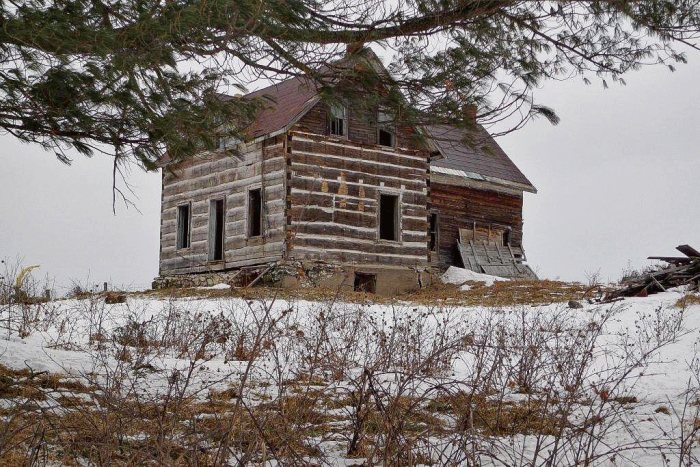 Gregory and Carolynn Schipa of Weather Hill in Warren, Vermont, have been restoring historic houses for four decades, but few projects were as unique as the chance to resurrect a dovetailed log building hewn by Scandinavian settlers to Canada in the early 1800s. 
Dovetailed joinery, in which board ends shaped like trapezoidal tails interlock at corners, is usually a feature of fine furniture. But because such joints rarely pull apart, they were also an enduring way to join massive white pine logs culled from primeval forests. The settlers were sturdy, as well. It took grit to homestead where winters heaped snow house-high and the mercury plunged to -40°F.
 
Few houses from that era survived. "Most of them just rotted away," Gregory explained. "Water seeped into the dovetails or migrated up through unmortared foundations. Fortunately, the log structure we found was in pretty good shape, despite the harsh climate. About 20 years after the house was built, someone covered the logs with clapboards, which cut the wind whistling through the walls and, more important to us, protected the logs. The builders were also smart enough to raise the foundation well above grade, so that only one or two of the sills needed to be replaced. 
"We bought the building from an old guy near Ottawa, who saved historic dovetailed houses wherever he could find them. He didn't restore them, but he took them apart, marked each joint so it could be refit exactly, fixed anything that was rotten or bad, and then sold the disassembled logs. After months of e-mail exchanges to figure out what he had (and in what condition), we finally struck a deal. Once the new foundation and the deck were ready, he showed up with a flatbed stacked with these gigantic Lincoln Logs. Our construction crew are pros, so we took it from there. 
"This wasn't a purist restoration; we were using historic components to create a modern rustic house. What we were after, mainly, was an inspired 'great room' for family gatherings, so our design path was straightforward. We strived to make no further cuts in the logs, to reuse the holes and proportions of the original fenestration. The old front door, for example, became the dramatic bay window on the southern side. We reused doors, much of the flooring, and the stairs—though we added a simple rustic balustrade to dress them up a bit. 
"To cut air infiltration and improve energy conservation, we placed a closed-cell foam strip between each 8-in. by 8-in. log. Basically, the log crushes it and fills in the space. Using spray foam, we filled any cracks that were still visible. Then we covered the exterior with Tyvek and 2 in. or 3 in. of Thermax rigid foam before applying rustic poplar-bark shingle siding. Inside, a professional chinker filled remaining gaps with foam before applying an elastomeric plaster that can accommodate seasonal expansion and contraction without compromising the air-seal. 
"We were lucky to have clients who could appreciate such a restoration. Given the skill and materials it took to construct this house—virgin pine forests and the times and circumstances through which it survived—it's rare indeed. That world no longer exists." 
Project size: 1000 sq. ft. (great room), 1000 sq. ft. (porches)
Design and construction: Carolynn and Gregory Schipa, The Weather Hill Company, Warren, Vt. 
See more photos of this home on the Weather Hill Company's Houzz page.
---
This blog was adapted from Renovation 5th Edition (Taunton, 2019). A hefty 656 pages, R5 is a trove of pro tips and techniques that builders shared with me over four decades, plus roughly 1000 photos taken on job sites across North America. I hope you find it useful. – Mike