Using Metal Studs to Level a Sloping Ceiling
Metal studs are light enough to go up quickly, but sturdy enough to support a new drywall ceiling.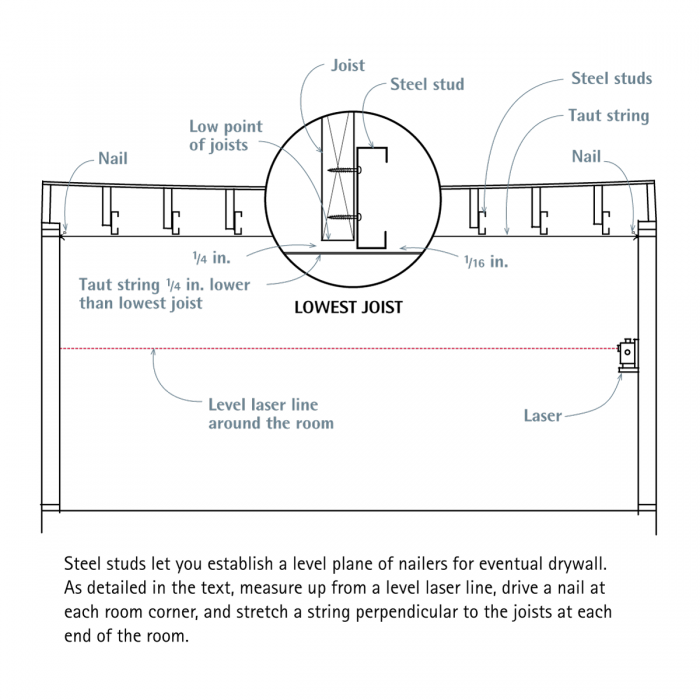 As shown in the illustration above, metal studs really shine when you need to level a ceiling whose slope would be especially noticeable against, say, cabinets with crown molding. Because metal studs are so light, they go up quickly, yet they are sturdy enough to support a new drywall ceiling. This procedure is called "furring down a ceiling," and using metal studs is much easier than ripping tapered wooden strips to create a leveled ceiling, which is hugely time-consuming and often doesn't look very good. 
Start by tearing out the existing drywall or plaster ceiling to expose the ceiling joists. (If ceiling joists are undersize or rotted, fix those conditions first.) 

Using a laser level, establish a level line around the room,

1

⁄4 in. below the lowest point of the ceiling joists. 

At this height, drive nails into the corners of the room. Stretch string perpendicular to the ceiling joists at both ends of the room and roughly every 3 ft. or 4 ft. in between. 

With the aid of a helper, lift the steel studs over the leveled strings, and lower each stud until its bottom edge is

1

⁄16 in. above the strings. (The

1

⁄16-in. gap is necessary to avoid moving the alignment strings.) 

Once each steel stud is correctly positioned, use 1-in. self-drilling screws to attach it to a joist face; space screws every 16 in. along the length of the stud. Place screws back at least

1

⁄2 in. from the lower edge of the joist. Use aviation snips or a metal-cutting blade in a reciprocating saw to cut lightweight steel studs. 
---
This blog was adapted from Renovation 5th Edition (Taunton, 2019). A hefty 656 pages, R5 is a trove of pro tips and techniques that builders shared with me over four decades, plus roughly 1000 photos taken on job sites across North America. I hope you find it useful. – Mike
Previous:
When Wood Falls Short, Steel I-Beams Do the Trick