Soundproofing: A Successful Hybrid Approach
A combination of special clips, channels, and acoustical sealants adds up to the perfect solution for building a quiet room.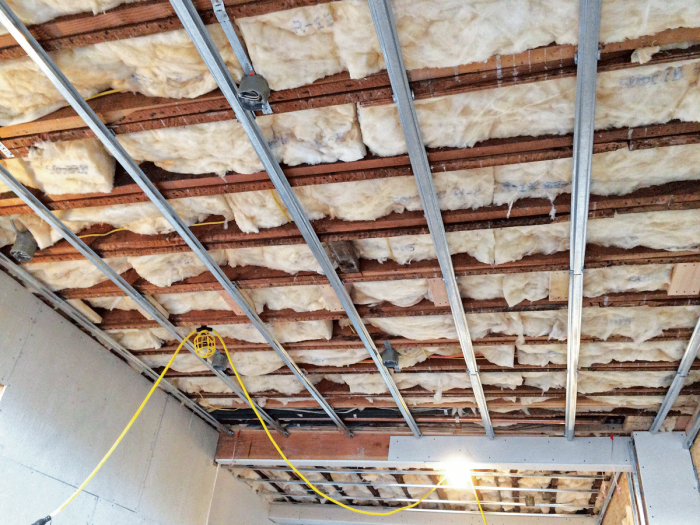 This soundproofing assembly mixes materials from several manufacturers and does an excellent job. It features: (1) Pilteq GenieClip RST sound isolation clips, rubber-and-steel mounts that screw to studs or ceiling joists; (2) 25-gauge steel hat channel that snaps into the GenieClips; (3) two layers of 5⁄8-in. drywall; (4) Green Glue Noiseproofing Compound, applied between layers of drywall; (5) Green Glue Acoustical Sealant, to caulk perimeter gaps around wall and ceiling panels; and (6) SSP Putty Pads, resilient sheets that, when molded to the outside of electrical boxes, stop air and noise leaks. There are many competing products, so choose ones that are effective and easy to install.
| | |
| --- | --- |
| | |
Setting up, laying out. Snap horizontal chalklines across stud edges to locate the rows of hat channel. Channels (and thus, the clips that support them) should be spaced 24 in. apart (vertical distance). The bottom row of channels (and clips) should be 3 in. or less from the floor, and the top row of channels (and clips) should be
6 in. or less from the ceiling. Clips should also be placed wherever a section of hat channel ends.
In addition to spacing clips 24 in. vertically, space them 48 in. apart horizontally, as shown in the illustration below. This is best achieved by installing clips in a zigzag pattern, with clips attached to every third stud for framing spaced 16 in. on center (O.C.) or to every second stud for framing spaced 24 in. on center. Use 15⁄8-in. coarse-thread (Type W) drywall screws to secure sound-isolation clips to studs.
Use a pair of metal-cutting shears to cut hat channel to length; wear sturdy gloves to protect your hands. To attach the hat channel, insert its lower edge into the bottom lip of the GenieClip, then press the top edge of the channel down until it snaps into the top lip of the clip. (This is most easily done with two people.) Where sections of hat channel meet, overlap their ends by 6 in. and join them with two self-tapping sheet-metal screws.
Installing drywall panels. When measuring and cutting wall panels, leave a gap of 1⁄4 in. around the perimeter of each wall section so there is room for acoustical sealant. To elevate the bottom panel(s), place 1⁄4-in. plastic spacers along the foot of the wall and set the panel(s) atop them. Screw the drywall to the hat channel. Typically, one will use 11⁄4-in. fine-thread (Type S) drywall screws to attach 5⁄8-in. drywall, but size and space screws according to local building codes. When you press drywall that is screwed to hat channels, it will be slightly springy to the touch because it is decoupled (isolated) from the studs. Important: Don't use screws that are too long, which could penetrate framing and transmit sound.
Caulk the 1⁄4-in. gap around each wall section with acoustical sealant, and you're ready to install the second layer of drywall. It, too, should have a 1⁄4-in. gap around its perimeter, but stagger panel seams so they do not line up with those of the first layer. This second layer of 5⁄8-in. drywall will be glued to the first and screwed to the hat channel, using 17⁄8-in. Type S screws spaced according to local building codes.
Green Glue or any other noiseproofing compound should be applied generously to the back of drywall panels; use two 28-oz. tubes of Green Glue for each 4-ft. by 8-ft. panel. Though the adhesive can be applied in a random pattern, it should be distributed evenly. Leave a 2-in. to 3-in. border around panel edges so you can lift it without getting glue on your hands. Noiseproofing compounds, which remain flexible, typically transform the mechanical energy of sound waves into small amounts of heat. Compounds set, however, so it's important to screw panels to channels within 15 minutes of applying glue.
Caulking and finishing. Caulk with acoustical sealant the 1⁄4-in. gap around the perimeter of the wall section. If there are electrical boxes in walls or ceilings, form Putty Pads to the outside of those boxes to stop air leaks and sound transmission before closing up stud bays with drywall. Spackle, tape, and paint the second layer as you would any drywall.
Soundproofing ceilings is essentially the same—apply Green Glue Noiseproofing Compound between layers of drywall, screw drywall to hat channels secured to ceiling joists, and caulk around the perimeter. And have plenty of help to lift and hold panels in place as you are screwing panels to hat channels.
---
This blog was adapted from Renovation 5th Edition (Taunton, 2019). A hefty 656 pages, R5 is a trove of pro tips and techniques that builders shared with me over four decades, plus roughly 1000 photos taken on job sites across North America. I hope you find it useful. – Mike
RELATED VIDEOS
How to Soundproof a Bedroom Using Green Glue & Double Sheetrock
Cheap Tricks for Soundproofing
How to Soundproof a Wall Separating a Bedroom from a Family Room