Making Solderless Copper Connections
Making solderless copper connections has never been easier.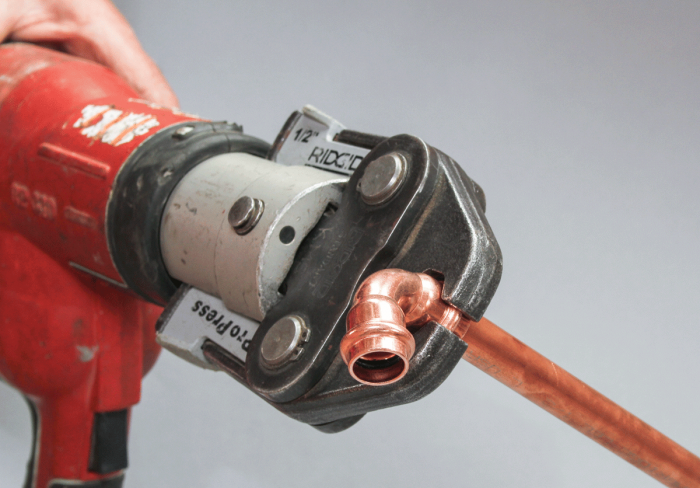 Traditionally, joining copper pipe and fittings required soldered joints. Solderless copper systems, invented in Europe in the 1950s and introduced to the U.S. in the 1990s, have rapidly gained ground since then and are approved by all major codes and most states. 
There are two main types of solderless copper fittings: push-connect and press-connect. Both types offer a range of fittings, valves, and specialty items, and both feature rubber o-rings (gaskets) inside to create a positive watertight seal. Most push-connect types can be joined without tools and can be taken apart and reassembled; press-connect fittings, which require a special pressing tool, are permanent. 
Prepwork. Prep is the same for both push-connect and press-connect systems. Check pipe ends for damage, because pipes that are dented or out of round may not seat correctly in fittings. Look inside each fitting to make sure its rubber o-rings are intact.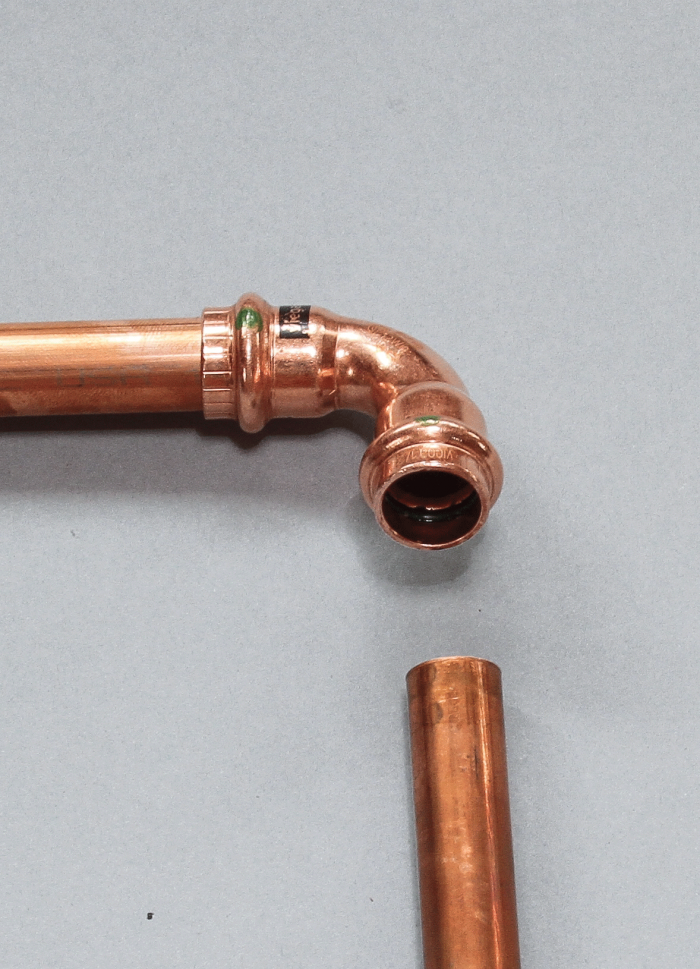 Use a felt-tipped pen to mark the correct seating depth onto the pipe. Use a tubing cutter to cut the pipe square, ream its inside to remove burrs, and chamfer or sand its outside so that a sharp pipe end doesn't nick or slice the o-ring. 
Making connections. For push-connect fittings, push the pipe into the fitting until it seats. If the fitting can be disassembled, its manufacturer will provide a plastic disconnect clip that, when pushed against the fitting, unlocks a gripping ring inside the fitting. 
To join press-connect fittings, you'll need a pressing tool, which has different sizes of jaws. Choose a pressing jaw appropriately sized for the fitting (for example, 1⁄2 in.). Place the pipe into the fitting, then place the tool's pressing jaws over the bead (hub) of the fitting. Hold the jaws of the tool perpendicular to the tube/fitting and pull the trigger. When the pressing cycle is complete, release the pressing jaws and inspect the joint. 
---
This blog was adapted from Renovation 5th Edition (Taunton, 2019). A hefty 656 pages, R5 is a trove of pro tips and techniques that builders shared with me over four decades, plus roughly 1000 photos taken on job sites across North America. I hope you find it useful. – Mike