Home-Building Trends to Watch for in 2020
The residential construction industry is as much about design and business as it is about tools and materials. Learn what trends could be shaping the way houses are built in the year to come.
Sponsored by DuPont Performance Building Solutions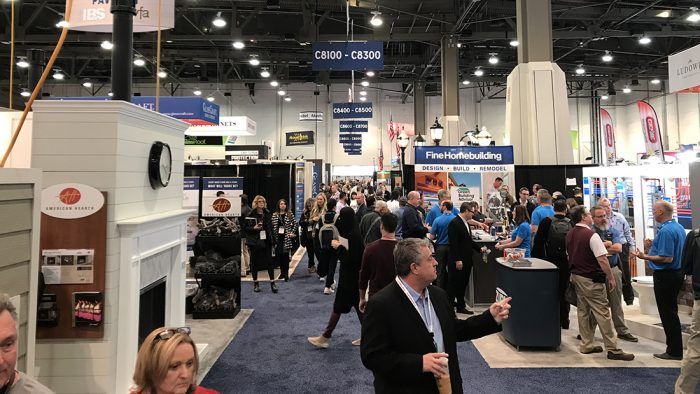 The International Builders' Show/Kitchen and Bath Industry Show (IBS/KBIS) is the largest show in the US that focuses on residential building. With over 1400 exhibitors and 150 plus educational sessions, it's a bellwether of the industry's direction. Here are some trends we saw signs of at this year's show and that you should expect to see more of in the year to come.
Who's going to build our houses?
Nearly every builder you talk to has the same complaint: They can't find good help. You hear the same reasons from whatever quarter of the country you're from. According to the National Association of Home Builders, the labor shortage is the top complaint of builders in 2019. Why? A variety of causes are blamed. Our educational system has given the trades short shrift, focusing instead on directing kids into white-collar work. Or not enough people in recent generations have had first-hand exposure to the building trades and realized all of the positive things they have to offer (ex. getting paid to learn a skill, having the satisfaction of working with your hands, and avoiding the burden of student loans). Or name-your-reason.
What does matter is addressing the labor shortage, whether through education or tapping into non-traditional demographic groups. IBS/KBIS offers several educational sessions on this topic. Plus there's the Young Pro Party, intended to help the under-40 crowd network, and Fine Homebuilding's Keep Craft Alive event, the biggest annual gathering of a growing grass-roots community that leverages both social media and in-person meet-ups to connect with people who are passionate about the building trades. The NAHB student competitions put the spotlight on the youngest segment of the industry, giving students opportunities to challenge themselves as they build home-building skills. A growing segment of construction workers are women, and the show has networking events specifically for them.
Market disruption
We've been building and selling houses in largely the same way since the GIs came home from WW2, while most other segments of the economy have changed drastically. Think about phones, retail, and travel. Those GIs had to dial their phones, never once used them to order anything from Amazon, and thought air travel was luxurious. Boy, would they be surprised today! But they would have little trouble understanding the housing market.
Until now. Expect to see big changes not only in what we build, but where it gets built, how it gets financed, and who does the buying. It's not a surprise that multiple educational sessions at the show contain the word "disruption" in their title.
Green building
Climate change is on nearly everyone's mind, but the housing market has been slow to catch up with the concerns. That's about to change significantly. In the next few years, building codes are going to mandate major changes ranging from insulation standards to requiring blower door tests on new houses to ensure they meet new air leakage standards.
Look for educational sessions on the show floor that focus on what these code changes mean for the trades, as well as for educational sessions and exhibitors showcasing membranes, tapes, sealants, and other energy-focused products to help you build with the planet in mind.
Smart homes
We've been hearing about smart home technology for a decade now. It's finally coming of age with a variety of off the shelf products to control systems from home security to HVAC to entertainment and down to individual lights.
Expect to find both classes and exhibitors focused on expanding the use of cutting-edge technology, both in our homes and our home-building businesses . The latter can be found in the Show's CEDIA Pavilion.
Outdoor living
While not exactly a new trend, outdoor living is a trend with long legs. Still an active category, you'll find exhibitors at the Outdoor Living Pavilion focused on low-maintenance products as well as ones designed to help contractors cement their place in a profitable niche market.
---

This home-building-insights report sponsored by DuPont Performance Building Solutions 
DuPont is committed to helping customers build energy-efficient, resilient and durable shelters in today's rapidly changing world. Through award-winning design innovation, DuPont takes an adaptable approach to balancing design and function, while being resource conscious and sustainability centered. 
DuPont returns to IBS to showcase its newly expanded portfolio, including DuPont(TM) Styrofoam(TM) Brand, Tyvek(R) Brand products, Great Stuff(TM) Gaps and Cracks Insulating Foam Sealant and Corian(R) Solid Surfaces.
DuPont will highlight innovation across three areas of focus at IBS — productivity, resiliency and design. Stop by IBS booth C5837 to find out more.