Texas Homestead Revived
Builder/designer Richard Laughlin shores up a sagging 1800s farmhouse and uses salvaged materials to enhance its rustic character.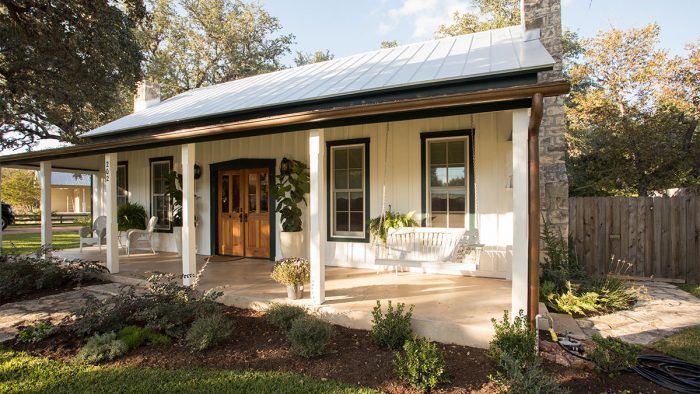 Located in Johnson City, Texas, this little charmer was built in the late 1800s as part of a family farm that encompassed hundreds of acres. The couple who most recently bought the place was committed to its full restoration. They looked to Richard Laughlin of Laughlin Homes + Restoration to revive the historical building elements, as they wanted to maintain the feel of an old homestead. To that end, they kept the same footprint—extending only the rebuilt porches—and reused as many turn-of-the-century architectural details as possible.
Before
Stabilizing the stacked-rock foundation and improving drainage was the first priority, as the house had succumbed to moisture—the floor sills and joists were rotted, and the subflooring was not salvageable. The entire floor was removed in order to level the building, pour a nonstructural concrete slab with foundation point loads inside the existing structure, and seal for moisture control. Laughlin explains that he replaced the rotted joists with 2×4 screeds and reinstalled the original flooring over those so that "it would not feel like a wood floor sitting on concrete."
Laughlin notes the house's original single-board construction, saying: "It's a bit different from what we typically see here. This house is just 30 miles away from our firm in Fredericksburg, but it was built in a totally different time frame—when people were poor and they had to made do with what they had. It was a farming community, and it was a simpler way of life." Because the exterior walls were uninsulated ¾-in.-thick 1x12s, Laughlin infilled with traditional 2×4 framing 16 in. on center, and created a spray-foam insulation cavity as well as a wiring cavity to improve the whole assembly. When it came time to clad, he scraped, repaired, and repainted all of the original clapboards.
Due to damage from a major roof leak, the kitchen was demolished down to the studs. (The roof was replaced with a standing-seam metal with hand-turned ridges for a "period feel.") The designer in Laughlin is always keen to work in salvaged materials that he sources both locally and globally. "When we are working on these old houses," he says, "we try to go back in with period-appropriate materials to match the patina of the original products."
Here he incorporated a pressed-tin ceiling complete with stamped crown molding—a rare find—that came out of an abandoned 19th-century commercial building. (The porch doors are another notable find; they date back to the 1700s and were sourced from Amsterdam.) Per the client's wish list, Laughlin also added a new breakfast nook to the kitchen, and all of the custom cabinets are his work.
The interiors draw character from the restored antique pine floors for which Laughlin sourced salvaged boards to replace those that were beyond repair. He also restored the fireplaces, adding newly designed mantels. In the same spirit, he reused what had been a wide-plank back wall of an L-shaped porch that had been enclosed sometime in the 1950s as an accent wall in the living room. (A portion of the porch was repurposed as a study.) Elsewhere in the house the beadboard ceilings were cleaned and painted.
To enhance the home's performance, Laughlin removed the existing HVAC systems to add high-efficiency units, and he replaced all of the plumbing. He also put in energy-efficient windows and an on-demand LP water heater.
With all of the structural reinforcing and performance-related upgrades, the house is set to live on for decades more. Not only is it sound, it's adorable. I commend Laughlin for his excellent design sense and fine craftsman's hand. The homeowner is so euphoric about the place that she still sends him thank-you messages two years after the project was completed.
Photos by Sarah Moore-Natsumi, courtesy of Hill Country Builder
If you have a project that might be of interest to our readers, please send a short description and images to [email protected].
An excerpt of this article appeared in Fine Homebuilding #293 titled "Shoring Up a Flimsy Foundation and Frame".
For more Texas houses: