Can You Install Tile Over a Porch Floor?
Tiling over decking is challenging, but creating a stable, waterproof surface with proper tile installation offers the best chance at success.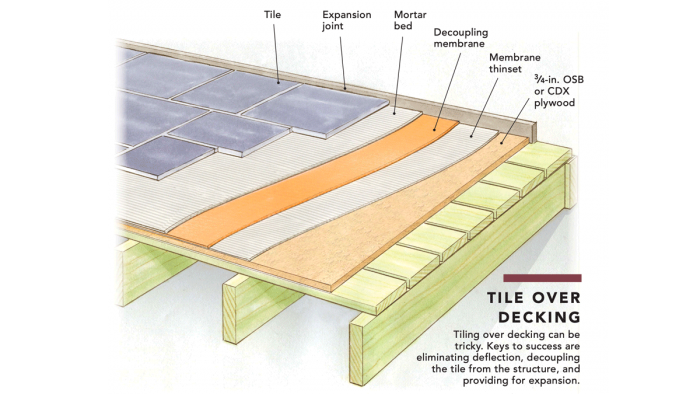 We have a covered side porch that we'd like to tile. It has standard pressure-treated deck framing, with 5/4×6 deck boards. Is there a way to tile that will hold up to New Hampshire's climate?
–Dave and Kathy via email
Tom Meehan, owner of Cape Cod Tileworks, replies: Particularly in New England, with our seasonal temperature swings and damp climate, tiling an outside room is challenging. The freeze/thaw factor combined with a good dose of water, whether it be from rain or snow blowing in, will put any floor to the test. If you can do something to keep the weather out, that would be ideal. As for the tile itself, here's what I'd do for the best chance of success.
The first priority is that the floor is stable and there is no deflection when it's walked on. If it is an open porch, then the floor should be pitched so that water does not pool and can escape to the outside. Install a layer of exterior-rated sheathing over the 5/4 planking, either 3⁄4-in. CDX plywood or 3⁄4-in. AdvanTech. This will strengthen the floor and prevent cracks that could be caused by the planking telegraphing up through the floor. You also need expansion joints at the perimeter all around the room to allow movement within the floor. The compressive polyethylene used by masons for expansion joints in concrete flatwork is perfect for this.
For waterproofing and movement control, I use a membrane over the sheathing— either Schluter-Ditra or Noble Company's Noble Deck. If the floor is large enough, the Tile Council of North America recommends expansion joints in the tile every 8 ft. to 12 ft. Schluter makes expansion joints in colors that closely match their grouts.
Proper installation of the tile is key. Follow the membrane and tile manufacturers' recommendations for tile mortar, grout, and trowel-notch size. It is very important for the mortar to cover at least 95% of the back of each tile. As you're installing the tile, occasionally pull one up and verify the coverage. Finally, apply two coats of a very good sealer such as Miracle Sealants 511 Impregnator Sealer, again following the manufacturer's instructions.
From Fine Homebuilding #291
More about tiling:
How to Tile Everything – Use the right substrate and mortar for a long-lasting tile installation.
For Great Tile Floors, Layout is Everything – Take time to snap a few chalklines and find where the cuts are, and tiling becomes an easier task with better results.
Using Tile Leveling Systems – Don't forget the basics.