Podcast 533: Missing-Middle Housing, Collateral Damage From Demo, and Midwest BS Symposium
The crew hear from listeners about good construction screws and Chicago building codes before taking questions about improving a row house, and fixing tile substrates.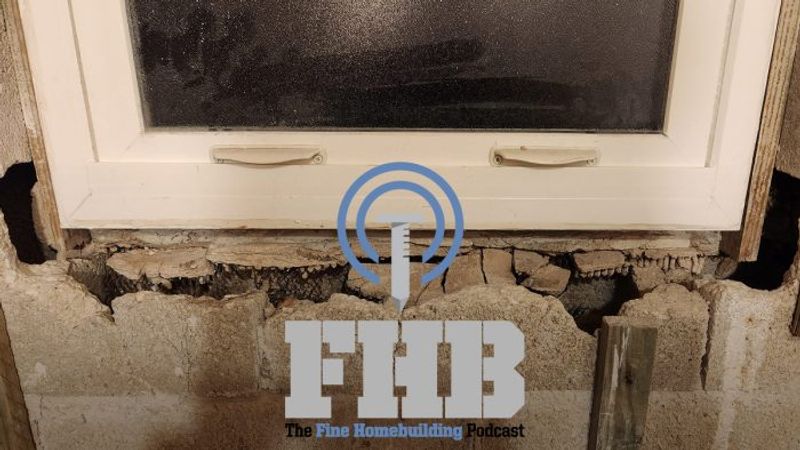 ---
Follow the Fine Homebuilding Podcast on your favorite app. Subscribe now and don't miss an episode:
Help us make better episodes and enter for a chance to win an FHB Podcast T-shirt:
www.finehomebuilding.com/podcastsurvey
Jim bucks up for FHB and gives a shoutout for good screws. Doug shares a high-tech faucet from the 1960s. Matt M. shares his thoughts on Chicago's building codes. Matt F. wants a discussion of improving attached dwelling units. Steven needs a way to fix the broken concrete block under tile.
---
Editor Updates:
---
Listener Feedback 1:
Jim writes: FHB Podcasters, Found your podcast about a year ago and it's growing on me. Sort of like the show theme music. Starts off slow and plucky and then ends up sounding like something worth listening to.
Backstory, my father-in-law gave me a subscription to FHB for Christmas each year starting in about 1987. Oddly, he stopped that a few years ago and I'm still trying to remember what I must have said at Thanksgiving dinner that year. I kept every copy for years until I moved from the West Coast back east and decided the library, sadly, had made its last trip. Flash forward to today and I am happy to report that I am BACK! Just plunked down my $79 dollars to make all my drive time that much more painful listening to you guys dispense your best-guessary, but more importantly I got my collection of FHB back in the cloud! And a cloud is much lighter than a few decades of your magazine.
A quick note on the podcast where you guys exclusively discussed fasteners, sorry can't find which # in the lineup. It was a great listen. I wanted to share my love of GRK Torx screws (available at the big orange box store) and one of their best features, they are RE-USABLE! My wife and I just finished building our forever home. We call it that not because we are planning on living here forever, but because that's just how long it took us to build it over nights and weekends! I fell in love with the durability of these screws and used them for braces, temporary structures, covering openings with sheathing, etc. While these screws are more expensive, they do not break, are very hard to bend, can withstand the weather for a long time, and still can be backed out and driven in elsewhere without issue. I would estimate that I was able to re-use 99% of the screws that were on the job, the 1% being lost to those in a concrete form or similar harsh use. They are also fabulous for cranking warped lumber into submission. One thing I did learn to make life easier on the job site is to standardize on one family of head size, like T-25. If you grab a box of these screws off the shelf without paying attention you will end up needing to have carry up to three Torx driver sizes in your pouch, which just slows the job down. Thank you for covering the evil practice of people using drywall screws in seemingly everything but drywall these days. Long live GRK!
Thank you for keeping the discussion lively and keeping those of us building science nerds in the loop. My hats off to everyone in the Taunton family as everything you guys produce in text, image, and voice is spectacular.
Stay healthy and prosperous in 2023!
-Jim
P.S. I am a residential technology system integrator, so if you need an expert on the same level as the quality of the advice you dispense weekly on the show, I'm your man. I've been in this part of the high-end residential trade since 1990, so I've seen it all (I hope) in my time.
Jim Felderman, President
C2 Design, LLC
Crestron Elite Pro Dealer
Related Links:
---
Listener Feedback 2:
Doug writes: Hi all, The discussion about digital shower valves in podcast 523 reminded me of earlier attempts to modernize a valve. In 1972 we purchased what would be our home for the next 40 years. Although the house was built in 1910, the kitchen had been "remodeled" in the early '60s. This included the Electro-Way Electro Sink Center. It replaced a simple kitchen faucet with a device that claimed to do everything. You pushed the hot or cold buttons for water and adjusted the temp with a separate knob. It also had a blender and mixer and a cable-driven dish brush. Within months I replaced this with a normal kitchen faucet. I found an example of this device on line.
Related Links:
---
Listener Feedback 3:
Chris in Chicago writes: Hello FHB Podcast crew, As always Episode 527 was a fantastic and informing time. Wanted to share my experiences similar to Chris' regarding Chicago's building codes. I should start by saying I'm an engineer living in Chicago and grew up helping my grandfather, who was an electrician.
Mike's comment about the codes being due to the Chicago fire of 1871 made me chuckle. Yes there are certain codes, like no wood siding or shingle roofs, that came out of that and still make sense in a dense urban area. The MEP codes don't have as much to do with the fire and are definitely heavily union influenced and contribute to increased housing costs in the area…if they're followed. NM cable has been listed in the National Electrical Code (NEC) since 1926 and widely used since the '60s. It's a joke that Chicago doesn't allow it.
His comment about just using something and not saying anything hit home too. Whenever I go to my local Menard's or Home Depot, I can't help but notice how much ROMEX is in the electrical departments. Odd that there's so much for sale when there's almost no code approved use for it in the city. My hunch is these billion-dollar companies, which keep very good data on the products they sell, would not have it on the shelves if there wasn't a demand for it. Unless there's a lot of temporary wiring going on that I'm unaware of.
The required use of conduit presents its own issues. My brother, who also lives in the city, recently asked me to change out the switch controlling his front porch light for one with an automatic timer. I did this last month on a cold day. When I took the cover plate off, I could literally feel the breeze coming through the conduit from the light outside. A house in Chicago definitely can't meet Passive House Standards. Our standard of 4 ACH50 is exceedingly average.
Now was I even allowed to do that without a permit, which of course only a licensed electrician can pull? One of the first electrical skills grandpa taught a 5-year-old me was "never pull a permit," and I have never forgotten that piece of wisdom.
The city of Chicago website is kind enough to tell me that I can change a light bulb or plug something into an existing receptacle without a permit. I'm just going to assume changing a switch is also "minor electrical repair work."
I shouldn't complain though. The city is actually better than some suburbs and does let a homeowner change out a lot of equipment, like water heaters, furnaces, and A/C, without a permit. Out in Oak Park you can't even change out a water heater without a permit.
Don't print my last name, I don't want any union goons showing up at my door since I'm giving it away that a lot of homeowners in the city are blatantly ignoring their cost-increasing code requirements!
Related Links:
---
Question 1: How can I update my row house?
Matt in Washington, DC, writes: Hi, Much of the topics on the podcast seem to focus on detached single-family homes, so I wonder if you could discuss any special considerations or differences when it comes to "missing middle" housing — townhouses, duplexes, small multi-unit buildings, or row houses that have the basement dug out and a third story added, which are then split into 2 two-story condos. I'm interested in these specifically because they are typically built in a similar way as the detached homes discussed on the podcast.
I live in a row house in Washington, DC, which is experiencing a housing shortage much like other cities in the country, and these kinds of structures are increasingly looking like the most effective way to increase housing availability in urban areas.
From my own experience I know there are at least some differences. For example, our house, built in the 1920s, doesn't fall neatly into either a leaky or airtight category—the front and back walls that are exposed to the exterior are drafty, but the interior of the house has relatively poor ventilation (CO2 gets up to around 1200 ppm with the windows closed and two adults working from home). These houses are also affected by issues with neighboring structures—I've lived in more than one place that was adjacent to a hollow shell with a missing wall or roof.
I'm curious to hear your thoughts about how to best build or renovate these types of structures, both from the perspective of a builder working on the full set of homes in a cluster and from an individual homeowner of a single unit.Thanks, Matt
Follow-up emails with Matt:
Hi Patrick,
Thanks for the quick response, photos are attached (apologies for the mess in the backyard photo, I'm installing a semi-prefab shed in the backyard to serve as a small woodworking shop.)

The original structure is masonry, however the previous owners finished the sleeping porch area on the main and upper floors, so I think there's probably wood framing at the very back. The previous owners did a light renovation of the house (updating the kitchen, finishing the porch, finishing half the basement), though a lot of the work seems a little slapdash or DIY, and I'm not sure if the quality or code compliance. Evaluating that work to see if anything needs to be re-done is part of why I'm asking.
General things to note about the house:
* We've rebuilt the front porch and replaced the roof.
* We have hot-water radiator heat and an A/C unit on the roof. We replaced the gas boiler with a conventional 80% efficiency unit when the old boiler bit the dust a few years ago (a direct-vent unit wasn't in the budget at the time).
* The electrical panel was updated to a modern 150-amp service, though most of the house still has the original cloth wiring. Only the basement and the finished back area have updated wiring.
* The windows are about 10 years old but not particularly high quality.
* The land slopes and the back of the house has a walk-out basement. It's not well graded, and we struggle with flooding back there. The outside drain is original to the house and easily clogs up.
* The renovated back-porch areas seem poorly insulated; they're significantly colder than the main house in the winter. The main-floor area in particular has a cold floor—it overhangs the foundation and is open below.
* There's an old storage room that was built sometime after the original construction in the rear basement exterior. They basically framed some of the brick pillars in with OSB sheets. Would be great to turn that into some kind of more usable space, but I have no idea if that's realistic.
Thanks, let me know if any other info would be helpful.
PM: Thanks for the thorough response. It's a good-looking house Matt and reminds me of some I worked on in Pittsburgh of similar vintage.
How to work on and improve these adjoined structures and what to do to make them more comfortable and efficient is a great podcast conversation. Is there anything you particularly dislike or would like to change about your house? Can I ask what houses in your neighborhood sell for?
Matt: Ventilation is one thing that comes to mind. The house is a sort of contradictory combination of both stuffy and drafty, which gets a little frustrating. We'd also love to put in solar panels, but the house to our south has a pop-up third story that casts a shadow on our roof and I'm not sure how to make it work.
One other issue is that, presumably due to space constraints, the A/C unit is on the roof, and when there's heavy rain we get some water coming in through the ductwork. I'm not sure what the exact cause is or how to address it (like, do we need to put a little elevated cover over the fan intake like the cap on a chimney?).
I'd also be interested in general tips on the best bang for the buck to create more usable space (like, turn the deck into a screened porch?). We talked with a couple of design-build firms about popping the house back, and it was shockingly expensive (like $300k+), so we're thinking about more affordable options. The little backyard prefab shed is one thing we're doing along those lines. We have two young kids and it's a somewhat small house. We'd love to stay but it's getting a little cramped.
Houses like ours in the neighborhood are selling for $800-$900k—more fully renovated corner units can be higher. These prices have jumped up in the last few years. We moved in almost 9 years ago when it was more affordable.
Thanks! Matt
Related Links:
---
Question 2: Will my bathroom reno plan work?
Steven writes: Greeting from the Space Coast of Florida! I am renovating our 5×8 "master" bath in our 1964 cement-block home and removing the tub to make a standup shower with fancy things to make my wife and I feel fancy. I demoed everything down to the studs, which mostly consisted of hundreds of pounds of 2-inch-thick walls of metal lathe, plaster, thinset, and pink tile. This troublesome (and sharp) lathe monstrosity was everywhere including the sill of the window. When it came to the window, I could not separate the tile from the plaster/lathe nightmare, and the result is what you see in the pictures. Technically rubble. I told my wife it was fine and that it wasn't a big deal. So please help me make it not a big deal.
| | |
| --- | --- |
| | |
My current, completely uneducated plan is:
1) Remove the window and demo the rest of the lathe/plaster.
2) Spray in some gap-filler foam into the cavities to create a base. (I am not putting lathe back down—it sucks and I refuse to believe man hasn't moved on from this technology in 2023.)
3) Screw a board into the wall to create a concrete form to put mortar in to rebuild the base for finishing for tile or marble or whatever the sill will be.
Alright, that's the plan. I think it sucks, but I can't seem to find anyone in the whole of the Google that has ever seen anything similar (how do you describe this in a Google search?). Additionally, I can't see to find anything similar in my FHB Archive files I got for Christmas last year. Do any of you have experience with this? Is my plan the best option? Is there anything that could help that you've seen at IBS or something? Should I just burn the house down and collect the insurance money so I can restart my FHB subscription?
Thanks for all your help!
Steven
P.S. Patrick, random question, in your work for Habitat, did you ever meet Jimmy Carter? He always looks like he smells like fresh-baked chocolate chip cookies, is this true? If not, don't tell me! The man's a treasure and I want to live in a world where Jimmy Carter smells like delicious cookies!
Related Links:
---
END NOTES:
Why you should go to the Midwest Building Science Symposium.
and
Podcast 533: Member's-only Aftershow — Training for Tradework
The crew talks with construction-business owner Joe Cook about learning tradework and how to run a business.
---
Check out one of our Project Guides: Siding & Exterior Trim!
Check out our FHB Houses:
Visit the Taunton Store  •  Magazine Index  •  Online Archive   •  Our First Issues   •  All Access
---
Help us make better episodes and enter for a chance to win an FHB Podcast T-shirt: www.finehomebuilding.com/podcastsurvey
---
If you have any questions you would like us to dig into for a future show, shoot an email our way:

[email protected]

.
If we use your question we'll send you a FHB Podcast sticker!
---
FHB Podcast T-shirts!
Represent your favorite podcast! Available in several styles and colors. Made from 100% cotton. Find the Podcast t-shirt and more cool products in the Fine Homebuilding Store.
---
Fine Homebuilding podcast listeners can now get 20% off anything in the Taunton store, including Pretty Good House.

Use the discount code FHBPODCAST to take advantage of this special offer.

"Finally, knowledgeable people talking about building reasonably-sized, high-performance houses for normal people with real budgets!"
— DanD, VA, 8/19/22, Amazon.com review
---
We hope you will take advantage of a great offer for our podcast listeners: A special 20% off the discounted rate to subscribe to the Fine Homebuilding print magazine. That link goes to finehomebuilding.com/podoffer.
The show is driven by our listeners, so please subscribe and rate us on iTunes or Google Play, and if you have any questions you would like us to dig into for a future show, shoot an email our way: [email protected]. Also, be sure to follow Fine Homebuilding on Instagram, and "like" us on Facebook. Note that you can watch the show above, or on YouTube at the Fine Homebuilding YouTube Channel.
The Fine Homebuilding Podcast embodies Fine Homebuilding magazine's commitment to the preservation of craftsmanship and the advancement of home performance in residential construction. The show is an informal but vigorous conversation about the techniques and principles that allow listeners to master their design and building challenges.
Other related links