Ceiling-Light Locator
Dig out insulation and inspect for obstructions before cutting the hole.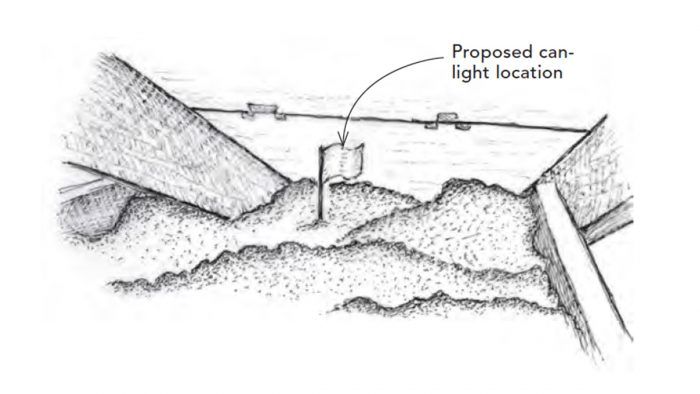 When we install a recessed can light in an existing ceiling with cellulose insulation above, we need to dig out the insulation before cutting the hole for the light. We start by drilling a 9/64-in. hole in the ceiling at the center of the proposed location. Then we take one of the little flags sold at the hardware store for marking underground utilities. We cut off the majority of the flag, leaving about a 1-in. piece. We roll the flag up around its metal rod, poke it through the hole, and push the rod up through the insulation. To keep it from falling back down, we bend the last inch of the rod 90° and tape it to the ceiling. In the attic, it's easy to spot the flag marking the proposed location. We can dig out the insulation and inspect for obstructions, and if the spot doesn't work, the small hole is easy to patch.
—March Coover, Dallas, Texas
Edited and Illustrated by Charles Miller
From Fine Homebuilding #292
More about recessed lighting:
Adaptable Recessed Lighting – Nora Lighting's versatile Iolite line of recessed lights is a step above average can lights with a wide range of designer trim and color options.