How-To
Air-Sealing Can Lights Safely
Common air-sealing enclosures can lead to melted foam, shorted wiring, and even fire; here's how to build a safe enclosure.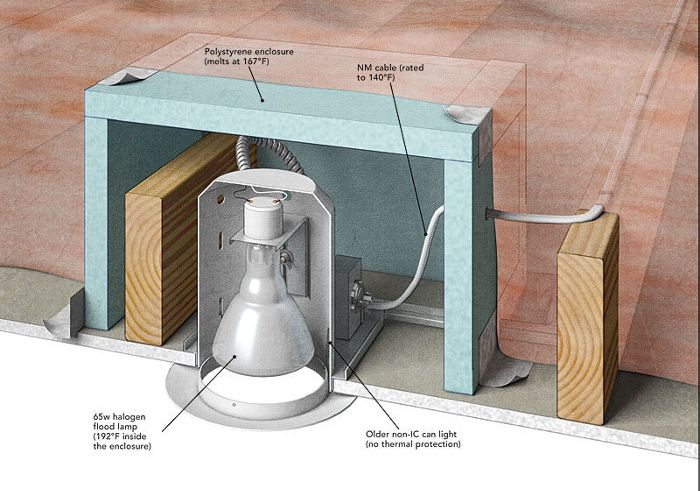 Synopsis: Using foam insulation is a common way to stop airflow through recessed can lights, which are notorious energy wasters. Unfortunately, the temperatures inside a foam enclosure can get hot enough to melt the foam or the wiring inside the enclosure, creating a fire risk. Veteran electrician and building-science expert Larry Armanda points out the potential dangers and shows how to seal up can lights safely and effectively. To determine just how hot it can get inside a can light enclosure, Larry constructed a purpose-built test rig and monitored the temperature inside with a four-channel data logger. Then using his temperature data, he designed a safer enclosure with modern wiring, a heat-resistant enclosure, and a long-lasting LED light bulb. Two detailed illustrations that complement the article show both a conventional can-light enclosure and Larry's safer enclosure.
---
I've been an electrical contractor and a building-performance professional for more than 35 years. Over the past two decades, I've read countless articles in Fine Homebuilding and other magazines that describe the use of enclosures built from drywall and foam insulation to air-seal can lights in attics. Sealing these notoriously leaky fixtures — which waste energy, allow moisture into the attic, and contribute to ice dams — is a good idea. Unfortunately, the way many builders and weatherization professionals approach the work is potentially dangerous. The problem is that heat generated by the lightbulb and trapped within the enclosure can melt the wiring's plastic insulation, leading to arcing and fire.
Air-sealing can lights safely isn't a new concern of mine. I did my first research in 2001 and published the results in Home Energy, a magazine for the weatherization industry.
I recently completed new research into the subject. This time I built a more comprehensive test rig that mimicked common ceiling construction, and I tested five types of air-sealing enclosures: three homemade versions (2-in. polystyrene insulation, 1-in. foil-faced polyisocyanurate insulation, and 5⁄8-in. drywall) and two manufactured enclosures (CanCoverIt and Tenmat). In turn, I installed these enclosures over fixtures (with the can light's thermal safety switch bypassed so that I could determine the maximum temperature inside the various enclosures) and taped them to the drywall ceiling with foil tape, similar to how weatherization crews would install them.

Attics add to the problem
Summertime attic temperatures prevent heat within the enclosure from dissipating, which adds to the risk of shorted wiring and fire. To simulate the worst-case scenario, I built a large insulated box over my test-light setup and heated it to 135°F with a 300w lightbulb. (Attics in my part of Pennsylvania routinely get this hot on summer days.) I ran a total of 35, 12-hour tests with seven different lightbulbs in each of the five enclosures. I recorded the temperatures inside the enclosures in three locations and inside my "attic" test space with a four-channel HOBO data logger. What I found is alarming.
The highest temperatures recorded approached 250°F with a standard incandescent bulb. Although this isn't the bulb that these fixtures are designed for, weatherization crews routinely find them in can lights. Even with the correct bulb, though, temperatures inside the boxes routinely exceeded 160°F, high enough to degrade the insulation on older versions of nonmetallic-sheathed (NM) cable, which is rated to 140°F. This type of cable was installed from the mid-1960s until 1984.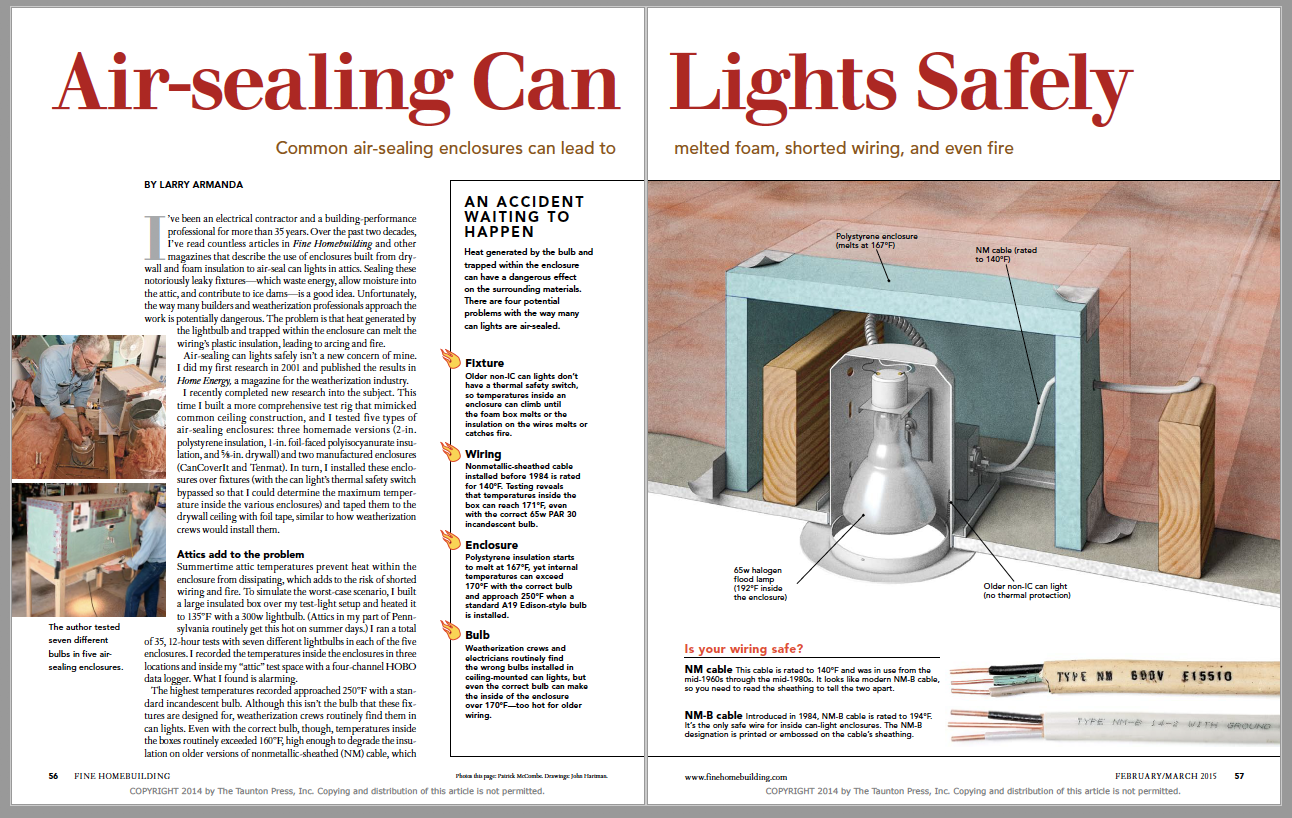 From Fine Homebuilding #249
For more photos, drawings, and details, click the View PDF button below:
View PDF
Previous:
All About Ice Dams
Next:
How Good Is Your Air Barrier?