Landing a Job in Construction
We asked readers to tell us what inspired them to start a job in the trades. Here are some of our favorite stories.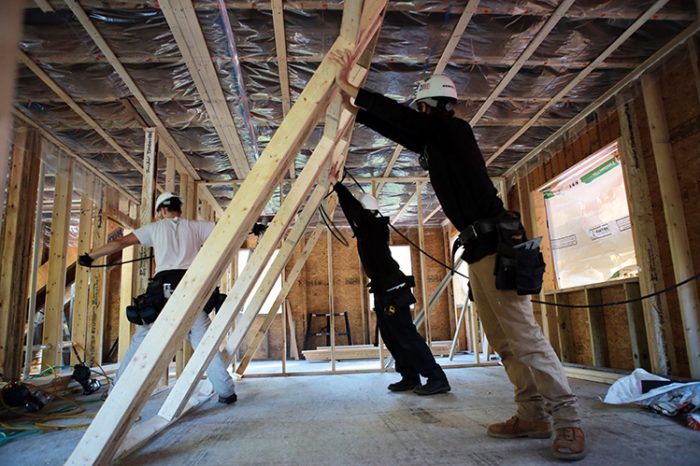 Whether working in construction is a tradition that was passed down in your family or if you got hooked on being a craftsperson after one summer on a job site, how you got started likely set the tone for your current career. We asked our audience on social media to to tell us their stories of how they began their journey and ultimately landed a job in construction. Read some of our favorite answers below, and read the original post to see over 100 responses.
---
Our favorite "getting started in the trades" stories
"After a career in IT I had had enough of sitting inside. I had an associates in architecture and engineering design (cad) so those were my only related credentials. 'I can read prints and I'm interested.' I networked and found NAWIC (National Association of women in construction). They had a job fair, I met some ladies in road construction and even though I was looking for vertical construction I decided the career path was clear, paid well, and I could always go vertical later on. In my second season as a construction inspector with a paving certificate, I'm now making more than I was in IT but I'm outside playing with big equipment. In my free time I design small houses and renovate my house and two commercial properties. YES you can have a second-chance career." – Kristen C.
"Worked at a sawmill floating logs down a chute, got my leg caught on one and had to ride it the whole way into the mill like a rodeo clown. Got the whole way to the bottom and ended up crashing through the log stop and doorway. The head carpenter said I had to help repair the damage. So He showed me how to measure and cut and how to frame up a door. He offered me a job with the carpenters and gave me my first Estwing hammer. Been doing it ever since." – Brad R.
"Besides being born into the industry, walked on to job site asked if I could gain some experience from another professional other then my father. Worked and learned from 5 other employers and went out on my own." – Travis M.
"A family's house burnt down in my community and they were elderly. But the elderly man was an excellent carpenter but was too old to climb around so he was asking for volunteers to help. I ask my parents ( I was 11) if I could help and they agreed. That is where I realized strapping it on and building something was my passion. I'm 48 and I'm still building homes. Have my own business in a small town in Alabama. Have built many, many homes for people and it is still as stimulating as it was when I first began. Blessed to be a builder. Love it." – Chris S. 
"Dad woke me up one morning and said, get ready, we have a house to paint. Twelve yrs old. Framing in the summers thereafter. General contractor license by age twenty eight. Fifty five now. Still building." – Dwight T.
"I had been an at-home mom and had a sudden life change. My daughter and I went to welding school together and were hired at the first place we applied. I think it was mostly out of amusement. We did very well and went on to bigger and better. I now have several certifications and licenses. Plumber/pipefitter." – Valerie D.
"The day after I graduated high school I opened the phone book and started cold calling landscape companies. I just wanted to work with my hands and get a tan. The second one to answer, Daniels Landscaping, asked when I could start. I said tomorrow and I was installing a brick paver driveway the next day." – Darrel H.
"Had three years of carpentry class in high school. Senior year I walk two blocks up from my high school to a condo development and was hired on the spot. Worked half days and weekends until I graduated, then full time after that. That was 1987. I'm now running my own renovation company." – Kelly S.
"Brother heard a Mechanical contracting company was hiring when they came to fix his furnace. They had 3 employees, I went in and told the guy I would show up everyday and am willing to learn. He told me be there 8 o clock Monday, worked along side the owner with 40 years experience EVERYDAY. Learned a lot." – Coty C.
---
Feel free to share your own story in the comments below (or in the original post), and take a look at other blog posts with featured feedback from our readers about life in the skilled trades.
A Passion to Build – FHB readers share their stories of what got them started in construction.
Advice for People Entering the Skilled Trades – FHB readers offer guidance for people considering a career in the construction industry.
The Impact of Uncertainty – The Fine Homebuilding community shares stories of challenge, caution, and hope as they grapple with the Covid-19 crisis.