Stuff Found On Job Sites
We asked our readers what odd things they'd dug up or pulled out of walls when working on old houses. Here are a few of our favorites.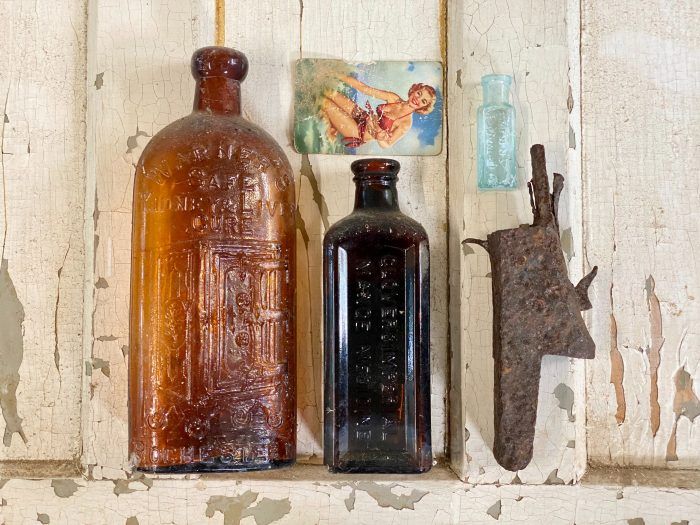 Strange things can end up being buried in walls, ceilings, or elsewhere in old homes. And the older the house, the more likely that you'll find some truly unique artifacts. So, we took to Facebook to ask our audience to share the most interesting things they've found on the job. We think you'll agree that some of these definitely hit the nail on the head.
Be sure to head over to the original Facebook post to read 200+ more responses and to offer your own story.
---
Here are some of our favorites
"A Smith & Wesson pocket revolver 32 caliber break model, patent July 25 1871.  Was found encapsulated in a plaster ceiling in a hundred year old bungalow in Centerport, New York.  It was wrapped in lace cloth in a metal candy box, and it fell out of the ceiling during renovation. The pistol holds 5 rounds, but there were only 4 bullets." – Paul W.
"A hidden room that was used to grow weed in the 70's. Untouched for 30+ years! I'm not sure, but at the time, medicinal pot just became legal in California, where this was located, but once the new owner found out, he said he wanted to clean it all up and see if it worked." – Shawn-Mike F. 
"A LIVE piece of romex just coiled up in the ceiling… just the raw cut end of the romex… not inside a box or even a wirenut covering the hot wire… safe to say i fixed that right away!" – Jonathan M.
"I found a mummified pet python coiled up in a crawl space. I may have screamed like a little girl?" – Andrew D.
"Newspapers in the soffits from 1912, anatomically correct wooden skeletons in little boxes in the soffits brought in by squirrels, $3200 cash in a mayo jar, and lots of dead cats! The cash we gave to the homeowner and she was excited, she had plans to go to the gambling boat the next day." – Brian C.
"A mass grave from the colonial period was discovered while digging a foundation for a house I was to frame in Waterford Connecticut. They relocated the cellar hole but we still found several bones in the backfill." – Jim W.
"A newspaper from 1912 in a furnace room wall. And right there on the front page was an article about the search for survivors of the Titanic. " – Shawn R.
"Remodeling a kitchen. The cooktop was against an exposed brick wall. Built into countertop was a stainless steel splatter shield you could raise up to protect the brick. It was fitted into the counter backsplash so well the owners who had been in the house 10 years didn't know it was there. On another job I remodeled the house my dad grew up in. Inside a wall I found where two of my uncles had signed their names in 1943." – Barry W.
"I found an old leather children's shoe in the walls of my 1918 farmhouse walls (Polish family settled here). Someone I think said they did that for good luck or something." – John S.
"I was rebuilding an exterior wooden balcony. I found a note from the carpenter that had repaired it previously inside a box column. It was dated approximately 15 yrs ago. The same day my daughter was born." – John T.
"When doing some demolition in our 1871 house, I found newspapers from 1921, one of which had an article debating how you can tell if someone is drunk. It included the following line "if his head feels as though it had been laid on an anvil and hammered for three hours with a brick, it is an indication that he has [been drunk]." – Rob W. 
---
Feel free to share your own story in the comments below (or in the original post).
More blog posts with feedback about life in the skilled trades:
Landing a Job in Construction – We asked readers to tell us what inspired them to start a job in the trades. Here are some of our favorite stories.
A Passion to Build – FHB readers share their stories of what got them started in construction.
Advice for People Entering the Skilled Trades – FHB readers offer guidance for people considering a career in the construction industry.