Podcast 283: Tread Returns, Weird Vinyl, and Log Homes
Kiley, Rob, and Patrick hear from listeners about well pumps, snowy soffits, and favorite carpentry apps, before taking questions about stair-tread returns, vinyl siding, and log homes.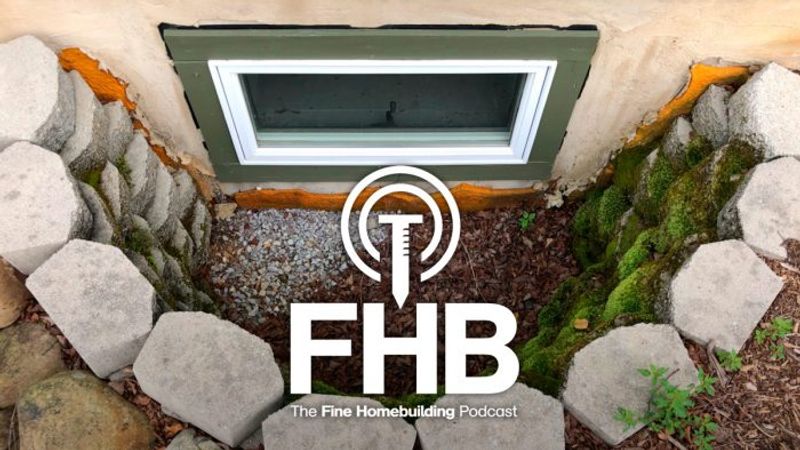 ---
Follow the Fine Homebuilding Podcast on your favorite app. Subscribe now and don't miss an episode:
Help us make better episodes and enter for a chance to win an FHB Podcast T-shirt:
www.finehomebuilding.com/podcastsurvey
Adam suggests a variable-speed pump to reduce electrical loads on a generator. Aron sets the record straight on snowy soffits in coastal Canada. Mark writes in with his favorite digital tools. Spence describes the scenario that forced him to buy a SawStop. Jeff wants to know if stair returns create a problem with wood movement. Andrew asks about some weird vinyl siding. Jim wants to know if his foundation drains are a problem. Charles asks if log homes are a good idea.
---
Editor Updates:
Kiley's battery-powered mower and her work at GBA.com
Rob's kitchen reno, again
Jeff's generator cart
Patrick's generator
---
Listener Feedback 1:
Adam writes: Good afternoon, Some quick and simple feed back: When mentioned the power outages and the difficulty running well pumps, 3 years ago we changed our well pump to a variable speed pump in conjunction with a geothermal instillation. Independent of the geothermal the new well Pump uses dramatically less power and doesn't flinch when we are on generator power. (We live in northern Massachusetts). The controller is a Pentair, Penteck Intelledrive. (Looks to be about $1500 online) The pump is Franklin electronic FPS 4400 (looks to be about $450, online)
On another note: I'm a sloppy and under informed DIYer but getting better with each project. The local supply houses (plumbing and electrical) have routinely gone above to ensure I do the job right and make sure I get the right supplies in one trip. Combined with a nearby contractor-based lumberyard also with knowledgeable staff, I cannot overstate how much they have gone out of their way to help me on projects or find a understanding (patient) contractor when I'm in over my head! I'd appreciate a shout out to those trade specific suppliers who give great support and are willing to deal with folks like myself.
Keep up the great work! Wear your goggles and get a saw stop!
Related Links:
---
Listener Feedback 2:
Aron from Grand Manan NB, Canada writes: Long time listener, first time that I've taken the time to write in. Can not remember the episode, but Mike Guertin once joked that you often get out in front of your skis. While this is true in my opinion, it has to be tempered with the fact that everything is sight unseen. And relies on the information provided by others.
In regards to your response to Nolan from Amherst NS. Air sealing/ Vapour retarder may be the issue, but being a flat ceiling with a floor above. It is possible that the problem is in rim joist area. However being somewhat familiar with the local climate and building practices. I suspect wind driven precipitation thru the soffit. Atlantic Canada is known for its NE storms, Rain and fine snow that literally goes sideways. The north face of a vented attic in this area will often hold snow thru the coldest months till temperatures rise. When it melts it leaves staining like we see in Nolan's photos.
As a remedy to this I have been installing landscape fabric behind all soffit and gable vents for a number of years now. While it does reduce airflow in a vented assembly slightly. You never have to shovel snow out of an attic. It provides an extra barrier which fine snow and rain cannot pass.
---
Listener Feedback 3:
Mark from Montpelier, VT writes: Hi Patrick and FHB Podcast Crew! I have two suggestions to add to your favorite tool discussion, one of which was inspired by the conversation on CNC cut plywood in episode 277. These tools however live on your smartphone and laptop rather than your belt! I have found both to be huge time savers.
First is the phone app My Measures that allows me to take a photo of a door or window opening, a wall or floor layout and then drop dimensions on the image.
My Measures addresses my immediate need for opening sizes and item locations but it also allows me to revisit the site afterwards to verify elements of the site and even guesstimate dimensions I may have neglected to gather at the time. Plus the image goes into the project documentation folder so that I will know later whether and where there's an electrical/plumbing conduit in the wall that will ruin my final task of hanging that mirror or cabinet!
| | |
| --- | --- |
| | |
The second application I'd like to give a shout-out to is MaxCut, the computer program that figures out how to break-down a piece of sheet goods optimally to give you what you need to build that cabinet.
After inputting the panel sizes you need to create and the source material you are starting with, it runs through thousands of layout iterations to give you a cutlist that eliminates waste and optimizes material utilization.
You can tell the program if you care about grain direction, need to optimize waste or time to cut and it allows you to print out your layout diagram, generate estimates and costs.
I even used it when building a cherry bookcase to tell me whether cutting my stiles and rails would be more effective cost-wise depending on whether I was starting with 1×4, 1×6 or wider material. Not a bad bit of information when you're working with expensive stock.
Both have a free version and also allow you to pay a nominal fee to access additional premium features.
They may not be as sexy as a Fein or a Festool in your truck but they sure make life better for the working contractor!!
Be well!
Related links:
---
Listener Feedback 4:
Spence writes: Dear Patrick McHome, (yes I know how to correctly spell your name but McHome is kinda awesome)
Anyway, I owe you a thank you.
This afternoon I had to leave work to go to an appointment with my pregnant wife (she's due in a few weeks). The Pro Talk podcast with Dr. Henderson had downloaded onto my phone and started playing in my truck as we were driving. I went to turn it off but my wife, a medical professional herself, wanted to hear what the ER doc had to say. As we drove she kept stopping the podcast and asking questions about safety on my job sites. She listened intently as you two talked about table saw injuries and SawStop saws. I explained how they work. She asked if I had one. I replied I had been happy with my Bosch, am careful with it and that the SawStops were very expensive.
As we waited for our appointment, she looked up SawStop on her phone and then announced that I am to go buy one tomorrow.
'We can afford the saw but can't afford you getting that type of injury'
I'm a smart man and know not to argue with my wife.
So… thank you!
Related links:
---
Question 1: What's the best way to attach mitered returns on wood stair treads?

Jeff from Fairfax, VA writes, Greetings Pod People, As a longtime listener and subscriber to the magazine, one of the subjects that originally attracted me to FHB some 20 years ago was your finish carpentry content. As you approach 300 episodes of the Podcast, I've noticed a dearth of finish carpentry questions (insert air sealing and attic insulation joke here). So, in the spirit of "be the change" and maybe a little material motivation via a free sticker, I could use some advice on how to finish the solid hardwood stair tread returns on my open stair stringer.
I'm slowly working my way through a whole house remodel of our 1980's English Tudor Revival. After finishing the hardwood install on the first floor, I'm making my way up the stairs. For treads, I used the 5" wide ¾" thick prefinished white oak floor planks, removed the tongue and groove, and glued them up to make prefinished solid treads. I've added a stair nose to the front of each tread and need to do a mitered return on the first 5 steps.
My question is this: given that the return introduces a cross-grain scenario, and the fundamentals of woodworking have taught us to never glue/screw/nail this joint, how should I secure the return stair nose to the tread? I've cut the miters and used biscuits to help align the return (I did this along the front edge as well). But should I glue these? Pin nail them? I considered consulting the crew over at Shop Talk Live, but knowing I would be lambasted for my use of biscuits, I retreated. I've combed the archives and forums of FHB, JLC, et al, there is no "standard" way and as you can imagine, lots of opinions. Some say glue. Some say nail. Some say both. Some say don't do mitered returns. And some say just carpet the dang stairs. Ergo the kerfuffle. Would love to get your take on how to approach this quandary. I'm attaching a few photos in case it's helpful.
Back to STL. You know that STL crew makes fun of you "homebuilding" guys all the time? Whenever a construction question comes up on their show, usually in reference to building or improving a shop space, they begrudgingly mention FHB while deferring any real answers. They were recently moaning about how hard it is to carry one piece of plywood, which got me thinking. You should plan a Taunton press showdown: FWW vs FHB! It could be a Battle Royale that includes a sheet goods carrying competition, installing a toilet, and to appease the STL folks, maybe a Ukulele making contest. You could even have the Fine Gardening crew be the judges. I'll gladly drive from Virginia to Connecticut to see that go down!
Take care, stay safe, and keep up the fine work Pod friends! Cheers!

Related links:
---
Question 2: What's the deal with the strange fabric nailing flanges on this vinyl siding?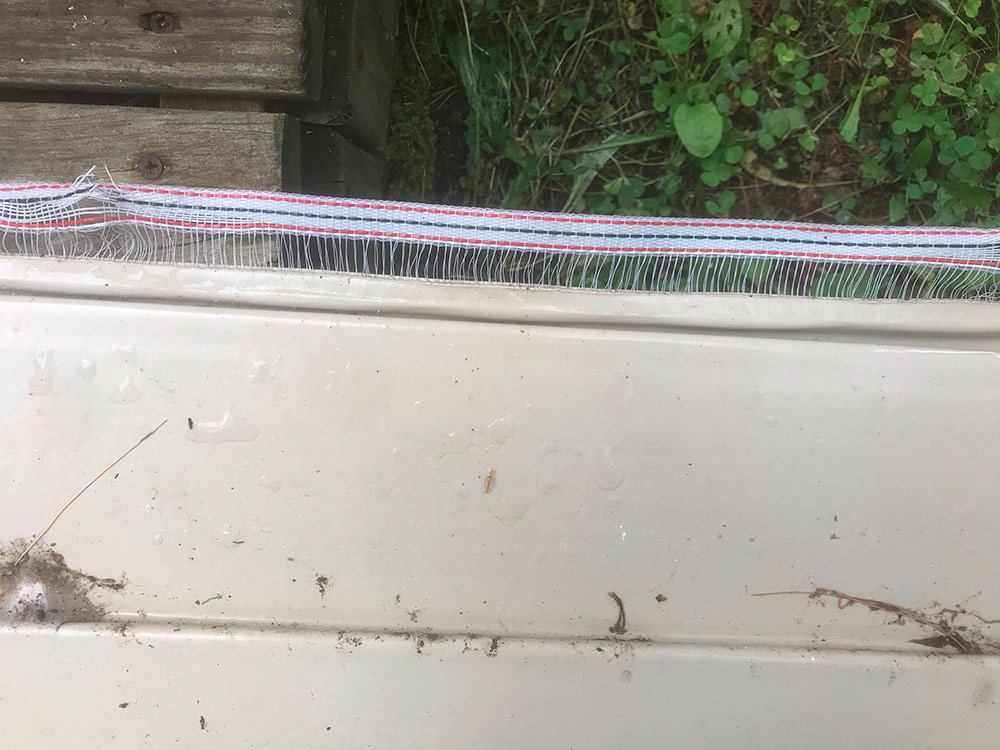 Andrew of G&S Exteriors, LLC writes, Hey FHB team, Thanks for the podcast and all the great insight. I have a strange oddity I stumbled across recently I've never seen in nearly 20 years of remodeling.
While working on a project recently I needed to remove some old vinyl siding and came across a feature neither I or anyone in my immediate circle has ever come across before. Double 4" clapboard vinyl siding with a stitched fabric nailing flange. I'll attach a picture of course.
Is this something I've just completely missed in the past? Is there a genius idea here that just never caught on? My best guess is it could potentially allow for the material to expand and contract more freely.
I'm really at a loss here, and it's starting to keep me up at night. I've searched online and found nothing.
Any thoughts or context for this product might make me stop thinking I just dreamed it up.
---
Question 3: How can I stop my French drain from sinking?

A listener writes, I am a homeowner and have been listening to your podcast from its inception, although I sometimes regret it. We live in southeast Tennessee and built our highbred timber frame home in 2007/2008, and after listening to the show, I cringe at all the things the builder and sub contractors didn't do correctly or may not have done at all. Maybe ignorance would have been better in these cases.
Anyway, we have two issues with our french drain system. The first problem showed up a couple of years after we built. Although it is difficult to see in the photos, where the french drain leads out from the house (about 150 feet) the surface subsides. Every 3 to 4 years I have to back-fill the yard above the line with top soil. In the one photo with the tape measure, the area has dropped about 3-1/2 inches in the last 3-1/2 years. I talked with a foundation company representative about it several years ago and he just shrugged. Do you have any idea why this may be happening and could it be leading to more serious issues? Short of digging up the yard, shrubs and a tree, is there anything I can do, or do I just keep shoveling? If it is any help, the soil here is clay and chert.
The second issue is with capacity. This past Easter, we got hit with a heavy storm with probably 4 to5 inches in an hour or two. It was the same storm that tornadoes trashed parts of the Chattanooga area. For the only time we have lived here we had water in the basement. Not a lot but enough to get the floor wet just below the basement windows so I believe the window wells may have been overloaded. I think the water came in where the concrete wall meets the concrete floor. No water appears to have come in around the windows. Is it possible the french drain was just overloaded or are we looking at potential future problems?
Thank you for a professional, informative and entertaining podcast.
Related links:
---
Question 4: What are the pros and cons of log homes?

Charles from Canada writes, Hey FHB crew, My name is Charles and I live in the great country of Canada in a small town about 1 hour north of Toronto. I am just getting into carpentry as a career. I work for a framing crew that does new residential construction and I am loving every minute of it.
My question concerns log homes. I have listened to quite a few podcasts over the past year (in light of a broken leg that kept me off work for 3 months) and I am curious to hear your thoughts on log homes as a building platform? What are things you like about them? What are factors that scare you? Pros vs cons and if you recommend them over a conventional stick framed house?
I look forward to hearing your thoughts and I thank the team that makes these podcasts possible. It has been a source of inspiration for me as I made the transition into the trade full time and bought our first house a year and a half ago.
Related links:
Vacation Cabin – A Rocky Mountain retreat combines pragmatic construction and rustic detailing.
---

---
Help us make better episodes and enter for a chance to win an FHB Podcast T-shirt: www.finehomebuilding.com/podcastsurvey
---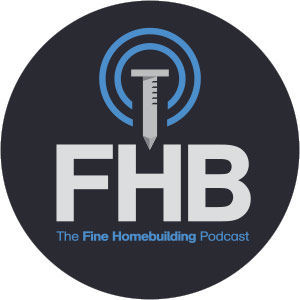 If you have any questions you would like us to dig into for a future show, shoot an email our way:

[email protected]

.
If we use your question we'll send you a FHB Podcast sticker!
---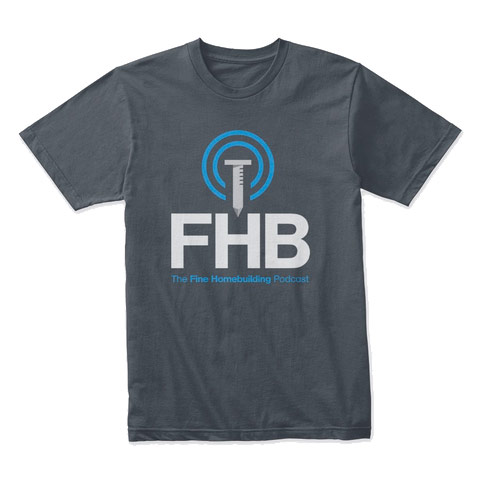 FHB Podcast T-shirts!
Represent your favorite podcast! Available in several styles and colors. Made from 100% cotton. Find the Podcast t-shirt and more cool products in the Fine Homebuilding Store.

---
This episode of the Fine Homebuilding podcast is brought to you by Benjamin Obdyke.
Benjamin Obdyke would like to thank the nuisances that builders and homeowners despise. A water-resistant-barrier and rainscreen are the ideal applications to eliminate the threat of moisture from things like rain, snow, and the neighbor's sprinkler system. Take Slicker HP, a durable Water-Resistant-Barrier attached to the Slicker Rainscreen system. This all-in-one housewrap and rainscreen won't just protect your wall assembly, but your time and wallet, as well. It's not rocket science… It's building science.
Visit benjaminobdyke.com for more.
---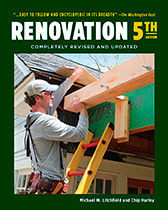 Fine Homebuilding podcast listeners can now get 20% off anything in the Taunton store, including the Renovation, 5th Edition.
Use the discount code FHBPODCAST to take advantage of this special offer.
---
We hope you will take advantage of a great offer for our podcast listeners: A special 20% off the discounted rate to subscribe to the Fine Homebuilding print magazine. That link goes to finehomebuilding.com/podoffer.
The show is driven by our listeners, so please subscribe and rate us on iTunes or Google Play, and if you have any questions you would like us to dig into for a future show, shoot an email our way: [email protected]. Also, be sure to follow Fine Homebuilding on Instagram, and "like" us on Facebook. Note that you can watch the show above, or on YouTube at the Fine Homebuilding YouTube Channel.
The Fine Homebuilding Podcast embodies Fine Homebuilding magazine's commitment to the preservation of craftsmanship and the advancement of home performance in residential construction. The show is an informal but vigorous conversation about the techniques and principles that allow listeners to master their design and building challenges.
Other related links