Podcast 273: Material Shortages, Paneled Ceilings, and To Vent or Not to Vent
Rob, Kiley, and Patrick hear from listeners about Taunton's Renovation and changing careers before taking listener questions on recent material shortages, water-damaged ceilings, and if creating a vented roof assembly was a waste of time.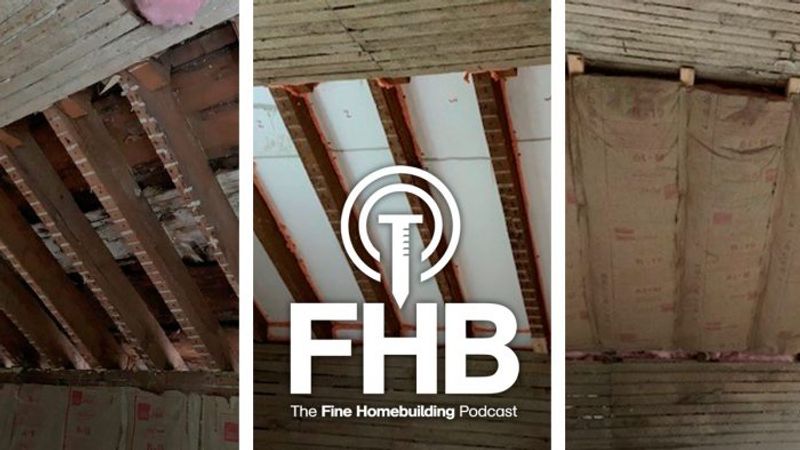 ---
Follow the Fine Homebuilding Podcast on your favorite app. Subscribe now and don't miss an episode:
Help us make better episodes and enter for a chance to win an FHB Podcast T-shirt:
www.finehomebuilding.com/podcastsurvey
Ed gives a shout-out for Taunton's Renovation book. J. talks about his transition from the military to residential construction. Tess asks about recent material shortages. Nolan wants to know where the water is coming from. Chris fears that venting his roof was a mistake.
---
Editor Updates:
Rob's porch project is wrapping up, and pool plans are on the horizon…maybe.
Kiley's unhappy with her windows and screens, and she dreams of a Juliet balcony.
Patrick's got his son fixing up his gravel driveway, whether he likes it or not.
Jeff's window repairs are never-ending.
---
Listener Feedback 1:
Ed writes: Hey podcast team, I anxiously await the uploading of your podcast each week, and learning about the various topics that you cover. The broad experience of the team is simply amazing!
With regards to Podcast 267, and the discussion on transitioning from landscaper to builder, I find that Renovation 5th Edition, by Michael Lithfield and Chip Harley, is a tremendous reference for all kinds of building topics. This publication starts with evaluating a house, and then provides an encyclopedia of the skills required to remodel or renovate a house.
I recently transitioned from 40 years of R&D engineering and management with IBM Microelectronics and Global Foundries to retirement, and now carpentry. About a year ago, I landed a job with a small construction company in the Mid-Hudson Valley, where I was the only employee over 60 years of age, and I enjoyed working with guys that were, typically, half my age.
I am a subscriber to FHB, and have a large collection of Taunton books that provided me with significant head knowledge, so I can tackle a wide range of projects and assignments. thanks to FHB and Taunton Press.
Keep up the good work!
A faithful listener to FHB Podcast.
Related Link:
---
Listener Feedback 2:
J. writes: Patrick and team, I just listened to episode 265 (while building a tree fort) and wanted to say that I transitioned out of the Army in 2016 after 10 years, and have found getting into the construction field quite easy and am looking forward to a long career in construction (I also disagree a little about it ruining your body).
I admit I have some advantages. My dad is a General Engineering Contractor (a California thing) basically he does site work, water lines, retaining walls, septics… but he is also a jack of all trades and we do a lot of side work closer to residential construction. Second, I went to a Community College at night for construction and energy management (which included a lot of code classes and building science classes) between that, podcasts and youtube. I found there to be so much good information out there. Third, California has a pretty relaxed system of licensing contractors and I hope to get my license soon. Lastly I live in an area where there is a lot of work at the moment.
That said, I really think that entering this field is extremely doable and finding good building/building science information has been so easy. The hard part becomes choosing what to do and making time. In my area there are Pacific Gas & Electric classes, HERs Classes, Building Performance Classes, along with just regular building Science classes and physics classes at the Community College.
Thanks for the podcast and all you do.
Related links:
---
Question 1: Is everyone seeing pandemic-related building supply shortages?

Tess writes, Hey FHB podcast, for my own sanity, and commissary, can you guys talk about the supply shortages that have been happening during COVID?
I have had several home improvement projects stall out due to waiting for items to be restocked at big-box stores and shipping to be at an all-time stand-still. For example, that trim that I emailed about back around February? Still a project because I had to wait three months to collect all the plain-jane non-decorative baseboards and shoe molding. I literally had to put an alert on the item and make sure I ordered within the hour of them being restocked. Otherwise, I wasn't quick enough and then would have to wait another few weeks for them to be available for order again. When they did arrive, the boxes had all exploded and trim ends were all beaten up. See attached photos.
Right now I'm waiting for curtains, Legrand Adorne light switches/plates, and 96″ dowels… all of which are for three different active projects. The only company I haven't had issues with is Signature Hardware, so shout out to them and their great products!
What about you guys? Have you had issues starting or finishing projects during the pandemic? What have been your compromises to make things work?
Related links:
---
Question 2: What is causing water damage to drywall at this wall/roof intersection?

Nolan writes, Hello Podcast Crew: I am a residential construction contractor/ carpenter in Amherst, Nova Scotia, Canada. I love the Podcast, and I've been listening, whenever my days' work will allow, since the beginning. I find it to be both informative and entertaining. You all do a great job. I also a subscriber to Fine Homebuilding and Fine Woodworking. I am writing today with regard to a building science issue I was called to look at, and remedy for a potential client.
The clients' seasonal cottage is 18 years old, wood frame construction, with vinyl windows, and Cape Cod solid wood siding installed over a 3/8" rain screen and Tyvek WRB. The overhangs are less than a foot, with a 3" aluminum vent channel down the middle.
The homeowner is seeing damaged drywall at the intersection of wall to ceiling at a couple of places along the North wall. The homeowner believes that wind driven snow is entering into the ventilated soffit and melting on top of his drywall ceiling. He would like to have me open the soffits, essentially plug the vents, and close it back up.
I find this to be an unlikely conclusion given that the soffit lands below the top plate of the wall, the vented area is very small, vent channels are installed on the underside of the roof deck, and one of the areas of damaged drywall is on the first floor ceiling of a two-story section (full height shed dormer) of the home.
Of course, the ceiling is vaulted, so simply climbing into an attic to have a look around is not a possibility.
I wonder if his problem is not leaking windows or even roof flashing where the middle section of the building ties into the taller sections on each end.
I will include photos to help this all make sense.
I appreciate everything you folks do for our industry as a whole, and I look forward to whatever insights of advice you can provide me on this issue.
Thanks!
Related links:
---
Question 3: Was it a waste of time to vent and insulate this old attic?
Chris writes, This question is not about roof venting. Just kidding it's about roof venting. Sorry.
Years ago, this podcast went by the fine roof venting and air sealing podcast. But lately I've noticed that roof venting has been getting the boot. What happened?
Back when I was remodeling my upstairs I was an avid listener, and for the first hundred episodes the opinion was by the hosts, and GBA, that roofs should be vented for certain reasons. For me I thought it would be Especially beneficial because I was combating ice dams.
So after some advice from the show, and some GBA articles I settled on putting a continuous 2" vent where my ceiling is also the roof plane using rigid foam sealed with spray foam. Extended the bays down with 2x4s. Filled with fluffy insulation. Although it wasn't a lot of r-value it was better than what was there which was R-0.
This was terrible! It was not difficult to do but it took forever to custom cut and fit each bay while constantly climbing in and out of my attic playing in dirty old insulation. But I thought it would all be worth it if I didn't end up with ice dams anymore. All the while wishing I could just of spray foamed the whole thing and called it a day.
Anyway I got the whole half side of my house all wrapped up and have since gotten a metal roof put on and I'm currently fixing up my soffits where they have rotted away and was gonna open them up with continuous venting to go with my continuous ridge vent. I'm all vent ready!
Then it happened. One day while enjoying your podcast I heard Patrick all casual like mention how roof venting doesn't work. I think we'll maybe he meant that for someone else not me. Then it happens again! Patrick says roof venting doesn't work! Now I start to worry! Then last week on pro talk with Rob Delaney you both say roof venting has been proven… ineffective!!!
So did I just waste all that time following advice given years ago by both FHB and GBA?! Turns out most likely.
Anyway. Now my question. Do I just finish up my soffits non vented Now and call one half of my roof a loss of time. Then just fill the bays with spray foam the other half of my house Where it's the ceiling/roof and "just get on with the rest of your life" as Patrick likes to say?
Sorry for the length of the email.
Related links:
---
End Note:
Help us make better episodes and enter for a chance to win an FHB Podcast T-shirt:
www.finehomebuilding.com/podcastsurvey
---
If you have any questions you would like us to dig into for a future show, shoot an email our way:

[email protected]

.
If we use your question we'll send you a FHB Podcast sticker!
---
FHB Podcast T-shirts!
Represent your favorite podcast! Available in several styles and colors. Made from 100% cotton. Find the Podcast t-shirt and more cool products in the Fine Homebuilding Store.
---
This episode of the Fine Homebuilding podcast is brought to you by Sherwin Williams.
Supporting your business is their business at Sherwin-Williams®. With outstanding paint and color solutions and industry-leading product innovation, they'll help you deliver more per square foot—and exceed homeowner expectations. Sherwin-Williams is there through every step of the process to help you find the best product for your project, and provide color solutions to make your homes stand out. When pros needs pros, Ask Sherwin-Williams™.
Visit buildersolutions.sherwin-williams.com for more.
---
Fine Homebuilding podcast listeners can now get 20% off anything in the Taunton store, including the The Visual Handbook of Building and Remodeling, 4th Edition.
Use the discount code FHBPODCAST to take advantage of this special offer.
---
We hope you will take advantage of a great offer for our podcast listeners: A special 20% off the discounted rate to subscribe to the Fine Homebuilding print magazine. That link goes to finehomebuilding.com/podoffer.
The show is driven by our listeners, so please subscribe and rate us on iTunes or Google Play, and if you have any questions you would like us to dig into for a future show, shoot an email our way: [email protected]. Also, be sure to follow Justin Fink and Fine Homebuilding on Instagram, and "like" the magazine on Facebook. Note that you can watch the show above, or on YouTube at the Fine Homebuilding YouTube Channel.
The Fine Homebuilding Podcast embodies Fine Homebuilding magazine's commitment to the preservation of craftsmanship and the advancement of home performance in residential construction. The show is an informal but vigorous conversation about the techniques and principles that allow listeners to master their design and building challenges.
Other related links