How-To
Prepping for Windows
The team at the 2020 FHB House builds ZIP R-Sheathing window bucks and installs Rockwool exterior insulation before the new windows go in.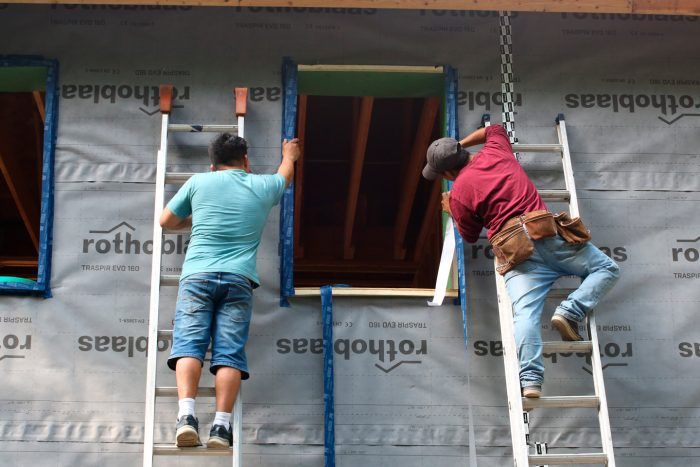 Before the windows can be installed at the 2020 Fine Homebuilding House, the build team needs to prepare the openings to accommodate exterior insulation. Mindful of thermal bridging, they built insulated window bucks by ripping down sheets of ZIP System R-Sheathing to reach from the interior of the double-stud wall to the plane of the Rockwool insulation that will be installed on the exterior.
The 1-7/16-in. ZIP R-Sheathing window bucks are used to connect the double-stud walls and create a strong "box" for the window installation. The ZIP R-Sheathing extends past the house sheathing by 1-1/2-in., which is the depth of the Rockwool exterior insulation.
Tescon Vana air-sealing tape was then used to to create a continuous weatherproof seal from the WRB to the green coating on the ZIP R-Sheathing.
The water resistive-barrier (WRB) is Traspir EVO 160 by Rothoblaas. Like many "smart" WRBs, it is air- and water-tight, yet allows water vapor to pass through so the house's walls and sheathing can dry to the outside if necessary. The green vertical strips create a weatherproof seal around the screws that attach the furring strips to the house at each framing member.
Once the window bucks and WRB are on the house, it was time to install 1-1/2-in. of Rockwool ComfortBoard™ 80 on the exterior. This dense continuous insulation board can handle getting wet, so it is an ideal material to use in a rainscreen siding application. Comfortboard is a perfect alternative to rigid foam for exterior insulation because it's both non-combustible and vapor permeable, making for a safe, durable wall assembly.
The team secured each piece with 2-in. TruFast Metal Insulation Plates, which hold the boards in place until the furring strips are installed.
Watch editor Patrick McCombe talk with architect Elizabeth DiSalvo and Albert Jensen-Moulten about the triple-pane Unilux windows installed in the house: Double-Stud Walls and Insulated Window Bucks