Podcast 301: Stick vs. Post Frame, Upside-Down Clapboards, and Caulking Cedar Shingles
Matt, Brian, and Patrick hear from listeners about air-sealing smoke and rehabbing window sashes, before taking questions on the right wall assembly for a woodshop, caulking around cedar shingles, and properly insulating a brick building.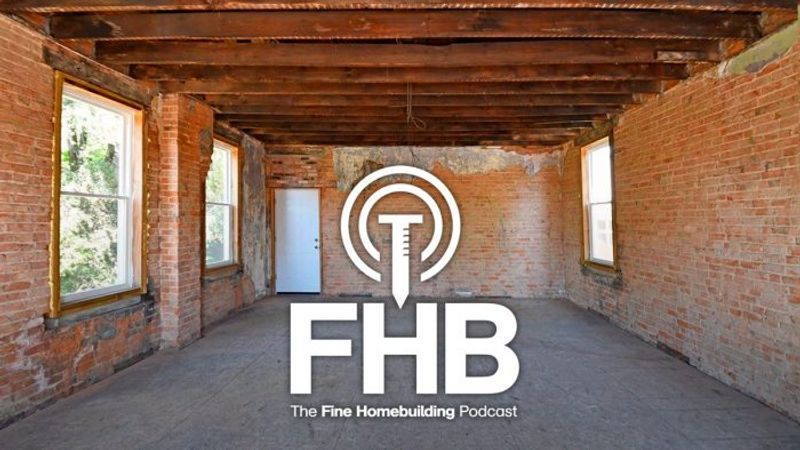 ---
Follow the Fine Homebuilding Podcast on your favorite app. Subscribe now and don't miss an episode:
Help us make better episodes and enter for a chance to win an FHB Podcast T-shirt:
www.finehomebuilding.com/podcastsurvey
Mike Guertin has a clarification about permanent wood foundations. Tom and Doug have suggestions for making smoke to track down air leaks. John offers a different way to deal with window sashes. Ben wonders if his new shop should be stick- or post-frame. Aaron asks about upside-down clapboards. Steve wants to know if he should caulk cedar shingles where they meet casing and corner boards. John asks about the right way to insulate brick walls.
---
Editor Updates:
Related Links:
---
Listener Feedback 1:
Mike Guertin writes: Hi Patrick, First off – I am astounded that you have had a change of heart about the viability of PWF s. Even if for less than 100-year buildings. After your previous mentions of PWFs on the podcast and your comment to the effect "this is a bad idea" I figured it would be hard to ever change your thinking.
You mentioned that the Southern Pine PWF installation guide was what the IRC section is based on. It's not. The code has a prescriptive section option and a referenced standard option for designing and building PWFs – The American Wood Council design specification for PWFs ( the official title escapes me at the moment).
The Southern Pine Council guide would need to be presented to the local building code office for approval before following. Just want to make sure you put a correction note in the show notes.
It's hard to keep all the guides and standards and specifications straight.
---
Listener Feedback 2:
Doug writes:  Hi All, On the subject of smoke sources. I don't know if smoke pencils are refillable but if they are not you might want to consider a special effects fogger. Professional units can cost hundreds but inexpensive "party foggers" can be found for around $40.00. You still have to buy a jug of fog juice but one gallon will go a long way. If you can find an old Mole-Richardson fogger it would be even better. These use a manual pump so, once heated, it can be unplugged and carried around. These were originally designed as insect foggers but have been in use in theatre and film since the 1960s.
As to Matt's chemistry experiment, for 30 years my wife was in an annual production of A Christmas Carol at the Omaha Community Playhouse. For a scene at the Cratchet house they are supposed to turn out the plum pudding and when the lid is removed comment on the "great deal of steam". To create this steam they relied on a long time cast member who was a chemistry professor. His solution was as Matt described. When the cast were supposed to be commenting on the wonderful aroma of the plum pudding they were in fact enjoying the aroma of ammonia.
Keep up the good info and stay healthy.
Related Links:
---
Listener Feedback 3:
John writes:  I listened to a recent few episodes with listener questions regarding rehabbing windows. Most of your listeners could handle using sash replacement product. I did about 25 double hung windows with Jeld-Wen and the frame openings cover a wide range of sizes. Double glazed and simulated divided lights, aluminum clad exterior and primed wood interior. Really weather tight but best of all, did not lose any of size of opening, great appearance. Got nearly all units during frequent sales at Home Depot. Enjoy the show, keep up the good work!
---
Question 1: Is a post and beam building an economical structure for creating a workshop?

Ben from Columbus, Ohio writes, Hi FHB Podcast, I'm finally going to be building the out-building of my dreams. It will function as a shed and woodshop with the woodshop being heated and cooled and the shed area being essentially an attached garage. I'm looking to make the shop portion of the building as energy efficient from a heating and cooling perspective as possible. I have a basic design down, but I'm trying to decide between a stick frame and post frame construction. I initially was considering stick frame on a poured slab foundation, and utilizing a double thickness 2×4 wall for added wall insulation. Recently however, I've read that post frame can actually be more energy efficient due to less breaks in the insulation, and while I can see that being the case with an unfinished interior, if I'm drywalling the inside I'll need to put boards to attach to, won't I?
If you were building a similar structure would you go with a stick framed building on a slab foundation, or a post framed building and an insulated poured floor, or something else? Building dimensions will be 30′ x 50′ with a 9′ ceiling. The shop will be 30′ x 30′ and shed 20′ x 30′ (minus wall thickness' obviously).
Thanks!
Related links:
---
Question 2: Why were these clapboards installed with the thick side up?

Aaron writes, Hello FHB Podcast crew! Greetings from Vermont.
I am a carpenter. I work for our family business doing mostly interior remodeling and small additions, custom cabinetry, tile, etc.
Our current project is concerting the 24×40 attic of a 1775 Norwich Vt, home into a master bedroom suite. It has been a wonderful project and very interesting for sure.
We changed the window layout in the attic so we needed to reside the two gable ends. When ripping off the old clapboards (and the hundred plus years of dead flies beneath them) I noticed something that I had never seen before.
Most of the clapboards were not beveled (I'm not sure of the age, but I would venture somewhere in the 1800's) but the ones that were beveled were installed with the thick side up, as pictured. That was a first for me!
I hope you find this as amusing as I did. I've included some photos of the renovation for your curiosity. To satisfy your energy curiosities, I thought I would tell you (and show in photos) that we did a double stud wall with 4" of closed cell foam that encapsulates the outermost framing members to stop thermal bridging. We also reframed the roof/cathedral ceiling, and we went with 7" of closed cell right against the sheathing. The house has standing seem metal and seemed like a good candidate for a hot roof.
Also pictured, the bathroom vanity is made from white oak that we milled from original framing members removed from the attic.
Keep up the good work! I listen every Friday and I have enjoyed the extra content recently also.
---
Question 3: Should I caulk the gap between shingle siding and exterior trim?

Steve writes, Good evening, my fellow fine homebuilding enthusiasts!
I've listened to all of the available FHB podcasts and look forward to listening each week. I consider FHB to be the best overall resource for learning and gathering information to bolster my continuing education in the industry. I am self-employed and, while I do work with other contractors from time to time, I do not typically have the opportunity for ongoing discussion and debate about the sorts of things you cover in the podcast or even my work in general. The vast majority of my learning has been from books, magazines, and videos (three cheers for YouTube University!). Thank you so much for the hard work you all put into making the magazine such a valuable resource and a platform to meet the thought leaders of the industry.
I recently completed a project outside of Philadelphia, PA that included replacing two sliding glass doors and the surrounding sidewall shingles. The inside corners are trimmed with 1.25″x1.25″ cedar. I left expansion gaps between the shingles and the inside corner trim and doors as per the recommendations from the CSSB. Should I caulk this gap? It would be easy enough on the corner boards, but the fiberglass doors have a U-shaped profile on the side of the casing that would make for a caulk joint that is very ugly and probably too thick to function properly anyway. The rough openings are flashed with Prosoco FastFlash approximately 3-4 inches out into the field and the nail fins were wet set in a bead of FF and got another layer of it on top after installation. There is #30 tar paper behind the shingles and overlapping the FastFlash up to the doors. The inside corners have galvanized steel flashing running vertically up the corner (approx. 4″ on each side), which is then overlapped by the tar paper. The doors have drip caps that extend about 1/4″ beyond the edge of the doors.
The old installation and flashing details were laughably horrible, but there was only a small amount of rot in the corners of the doors after 30+ years. I believe this resulted from the omission of the sill pans/flashing and the deterioration of the door frames to the point of failure. The old details included caulk that was caked into the joints in question.
I think it looks better without the caulk and I can't decide if it's better to have the drying potential from an open joint or to try and keep water out with the caulk. The guys from UnBuildIt seem to think that face-sealed systems aren't a good idea. Any advice you can give would be much appreciated. I haven't found any official-looking recommendations yet on the web. Let me know if you need any more information, pictures, etc.
Related Links:
---
Question 4: Can I safely insulate my 19th-century building without compromising the integrity of the solid brick walls?
John from Cincinnati writes, Hey FHB podcasters, Big fan here. Writing in from Cincinnati. My house has a late-1800's two-story carriage house, constructed out of triple wythe brick. The first floor is used as a garage and the second floor appears to have been occupied at some point, with ~1/2″ plaster and wallpaper on the bricks. Previous owner stripped the second floor, removing plaster, installing new windows, and installing new sub-floor. I'd like to finish that space into a guest apartment for when the in-laws visit and possibly rent out as short-term rental. I'm trying to determine the best approach to sealing/insulating.
The interior space is about 500 sq ft, on a roughly 20×25 footprint. I definitely want to insulate the floor (to provide noise and temperature separation from the garage) and the "attic" (structure has a shed-style roof where I can put plenty of insulation). But, I'm not sure how to handle the walls. I plan on installing a wood burning stove and mini-split HVAC. Since I don't intend to heat it all winter, I'm leaning towards NOT insulating the walls, to allow the brick to "dry out" as initially designed/built. Is that a recipe for the space being miserably uncomfortable in the coldest/hottest months (we are climate zone 4, on the edge of zone 5)? Since it's a small, accessory space, I don't want break the (limited) budget by "over engineering" a solution. Any tips on how to improve comfort without introducing water/moisture problems?
Related Links:
---
End Note: Fine Homebuilding celebrates 40 years!
Visit the Taunton Store  •  Magazine Index  •  Online Archive   •  Our First Issues   •  All Access
---
---
Help us make better episodes and enter for a chance to win an FHB Podcast T-shirt: www.finehomebuilding.com/podcastsurvey
---
If you have any questions you would like us to dig into for a future show, shoot an email our way:

[email protected]

.
If we use your question we'll send you a FHB Podcast sticker!
---
FHB Podcast T-shirts!
Represent your favorite podcast! Available in several styles and colors. Made from 100% cotton. Find the Podcast t-shirt and more cool products in the Fine Homebuilding Store.
---
This episode of the Fine Homebuilding podcast is brought to you by BuildBook.
Happy Clients. More Profits. Less Stress. That's the trifecta of the construction business. We all want that, right? Well, after working and talking with 100's of home builders and remodelers over the past 2 years, BuildBook has discovered the one common ingredient that determines the success of your construction business…the client experience.
Yes, if you drop the ball anywhere in the client experience from the first impression to the final payment, things can get super messy super quickly.
BuildBook has spent the past several months developing the first-of-its-kind platform that focuses on helping you deliver throughout the client journey the one thing standing between you and achieving the trifecta of construction.
It starts with marketing tools to attract the right leads. Add in sales tools so you can win the best projects. And finish with project tools that knock your clients socks off!
If you're looking for an unfair advantage in your business, this is it. Head on over to BuildBook.co now to try it free for yourself.
Visit BuildBook.co for more.
---
Fine Homebuilding podcast listeners can get 20% off anything in the Taunton store, including the Renovation, 5th Edition.
Use the discount code FHBPODCAST to take advantage of this special offer.
---
We hope you will take advantage of a great offer for our podcast listeners: A special 20% off the discounted rate to subscribe to the Fine Homebuilding print magazine. That link goes to finehomebuilding.com/podoffer.
The show is driven by our listeners, so please subscribe and rate us on iTunes or Google Play, and if you have any questions you would like us to dig into for a future show, shoot an email our way: [email protected]. Also, be sure to follow Fine Homebuilding on Instagram, and "like" us on Facebook. Note that you can watch the show above, or on YouTube at the Fine Homebuilding YouTube Channel.
The Fine Homebuilding Podcast embodies Fine Homebuilding magazine's commitment to the preservation of craftsmanship and the advancement of home performance in residential construction. The show is an informal but vigorous conversation about the techniques and principles that allow listeners to master their design and building challenges.
Other related links