Tools & Materials
Straight-Hole Jig
Ideal for cabinetwork, these drill guides have a V-groove that centers the guide on 90-degree corners and curved edges.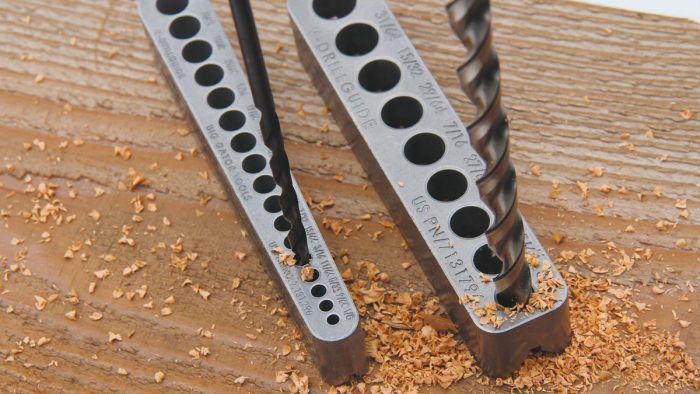 I have been in the trades a long time now, and my work has ranged from boat building to remodeling to cabinetmaking to finish carpentry. Drilling straight holes is a fundamental skill in all kinds of woodworking. When I saw this drill guide, I knew immediately how useful it could be. For some jobs, like adding shelf pin holes to an already installed cabinet or drilling pilot holes in face frames when fastening cabinets together, even a few degrees error can lead to trouble down the line. This little tool makes those kinds of jobs simple.
The tool is a precisely machined chunk of hardened steel with accurately sized holes that slip over a drill bit and guide it exactly perpendicular to a surface. I really like the guide for cabinetwork because I can slip it onto the drill bit, position the bit where I want, then slide the guide down to meet the surface. It also has marks along the sides that align with the centers of each hole. It's big enough to hold easily with my other hand and also to add a clamp if needed without being in the way of the drill. A V-groove means you can use it on 90° corners or on pipe or dowel, which are always challenging to do accurately.
The manufacturer, Big Gator Tools, offers the drill guides in a huge range of configurations that include fractional, metric, and numbered bit sizes. They also make a similar product sized to guide taps when threading holes. The company is based in Kansas and all of their tools are made in-house. While these guides may not be must-have tools, I bet if you buy one and keep it nearby, you'll be reaching for it when stakes are high or visibility and access aren't easy.
Photos: Courtesy of Big Gator Tools
From Fine Homebuilding #297