Timeless Tip: Tunneling Under Slabs
Use standard plumbing parts to quickly dig a narrow hole under a slab.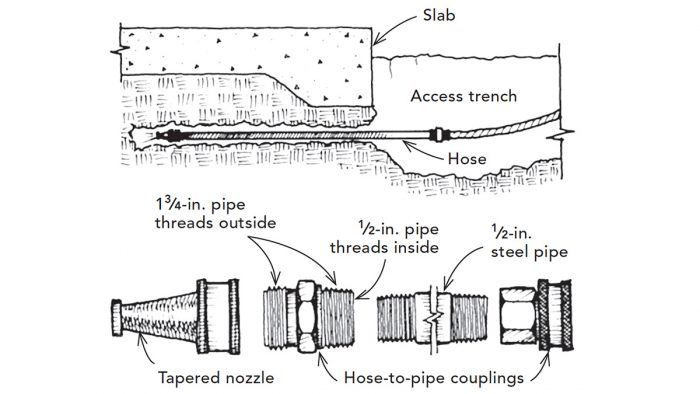 To celebrate FHB's 40th anniversary, I've chosen my favorite Tips & Techniques from the first year of the magazine to feature throughout the year. A lot of the time these tips still work and don't cost much. This one is a good example. It uses standard plumbing parts (about $5 at the time, perhaps $20 today) to quickly dig a narrow hole under a slab.
—Charles Miller
---
Have you ever needed to bury a water, gas, or electric line and found your path blocked by a concrete slab? Here's a hydraulic method for making a small, accurate tunnel under such an obstacle, using a garden hose, iron pipe, and about $5 worth of common brass fittings from your hardware store.
Excavate a trench to the necessary depth, on both sides of the slab, and assemble the pictured fittings. It is important to maintain a level course under the slab, so be sure your trench is long enough to allow the pipe to remain level while the tunnel is being cut. If access is limited, short sections of pipe may be added with couplings as the tunnel gets longer. Sometimes it is best to work from both sides and meet in the middle.
The tapered nozzle delivers water at a very high velocity and quickly erodes the soil in its path. Adjusting the flow of water will control the diameter of the tunnel.
—Bruce Gooddell, Oakland, Calif.
Edited and Illustrated by Charles Miller
Originally from Fine Homebuilding #2, featured in #297