Tools & Materials
Tough, Basic Work Pants
These Dickies pants have a useful sacrificial double knee and no unecessary bells and whistles.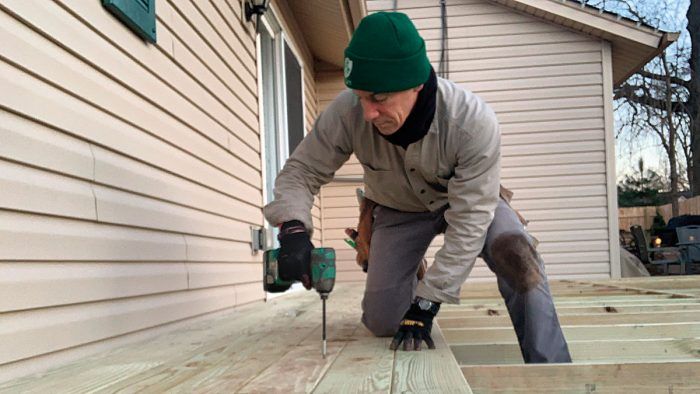 In my lifetime, the styles and the complexity of work pants seem to have outpaced even the technological advances I've seen during the same period, which is why I like my Dickies Flex Double Knee Work Pants ($30). It's their evolved simplicity I appreciate most. First, they're wonderfully lacking in features. There are four traditionally positioned pockets into which my phone, wallet, and keys unceremoniously go. No flaps, no pleats, no Velcro—and no two-step authentication to get the stuff in there.
There's also the traditional leg pocket for what once held a folding rule. Dickies describes the fabric as 7-1⁄4-oz. "Mechanical Stretch Twill," 65% polyester and 35% cotton. I describe them as comfortable, and I like how they move when I move. They don't feel gummy in mid-Atlantic summer humidity, and wind doesn't blow through them on cold days.
What also works—and something I love—is the sacrificial double knee. After months dismantling and building decks, storm recovery, interior demo, chainsaw work, dump runs galore, and general remodeling, one of the several pairs I have has sprung a tiny leak in the left knee, but there's tons of life left. I wear the straight-leg style in brown, gray, and black. There's a "relaxed" fit too. They're available in some big box stores, but sizes are limited. I purchased mine directly from Dickies with no issues. I'm happy to keep my pants simple, comfortable, and long-lasting.
Mark Clement, carpenter and author of The Carpenter's Notebook.
 Photo: Mark Clement
 From Fine Homebuilding #297
Note: Fine Homebuilding may make a small commission on any purchases made through the Amazon links above.