Community Effort Makes Homes More Affordable
Adam Feldman and Myron Ferguson talk about how Habitat for Humanity makes dreams come true.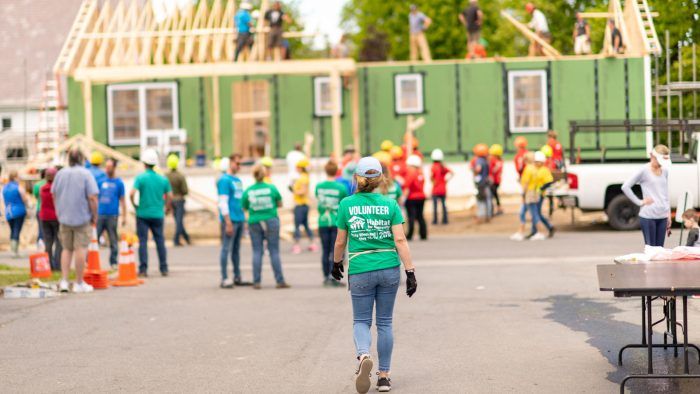 "I am Myron's first boss in how many years?" asked Adam Feldman, executive director of Habitat for Humanity of Northern Saratoga, Warren, and Washington Counties in New York.
"I didn't know he was the boss. I thought I was," responded Myron Ferguson.
Myron, who is a long-time and respected contributor to Fine Homebuilding and known in certain circles as "that drywall guy," recently became Adam's construction manager at Habitat for Humanity. While Myron has volunteered for Habitat off and on throughout the years, the house he is working on now will be his first, completed from scratch, with Habitat.
This kind of playful back and forth between Adam and Myron is rooted in years of close family friendship and mutual ties to Habitat for Humanity.
"My wife and Myron's daughter have been best friends since childhood," said Adam. "And Myron's kids are pretty handy. He once told me that he taught them how to Sheetrock on a Habitat house, 20 years ago when they were kids."
This familiarity and connection very much reflects the heart of Habitat's community-oriented mission to enable families, who otherwise could not afford to do so, to own and live in their own homes.
"[Habitat provides] a pathway for hardworking families who don't make enough money to buy a home in the market to live the American dream of homeownership," said Adam, who points out that the cost of building an affordable home in his area of upstate New York is impossible at this point. In considering a basic scenario, building a new home would amount to $250,000 at a minimum, which far exceeds the $100,000 most Habitat families are able to pay.
Fueled by a base of volunteers and corporate partnerships that reduce the cost of construction, Habitat works with families to budget and attain an affordable mortgage. The families then physically works alongside community and corporate volunteers, what Habitat calls "sweat equity," to see their future homes become a reality. Habitat chapters rely on the reputation of the international Habitat brand in order to make decisions that are best for the projects in the local community.
Recently, Adam and Myron's team have made a dream come true for a family with a child with physical limitations. The custom build will provide support for the family for years to come by including a ramp and handicap-accessible bathrooms.
"They will pay a down payment of $2,500 and the rest is sweat equity," said Adam. "We get to go support more families, and they will have an asset they will be able to pass down from generation to generation, and be able to build more wealth."
Providing crucial oversight over this work is a construction manager like Myron. With more than 40 years of experience, Myron is the expert eye and a guiding hand for the volunteers, most of whom have big hearts but little to no building experience.
"I've had a lot of employees over the years, and I was hard to work for, but this is different. I appreciate the people coming and working for free," said Myron. "We're not in a big rush. At one point, I didn't feel comfortable putting the rafters up with volunteers, so we hired that out. It's juggling what we're capable of doing with the time frame we have to do it in." For families moving into the homes, having someone with skills makes for a confident end-result and a reliable model for future building.
If people with experience in the trades are interested in lending their skills and labor to Habitat, the best way to do so, said Adam and  Myron, is to connect with a local Habitat for Humanity chapter.
Photo courtesy of Habitat for Humanity of Northern Saratoga Warren and Washington Counties.
Related Links: