Podcast 346: Music Studios, Reducing Building Costs, and Indoor-Air Purifiers
Matt, Kiley, and Patrick hear from listeners about energy-integration experts and ICC lawsuits before taking questions on converting a hog barn into a music studio, reducing costs in a new build, and the effectiveness of indoor-air purifiers.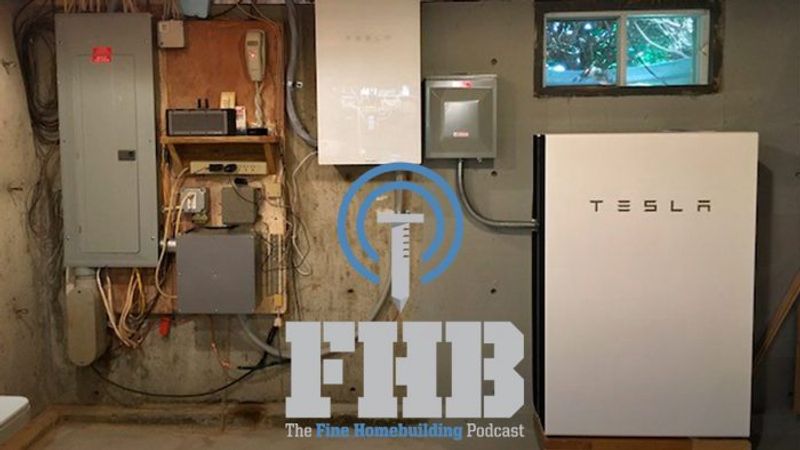 ---
Follow the Fine Homebuilding Podcast on your favorite app. Subscribe now and don't miss an episode:
Help us make better episodes and enter for a chance to win an FHB Podcast T-shirt:
www.finehomebuilding.com/podcastsurvey
Dana clues us in to a new type of building professional. Brian says the ICC is litigious. Steve shares his experience with Powerwall batteries. Adam asks if he can convert an Ag. building on his property into a music studio for his fiancée. Stratton asks how to most effectively reduce the cost of a new build. Rob wants to know if indoor-air purifiers really improve air quality. Kiley talks about dashed hopes in Scotland, and Patrick share's Home Depot's earnings report from 2020.
---
Editor Updates:
---
Listener Feedback 1:
Dana writes: Hi there, Fine Homebuilding podcasters! Together with our "team" of professionals, my groom, Timmy, and I are designing a "pretty good house" to be built in Massachusetts. Timmy's an incredibly talented man, but his talent stops at the keyboard; so he isn't exactly the FHB podcast type. But I am! I listen to your podcast as often as I can. Thanks for all the insightful tips!
During episode 334, around the 28-minute mark, you mentioned that SMART-home Integrators are a budding field. So true. But I think there may be another type of "integrator" that is a budding field, too. And that is, Energy Integrators.
I looked far and wide to find an expert who could design as many of the following energy systems into our framing and overall design as possible, such that all of the components would complement one another: (1) duct work; (2) heat; (3) cooling; (4) domestic potable hot water; (5) ventilation and air purification/filtration combo for air recovery/air handling; (6) humidification and dehumidification; (7) water purification/filtration; (8) solar paneling; (9) fenestration (windows/doors); and (10) an elevator shaft. Some of the above will be "SMART;" others…not so much.
That energy systems' design work will predate the SMART-home design work that yet another expert will have to do for our audio/visual and WiFi networks. But, ultimately, those systems should sync nicely.
After speaking with many experts like yourself, I finally spoke with a seasoned retired builder from Amherst, MA who has a penchant for "all things energy." His name is Douglas Donnell (don-EL'). Douglas is a wealth of knowledge. He applauded my efforts, and told me that the type of expert I was searching for was not a mechanical engineer, HVAC engineer, or the like, so I should stop searching for a needle in those haystacks. He said that a better Google search would be one for an "Energy Integrator" or an "Energy Integration Expert." But I had a hard time finding anyone with that title, even after contacting NESEA (the Northeast Sustainable Energy Association) and similar organizations in Boston and Portland (Maine).
Ultimately, I did find someone who performs all of that design work for custom home builds. He's preparing a bid for our project. He has great references and comes very highly recommended. I just wish we had more experts to choose from. This guy is one in a million.
So….There's yet another budding field for you and your colleagues to keep in mind. I think it'll go a long way toward building "pretty good homes."
Keep up the great work on the podcast! Do you guys have any intentions to add an outline of each podcast in the Notes section? Builder Brad Leavitt just started doing that not too long ago (for "A Finer Touch" podcast), and it really helps when you're trying to go back and find one particular comment in an hour-long podcast.
Thanks again, Dana.
Related Links:
---
Listener Feedback 2:
Brian writes: Hi FHB Pod- Listened to the most recent pro talk episode about the ICC codes. I think some important context to the discussion around code complexity is that the ICC is incredibly litigious, and has frequently sued those who try to make the building code more accessible.
Some background – a basic tenet of copyright law is that the law cannot be copyrighted. When a state adopts a building code, it becomes law and thus enters the public domain. Courts have long upheld this ruling with respect to building codes, going back to BOCA vs Code Technology in 1980.
In principle, this means anyone can copy a state's building code and make it freely available online. In practice, however, the ICC will sue anyone who tries to do this. The most recent lawsuit was ICC suing UpCodes, a software company that offers products that make the codes clearer, easier to understand, and easier to work with. The court ruled against ICC, but this hasn't stopped ICC from filing another lawsuit against UpCodes.
I have no affiliation with UpCodes, I'm just a happy user of their service, it makes working with the code so much easier. I'm disappointed that the ICC is acting like a legal bully to try to prevent people from making the code more accessible.
Thanks, Brian.
Related Links:
---
Listener Feedback 3:
Steve writes: Dear FHBPeople – You have talked about backup electric power, mainly generators, on several shows. Sometimes someone will mention the Tesla Powerwall, but generally in a dismissive way, as if the Powerwall is not an affordable or reasonable solution.
Green Mountain Power (GMP), the primary electric utility in Vermont, offers a leasing program for Tesla Powerwalls and similar power storage batteries. They offer Two Powerwall batteries and ten year lease for $55 per month,totaling $6600 or one payment of $5,500. An additional five years of free use is available at the end of the ten years.
We are in this program (we prepaid the $5500). The batteries offer about 27kWh of storage, which will run our whole house for two days, or longer if we reduce use of the oven, clothes dryer, and dishwasher. The Powerwall provides convenient, silent backup, with no maintenance or fuel concerns. Generally the only way we know there was a power outage is that sometimes the clock on the range resets.
The innovation in this program is that GMP has deployed several thousand of the Powerwalls in Vermont which they use to provide power to the grid during times of peak loads. This reduces the amount of electricity that they need to purchase at peak rates, reducing electricity costs for all their customers. (For example, from the Tesla app, I can see that we provided 55kWh to the grid from our Powerwall last week.) (Also see GMP's Energy Storage Programs Deliver $3 Million In Savings for All Customers During 2020 Energy Peaks)
(Getting into the weeds, here, so ignore me if you wish!) I'm 70 years old and soon-to-be retired, so we're looking at age-in-place solutions. The trade-offs of the Powerwall work for us. We did consider a propane powered generator. The main advantage of a generator is that we have a 1000-gallon propane tank so we could run it for a long time. With the Powerwall, if we foresee a long power outage we'll have to reduce our electricity use to get through it. The Powerwall is silent. There is one home in our village that has a generator, and it's noisy. In a power outage, you can hear it drone throughout the village. The Powerwall batteries take less than 3 square feet of floor space in our basement and are invisible outside – installing a generator would necessitate removing landscaping and putting a pad. Since we are leasing the Powerwall system, GMP is responsible for maintenance, repair, updates and upgrades – it's convenient. But the Powerwall is expensive, I would not have been able to afford it when I was young.Thanks, Steve.
Related Links:
---
Question 1: How can I convert an old agricultural building into an energy-efficient and climate-controlled space on a tight budget?
Jean-Paul writes: FHB podcast crew, It looks like my fiance is going to be moving in with a pile of musical instruments (including a piano) that will need some conditioned space, and a separate music studio she could do lessons in would be great. Right now the real estate market does not make finding a larger house feasible and you know how bad material prices are.
I do have a couple of old ag buildings on my property. Currently I am thinking a small barn/ hog house I have on my property would be the best candidate. It is about 20 ft x 40 ft, 5 ft tall at the sidewall and 20 ft at the peak. The siding is in OK condition (but steel could be applied over at some point), It is just board siding over studs. The roof had new steel installed over the asphalt shingles before I bought it. Structure is good, it was just used as an ag building so not the prettiest / cleanest.
The crazy idea I have is, can I build my structure inboard of the existing framing (it has exposed studs right now)? My thought was to install a layer of housewrap on the inside of the existing studs/ rafters, then use reclaimed foam to R-20 or so on the walls and R-50 for the roof), taped to provide the air barrier. Then install strapping on the inside to install drywall. This would keep the structure so it can dry outside of the building, Almost like a rain screen/structure. For the floor I was thinking, lay down poly over the existing concrete, a layer of foam and then cover with OSB subfloor.
Heating/ cooling/ humidity control would be a Mini-split and probably some baseboard as auxiliary heat as I'm in a pretty cold climate. Right now I don't have a plan to have any plumbing, but I might try to add a small bathroom (toilet and sink only), the building currently has a frost free yard hydrant but now sewer, but there it is not too far from the septic system, no combustion appliances.
I am located in Southern MN, climate zone 6, I do not have any code enforcement, and only the electrical would require a permit, which also means no code official to ask.
The bottom line, I am looking to do an interior remodel of a shed-like building to make it a climate controlled space, I am concerned about energy efficiency but prices make the budget tight and I am trying to avoid buying some of the materials most impacted by the crazy prices right now by using what currently exists. Suggestions welcome.
Adam. Yes I am an engineer, and love the show.
---
Question 2: What details of my rural custom home should I focus on first when I am not in a hurry?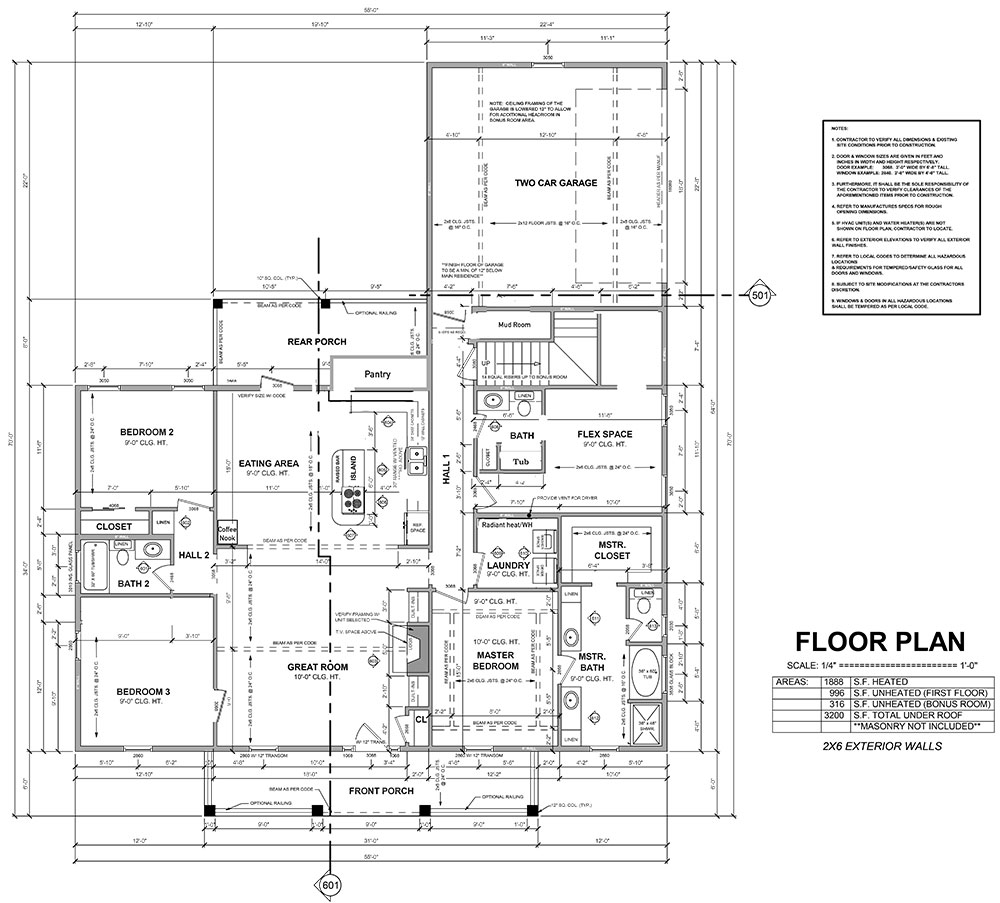 A listener writes: Hey Guys, I recently discovered the podcast after getting caught up on all of the fine woodworking episodes and am rapidly binging the fine home building podcast, it is excellent. My question is: I recently purchased four acres to build my first home on. I was a custom home framer in college for a small construction company so I have done most everything start to finish, and in my free time I'm a jack of all trades, so I am confident in my skill set. I don't have a huge budget and lumber costs are breaking my heart, so I wanted to really build a solid shell and then slowly finish the inside of the house, it is just me living in it so I don't see the need to finish all the extra rooms and bathrooms right away and I am wondering what areas in the shell should I really focus on? The house is very rural and connecting to rural power costs the same as buying an off-grid generator AND four power walls.
My wish list is:
– Hydro radiant floor heating
– Tesla solar roof
– Rooftop deck over the garage
The house is just outside of Denver on the plains side, I have attached the blueprints, any recommendations would be awesome. Love the show keep up the good work!
Related Links:
---
Question 3: Have any of you used portable air purifiers in your houses?
Rob in New Milford
Related Links:
---
End Note:
More Than Half Of American Homeowners Surveyed Made At Least One Home Improvement in 2020:  Home Depot, America's largest home improvement retailer, saw its net sales increase by over $20B in 2020 to $132B from $110B the year prior – just under a 20% increase.
Home Depot's global operating income also increased respectably at 15% YoY in 2020 to $18.28B. This gives Home Depot's global operating income a CAGR of 9.2% in the 5-year period from 2015-2020. Despite 2020 being marred by lockdowns, the number of Home Depot's customer transactions still increased by a respectable 8.7% YoY in 2020.
Related Links:
---

Visit the Taunton Store  •  Magazine Index  •  Online Archive   •  Our First Issues   •  All Access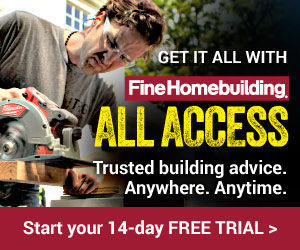 ---
Help us make better episodes and enter for a chance to win an FHB Podcast T-shirt: www.finehomebuilding.com/podcastsurvey
---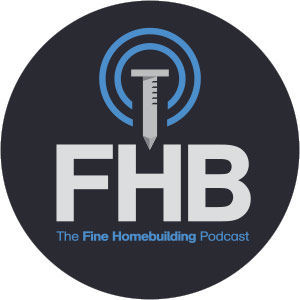 If you have any questions you would like us to dig into for a future show, shoot an email our way:

[email protected]

.
If we use your question we'll send you a FHB Podcast sticker!
---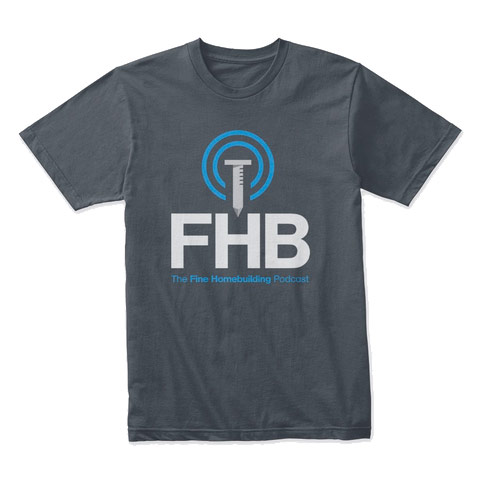 FHB Podcast T-shirts!
Represent your favorite podcast! Available in several styles and colors. Made from 100% cotton. Find the Podcast t-shirt and more cool products in the Fine Homebuilding Store.

---
This episode of the Fine Homebuilding podcast is brought to you by Benjamin Obdyke.
The future is here. Benjamin Obdyke has launched the first self-adhered water-resistant-barrier that also incorporates a true gap for drainage. HydroGap SA is the ideal product to create an air-control layer in the wall assembly, while also providing a path to remove pesky water infiltration. Backed by an unmatched 20 year system warranty, Benjamin Obdyke's Air Barrier Drainable Housewrap System incorporates HydroGap SA WRB, HydroFlash high-performance flashing options, and more. Request a sample today at benjaminobdyke.com.
Also brought to you by BILCO.
Finishing your basement is the fastest and least expensive way to add living space and value to your home. BILCO basement doors and window wells add light, ventilation, and code compliant emergency egress to lower level living areas, making them as warm, safe, and comfortable as any room in the home. Basement doors are available with a factory-applied powder coat paint finish in a number of standard colors to compliment any home. To learn how to get more out of your basement with BILCO products, visit BILCO.com.
And by BUILDBOOK.
A lot of construction pros have a common problem; your construction management software is either non-existent, or it is too slow and too complex. It shouldn't be bogged down with complicated features that you have to attend an academy to learn how to use. You need software you can start using DAY ONE without training… That is faster and more reliable than your notepad. That allows you, your team and your clients to always know what's getting done and when. And your software should reduce stress, not increase it. The solution? BuildBook.
BuildBook is built for today's modern builder with everything you need, nothing you don't. Whether you're a one man operation or a business with a large crew, BuildBook has plans to fit your budget. No nagging sales calls, tricky upsells or hidden fees. Head over to BuildBook.co and sign up for a free 10-day trial — and don't forget to mention that you heard about them on the Fine Homebuilding podcast.
---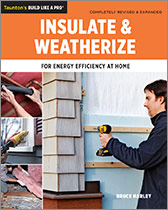 Fine Homebuilding podcast listeners can now get 20% off anything in the Taunton store, including Insulate & Weatherize.
Use the discount code FHBPODCAST to take advantage of this special offer.
---
We hope you will take advantage of a great offer for our podcast listeners: A special 20% off the discounted rate to subscribe to the Fine Homebuilding print magazine. That link goes to finehomebuilding.com/podoffer.
The show is driven by our listeners, so please subscribe and rate us on iTunes or Google Play, and if you have any questions you would like us to dig into for a future show, shoot an email our way: [email protected]. Also, be sure to follow Fine Homebuilding on Instagram, and "like" us on Facebook. Note that you can watch the show above, or on YouTube at the Fine Homebuilding YouTube Channel.
The Fine Homebuilding Podcast embodies Fine Homebuilding magazine's commitment to the preservation of craftsmanship and the advancement of home performance in residential construction. The show is an informal but vigorous conversation about the techniques and principles that allow listeners to master their design and building challenges.
Other related links