Refinishing a Hardwood Deck
The process involves removing the old coating, washing, sanding, and staining.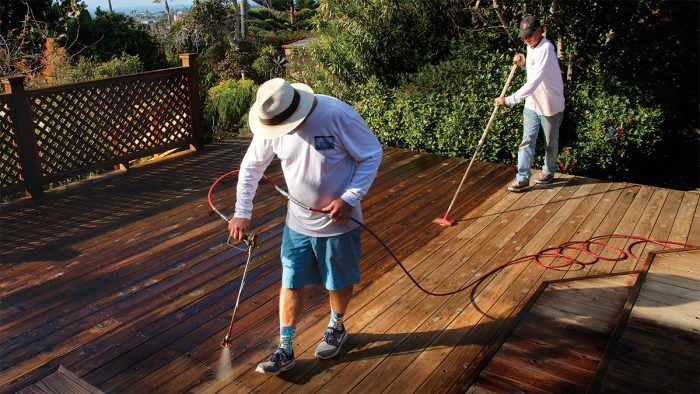 My project this spring will be refinishing our ipe deck. It's been a few years, and I want to be sure to do it right. Can you help me out with the process?
—Diego via email
Brooke Cambridge, owner of BLC Painting in Boston, replies: The first move when refinishing your deck is to assess your decking. Harder woods such as ipe are treated differently than soft ones such as cedar. What's its condition? I choose from one of three categories: The stain or finish is failing or peeling, the stain or finish is looking dull and faded, or the wood is unstained but has darkened and dulled over time.
If your deck's coating is peeling or flaking, you need to remove the old coating before applying a new stain. Begin by sweeping off any debris and dirt and then thoroughly rinse it with a hose or power washer (for softwoods, stick with a hose). Completely soak the decking to prep it for stripping.
It is important to not let any of the decking dry before applying a stripper, so re-wet it as needed. It is best to do this when the deck is not in direct sunlight; a cloudy day works very well.
Using a pump sprayer, mix stripper (I like Benjamin Moore's Remove) with water according to the manufacturer's instructions. Then, as evenly as possible, coat the wet decking with the stripper. Leave the stripper on the wood for as long as recommended, which is typically 15 to 30 minutes.
Then, using a pressure washer, remove the stripper. For best results and to not damage the decking, keep the nozzle moving and sweep the spray pattern along the grain of the wood. Repeat the stripper application and pressure washing until the old stain or paint is completely removed. Once stripped, allow wood to fully dry before proceeding with any sanding or staining.
If your decking just looks faded and dull, or has never been finished, you can use a wood brightener like Benjamin Moore's Restore instead of stripping. Follow the same steps when applying the wood brightener as when applying a stripper—beginning with cleaning and wetting.
Once the decking is dry, you can sand to achieve an even higher-end finish. Start with a fine-grit paper. Be gentle and don't use paper coarser than 80-grit or you may damage the finish and the wood. I like to sand to 180- to 220-grit. If using a random-orbit sander instead of hand-sanding, attach a vacuum to control dust.
Before applying any stain, be sure that your decking is below 18% moisture content. It should feel completely dry, and it's best to test by with a moisture meter. For a stain and finish, I recommend Armstrong- Clarke's one-coat system.
Maintaining a beautiful wooden deck requires regular care. If you properly prepare and condition the decking before applying a stain, it should not need to be stained again for several years, depending on weather and wear and tear.
Photo: Patrick McCombe
From Fine Homebuilding #300
---
RELATED LINKS: