Run Pipe and Wires Under Slabs
A pressure washer attached to a length of pipe creates a tool for easily tunneling under driveways, patios, and more.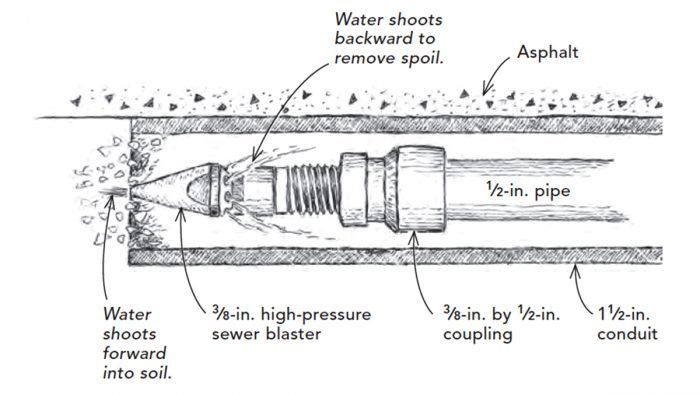 I frequently tunnel under driveways and concrete slabs to run landscape wire, electrical conduit, and gas lines (check your local code for required burial depths). The drawing shows the tool I use. It's made from a length of 1/2-in. galvanized pipe with a high-pressure sewer-blaster nozzle on one end. On the other end is a standard quick-connect for a pressure-washer hose. I use a pair of 3/8-in. by 1/2-in. reducer couplings to adapt the 3/8-in. pressure-washer fittings to the 1/2-in. pipe. The setup blasts high-pressure water from a pressure washer straight ahead to make a hole in the soil. Holes in the back of the nozzle shoot water backward to remove the spoil. The nozzle's tapered shape helps with tunneling.
To use the tool, dig holes on both sides of the slab and get a piece of plastic or galvanized 1-1/2-in. or 2-in. conduit long enough to span the slab. Run the nozzle and pipe inside the conduit with the sewer nozzle at the front. Turn on the pressure washer and push the tool forward. While you're boring, use a small sledgehammer to tap gently on the conduit so it keeps up as the nozzle burrows. A second set of hands makes this easier, but you can do it solo if you have to. When you get the conduit to the other side, shut off the power washer and pull out the drilling nozzle, and you're ready for gas pipe or wire. You can make one of these tunneling tools for around $50 from materials at the hardware store.
—GJ Litts, Norway, Mich.
Edited and Illustrated by Charles Miller
From Fine Homebuilding #300