Podcast 483: Recalled Electrical Panels, Drainage Behind Brick, and Lazy Additions
Andrew, Ian, and Patrick hear from listeners about HVAC myths and mapping electrical systems, before taking questions about recalled electrical panels, finishing basement ceilings, and water management behind brick.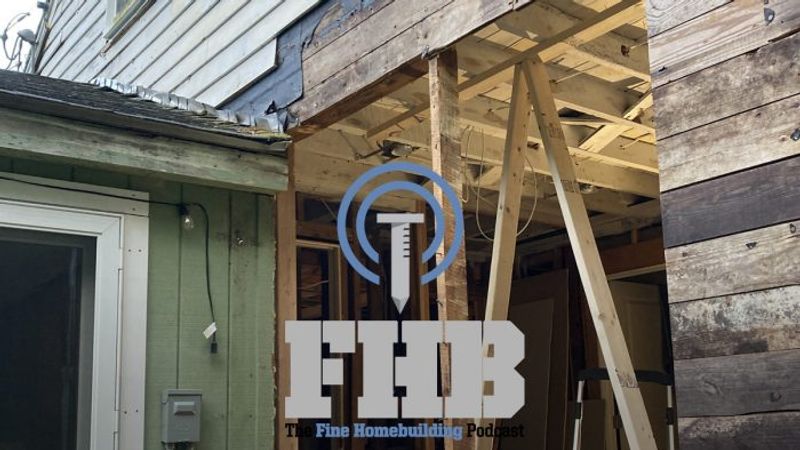 ---
Follow the Fine Homebuilding Podcast on your favorite app. Subscribe now and don't miss an episode:
Help us make better episodes and enter for a chance to win an FHB Podcast T-shirt:
www.finehomebuilding.com/podcastsurvey
Mark shares his thoughts on the HVAC industry. Kevin shows us a Boston Globe article on fiber-cement siding. Larry mapped his home's electrical system. Patrick asks what he should do about his recalled electrical panel. Shane wonders how he should finish his basement ceiling. Guy inquires about water management behind brick. Michael wants to know what to do about his snake-hiding lazy addition.
---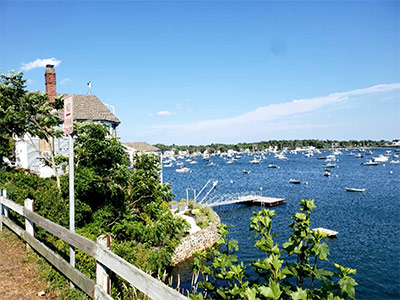 Editor Updates:
Andrew's Taunton visit
Ian's shop/garage
Jeff's houseguests
Patrick's photo shoot in Marblehead, Mass. featuring Brooke Cambridge of BLC Painting
Fine Homebuilding is the official media sponsor of the Midwest Building Science Symposium.
---
Listener Feedback 1:
Mark writes: Hi Patrick and FHB podcast team, I was listening to episode 473 while commuting home this week. You got into a conversation about misconceptions about heat transfer and why even HVAC techs often lack a basic understanding of thermodynamics. I've lost count of how many times I've had to explain the difference between heat and hot air even to HVAC techs and seasoned building professionals. To be fair to HVAC techs, I've met just as many HVAC engineers who don't have a clue about constructability and what it takes to put a system together and make it work. HVAC engineers need more field experience and HVAC techs could use a bit more time in the classroom.
Radiant heat, ducted systems, wall mounted heat pumps, etc. all have advantages and disadvantages and understanding where to use them and the best applications makes for a happy homeowner. Asking an HVAC engineer to install your system might be just as dangerous as asking an HVAC tech to design a system. Getting adequate design support on residential projects is the challenge. There is a knowledge gap at the residential level.
Here's another example of what the knowledge gap looks like to a homeowner. Recently, a friend asked me if baseboard heat was better than a ducted air system for his new home. His installer said, "wet heat" (hot water baseboard) is much more comfortable than "dry heat" (ducted hot air). I told him, "You're going to get burned either way. 😊 This is another of my top ten HVAC myths that will certainly have some of your listeners thinking, "you mean that's not true?" I offered to help him select a system that would be best suited to his application and then he could hire a tech with the knowledge and tools to do a good installation or the right system.
Love the podcast, keep up the good work, and if heat does start rising, we are all in trouble because the sun is not sitting below the earth.
Mark Jussaume PE
Specializing in HVAC myth debunking
Listen to Patrick and Mark's Podcast 377: PRO TALK With Mechanical Engineer Mark Jussaume
Related Links:
---
Listener Feedback 2:
Kevin writes: Happy Summer Patrick and crew. Interesting read below. Not sure how to take the info about the JH siding from the local New England contractor. Seems like he may have an axe to grind but not sure. My folks have had two homes with JH siding and overall, very satisfied. Paint adhesion in a southern coastal area battered by a hurricane had zero effect on it. Original paint job is still gleaming after 25 years. I continue to enjoy the pod and input from all the contributors.
Related Links:
---
Listener Feedback 3:
Larry writes: Hey FHB Crew, As a true, dyed-in-the-wool data nerd I enjoyed listening to Patrick's description in episode 473 of labeling his electrical panel. Years ago I drew a simple outline of the rooms in my 1925 bungalow for the purposes of identifying all the outlets, switches, etc. At the time I simply wrote on a printout the corresponding breaker number, but after having a new panel installed to run 220 to my garage, I realized I needed to up my game and finish the diagram correctly. I resurrected my copy of Microsoft Visio 2010 and created an accurate depiction of the walls, windows, doors, etc. of the house and identified each outlet, light, switch, ceiling fan, etc. (pdf printout attached).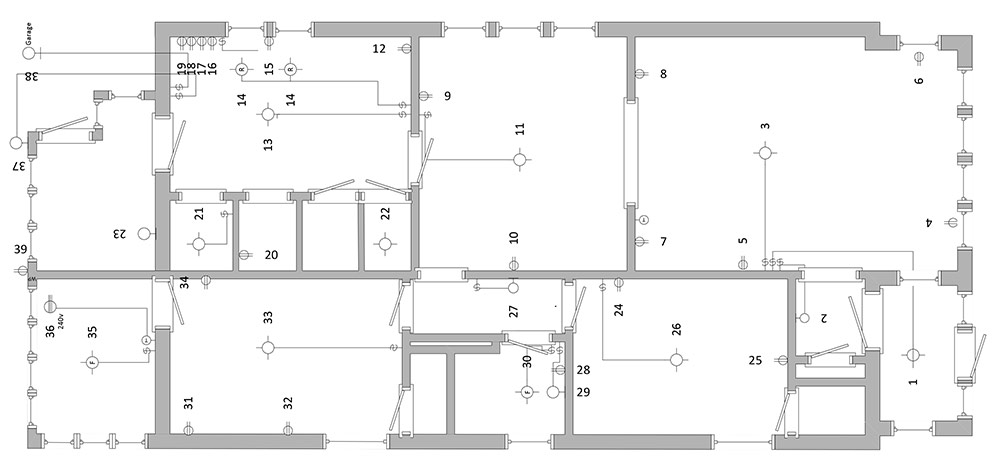 I then linked each element to the appropriate row in an Excel spreadsheet (also attached). Now I have a visual representation of all my electrical wiring and I can quickly identify what will be turned off by each breaker! Was it worth the hours I spent on this? Probably not, but now I get to obsess over why breaker #4 services 8 outlets/lights but #3 services only 2? Really enjoy the show – keep up the great work you do!
Related Links:
---
Question 1: Should I tie my bathroom subpanel into the main panel?
Patrick from Tennessee writes: Hello good folks at FHB! Patrick here from the outskirts of Memphis, TN in Millington. My wife and I have a 130+ year old hodgepodge of a home that's had several additions over its life. We are trying to get the ball rolling on a bathroom remodel and we have a federal pacific panel in the bathroom. The wall used to be an exterior wall but is now an interior bathroom wall with the panel. Obviously, this isn't the safest thing nor is it up to code. My question is should we tie this subpanel into the outside main panel, which isn't going to be cheap, or should we have the electrical company turn the area with the federal pacific panel into a junction box?
We feel like doing it correctly and having it removed completely and tied into the outside main panel. I'm guessing over the years each of the home owners have opted not to move the panel due to the expense. However, we figure safety is of most importance and we really don't want to burn the house down. Thanks in advance so much for all the great advice and laughter, Podcast and magazine subscriber for life, Patrick!
Related Link:
---
Question 2: What should I do about the ceilings as I finish my basement?
Shane writes: Good morning Fine Homebuilding Team. 🙂 I'm in the process of building a mother-in-law apartment in my unfinished basement and because of several electrical junction boxes up in the floor joist space, I'm unsure what options I have in regard to ceiling type. We would like a drywall ceiling but to do that, I'd have to rewire a substantial portion of the basement to relocate/remove the junction boxes. I did just have my electrical service upgraded from 200a to 400a and had a second breaker box installed, so this isn't outside of the realm of possibility.
My wife doesn't like drop ceilings but will understand if we don't have another choice. I've been told about a recent trend which involves painting everything in the joist cavities a flat black. I've seen similar treatments in commercial buildings with exposed ductwork and such but I don't know how it would look in a residential basement space.
Are there any other options that I'm missing? Any "Don't do it this way" warnings? 🙂
Related Links:
---
Question 3: Is there any reason for masons not to leave an air gap?
Guy DeVerges writes: Hello podcast crew, I recently inspected a new home in which the owner complained that the new windows leaked water. The windows did indeed leak but the bulk of the moisture was from irrigation heads wetting the brick façade daily. We opened up the wall and found moldy drywall, rotted studs and as Patrick likes to say "composty sheathing". My question is this, there was no air gap between the brick and framing nor any weep holes. This was new construction, why would a mason not leave an air gap? Are there other mason design guidelines not to use an air gap? Is it faster/cheaper not to have an air gap? Am I missing something?
I recommended repair/replacing all the impacted materials, sealing gaps and cracks and water sealing the bricks. Short of pulling the brick off the brick and starting over do you have any other recommendations. This is on a 1.5-million-dollar house.
Related Links:
---
Question 4: How can I fix my breezeway to make sure the connection to the house is properly sealed?
Michael in Woodbury, CT writes: Hello podcast team, I am in the midst of a DIY gut renovation of our house in Woodbury, CT. It is a 1948 cape with a garage and connecting breezeway added on at some point. The breezeway addition, like all the work done on this house, is exemplary of "fine homebuilding" in the sense that "fine" means minimally adequate. One of the "finest" aspects is the way the addition was attached to the main house by simply nailing the framing against the existing clapboards. The triangular gaps between the breezeway framing and clapboards have been filled over the years with caulk and can foam, but much of it has broken loose, forming what my wife has dubbed "Snake Highway." (We live in a wetlands area alongside a stream, and we have numerous species of snake neighbors who enjoy slithering through the gaps to enjoy mouse hunting in the ceiling insulation. We learned this during demolition when dozens of snake skins rained down on us…)
And of course, the roof leaks at this intersection. Before we started renovating, there was aluminum siding on the main house over the original cedar clapboards. Fortunately, the aluminum siding did lap over some step flashing at the roof's edge, but it was not well done (you could see daylight from inside the breezeway attic). And now that we have removed the aluminum siding, the step flashing is outside the clapboards and is useless.
So where do we go from here?
I think there is no viable way to fix the roof except to strip off at least a foot or two of shingles at the intersection, do some surgery to yank out the old clapboards from behind the breezeway framing, extend the roof sheathing to the house sheathing, and then properly flash and re-shingle this part of the roof, and replace the removed clapboards with new ones.
The walls are essentially the same story—I need to extend the breezeway sheathing to the house sheathing and then properly seal the connection. Also, I don't know if it complicates things, but I am vaulting the breezeway ceiling. So I need to cut into the house sheathing below the ridge to frame a post and slide a triple 2×12 ridge beam into it. The other side (garage connection) is less complicated because the framing meets up conventionally, although the roof slopes are inexplicably slightly different just to keep a guy scratching his head.
Finally, a question: What's the best way to do this? Should I cut back the existing breezeway sheathing (roof and walls) a couple feet or more to give myself room to frame a proper connection? Or can I just slide some 1x material into the gap and rip narrow strips of plywood to cover it? And in either case how should I seal these new connections—Zip tape, caulk or silicone sealant, etc.? Thank you all for considering my question and for producing an awesome podcast that helps keep me motivated whenever a pile of snake skins threatens to break my spirit.
Related Link:
---
END NOTES: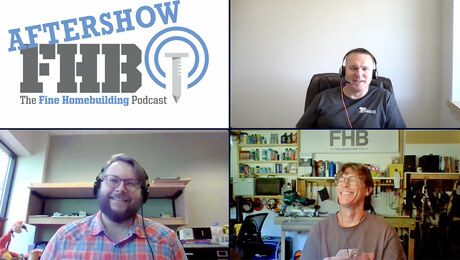 ---
Check out one of our Project Guides: Siding & Exterior Trim!

Check out our FHB Houses:

Visit the Taunton Store  •  Magazine Index  •  Online Archive   •  Our First Issues   •  All Access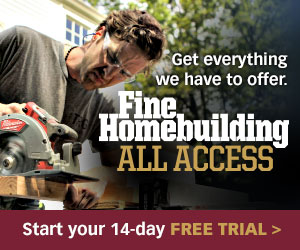 ---
Help us make better episodes and enter for a chance to win an FHB Podcast T-shirt: www.finehomebuilding.com/podcastsurvey
---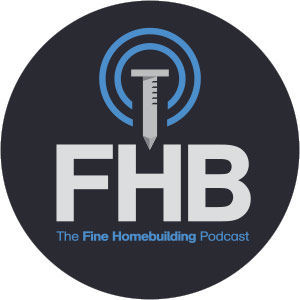 If you have any questions you would like us to dig into for a future show, shoot an email our way:

[email protected]

.
If we use your question we'll send you a FHB Podcast sticker!
---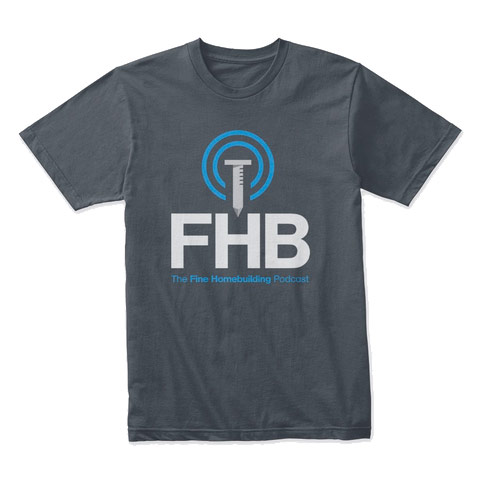 FHB Podcast T-shirts!
Represent your favorite podcast! Available in several styles and colors. Made from 100% cotton. Find the Podcast t-shirt and more cool products in the Fine Homebuilding Store.

---
This episode of the Fine Homebuilding podcast is brought to you by Andersen Windows.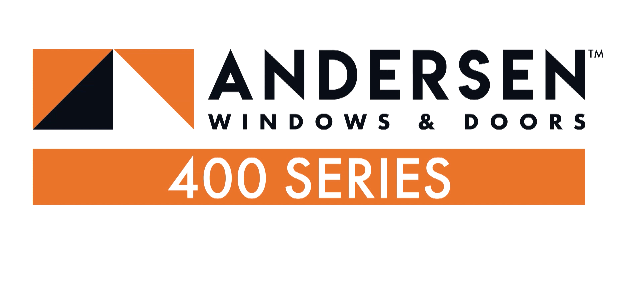 If you're a window installer, you deserve a simple choice: Andersen 400 Series windows. They're the windows contractors trust the most based on a 2022 survey of U.S. contractors. Probably because they have fewer callbacks, and extra peace of mind. And thanks to shortened lead times, they're available faster. Make your go-to windows Andersen 400 Series. Request a quote at AndersenWindows.com.
Professional builders know the value of a durable and versatile construction adhesive. Say no to second guessing quality, say yes to Loctite's strongest adhesive, PL Premium Max. Equally effective for interior and exterior use, PL Premium Max can be applied in all but the most extreme weather conditions and bonds to all common building materials. It offers 20 minutes of working time and cures solid in 24 hours, with no air bubbles for maximum durability. Whether you're framing a custom home, upgrading to granite kitchen counters, or adding rigid foam and comfort to an existing basement, PL Premium Max is the right adhesive for the job. Say yes to Loctite's strongest construction adhesive. Visit Loctiteproducts.com for more information.
---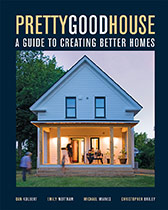 Fine Homebuilding podcast listeners can now get 20% off anything in the Taunton store, including Pretty Good House.
Use the discount code FHBPODCAST to take advantage of this special offer.
---
We hope you will take advantage of a great offer for our podcast listeners: A special 20% off the discounted rate to subscribe to the Fine Homebuilding print magazine. That link goes to finehomebuilding.com/podoffer.
The show is driven by our listeners, so please subscribe and rate us on iTunes or Google Play, and if you have any questions you would like us to dig into for a future show, shoot an email our way: [email protected]. Also, be sure to follow Fine Homebuilding on Instagram, and "like" us on Facebook. Note that you can watch the show above, or on YouTube at the Fine Homebuilding YouTube Channel.
The Fine Homebuilding Podcast embodies Fine Homebuilding magazine's commitment to the preservation of craftsmanship and the advancement of home performance in residential construction. The show is an informal but vigorous conversation about the techniques and principles that allow listeners to master their design and building challenges.
Other related links