Tools & Materials
What Are Helical Piers?
An option for fast footings for decks, porches, and even whole houses, helical piers are like big screws.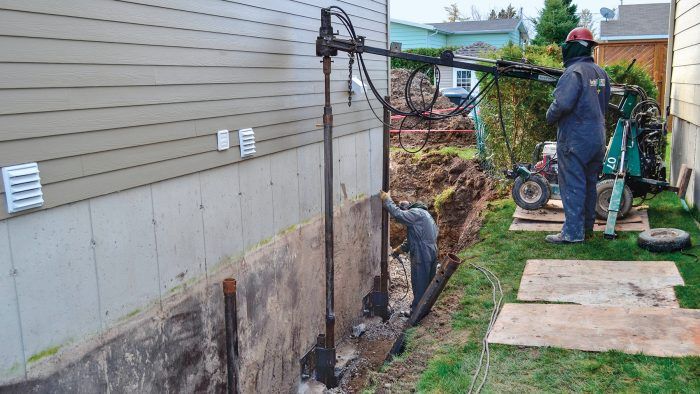 There are technical differences between pier foundations and pile foundations. One is depth. Piles tend to be used in situations where little bearing capacity is found in the first few feet of soil and an atypically deep footing is necessary. In all but the trickiest sites, piers are more common in residential construction. Nevertheless, you may hear the terms used interchangeably, particularly in the case of helical piers, also called helical piles. That's because they are often used in situations where deep footings are needed in commercial construction.
Helical piers are not a new technology, but have been slow to be adopted by residential builders. That may be changing as more dealers and franchises come online. Helical piers can be used as footings for decks, as footings beneath new homes, and for repair work, as shown here. They are quick to install, disturb the site very little, and can be sized to support just about any load.
A helical piers is like a big screw with a shaft and bearing plates. Soil conditions and loads determine the necessary depth of the pier and diameter of the helixes, or bearing plates. Helixes are only found on the lead section of the pier, and extensions are added when needed to drive the pier deeper. Bearing capacity can be verified by the amount of torque required to drive the pier during installation. At the top of the pier is a cap to which various heads can be attached. Usually welded to the cap or somewhere along the shaft, the head may be a bracket that can be bolted to a foundation, like the ones shown here, or it could be a base for a deck post, for example.
For more on helical piles, see "It's Time to Consider Helical-Pile Footings."
Illustration by Peter Wojcieszek
Photo courtesy of TechnoMetalPost
---
RELATED LINKS