Aaron Agosto, Trim Carpenter
A trim carpenter and professional photographer, this craftsman has forged a reputation for careful and exacting finish work.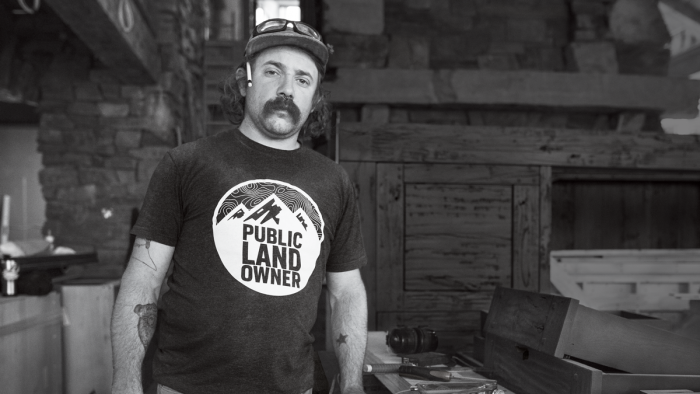 "I've always thrived just beyond my comfort limits."

– Aaron Agosto, Trim Carpenter, Bigfork, Mont. 
Carpenters tend to look at the world ­differently than most. They'll see details in our built environment that the untrained eye would never notice: joinery, materials, finishes, engineering­—in a word, craft. They see when care was taken with the work and when it was not. Photographers have their own language, too; their own artful way of seeing and their own way of capturing time, space, and detail.  And so it is probably no surprise at all that Aaron Agosto, trim carpenter and professional photographer from Bigfork, Montana, has found himself spending painstaking hours scribing one solid 8-ft.-long Texas mesquite cabinet stile as perfectly as possible to a stacked stone wall in a new build that's designed to look like it has endured in northern Montana for a ­hundred years.   
Craftsmanship means "doing the work right and feeling good about it at the end of the day," says Aaron, who grew into the trade by tagging along behind his grandfather, a builder on the shores of Cape Cod who exposed him to working with his hands and developed his building knowledge. When college wasn't the right fit for Aaron, he pivoted and went to work for builders in the eastern U.S., honing both his skills and the values he brings to the work. He learned that he wasn't the kind of tradesperson who prioritized time and production over quality, and set out on his own to forge a reputation for careful and exacting finish work.
While Aaron has years of experience under his belt, he still welcomes the discomfort of tackling challenging work that brings him closer to mastery in a field that's short of masters.
Hear Rob Yagid's interview with Aaron on the Keep Craft Alive Podcast.
—Rob Yagid, executive ­director, Keep Craft Alive
From Fine Homebuilding #302
---
RELATED LINKS