Double Decking
Building a deck with doubled-up joists means the planks can stretch out, there are no ends over a joist, and there is no doubling up on nailing.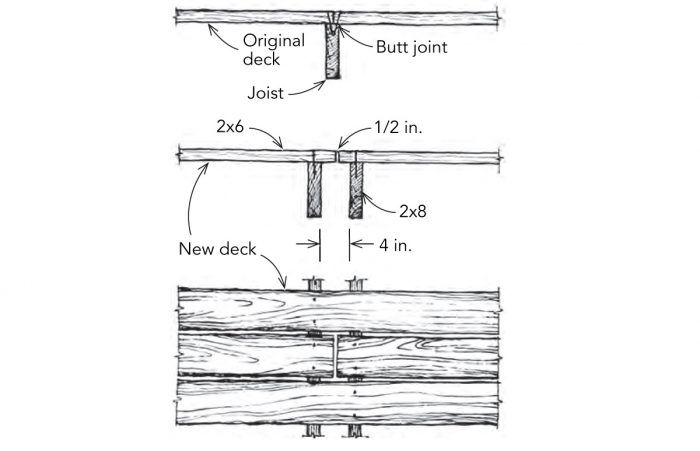 To celebrate FHB's 40th anniversary, I've chosen my favorite Tips & Techniques from the first year of the magazine to feature throughout the year. A lot of the time these tips still work and don't cost much. Here's one of them…
Building a deck with doubled-up joists seems like a measure of extra work. But in this tip from Fine Homebuilding issue #5, it meant that the planks could stretch out, there were no ends over a joist, and there was no doubling up on nailing. The lumber prices might be different today, but the tip stands as is.
—Charles Miller
---
When our house was built in 1958, the plan included large decks on two sides. They were built conventionally: 2×8 joists covered with 2×6 planks set on 6-in. centers. By 1980 I had to replace the decking, primarily because of rot that started wherever two 2x6s butted each other over a joist.
My design involved doubling up the joists at each station, as shown in the drawing. This simple change accomplishes the following: no tight butts in planking, no butts over joists, no split 2x6s from nailing them at their ends, and the entire structure can now "breathe."
The deck has a width of 15 2x6s. With careful layout using lengths up to 20 ft., I have no more than four joints at any station, minimizing waste. I used pressure-treated southern yellow pine. All the lumber cost about $1000, and only $64 was added by doubling up on the 2x8s.
—James B. French, Portsmouth, R.I.
Edited and Illustrated by Charles Miller
Published in Fine Homebuilding #302