Concert Venue Meets Everyday Living
An exposed steel and Douglas-fir beamed ceiling creates an ideal environment for music performances.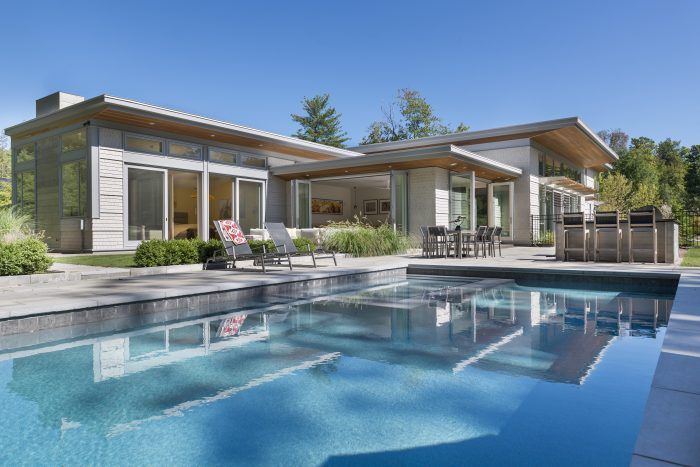 The owner of this modern retreat in the Berkshires required an ideal acoustical environment for both indoor musical chamber performances and everyday living. The home consists of separate pavilions that contain a spacious combined living, dining, and kitchen area, a guest wing, a four-season porch, and a private primary suite. The largest pavilion—the center focus of the home—is defined by an exposed steel and rough-sawn Douglas-fir beamed ceiling, folded like origami into the form of a butterfly's wing, sloping up in two directions.
On top of the beams is a second set of smaller purlins, giving greater depth to the assembly. The rough wood combined with the dimensionality of the assembly gives the room nearly ideal acoustics. Sitting above the exposed ceiling framing is a composite of finish-grade plywood, a thermal blanket of closed-cell insulation, another layer of plywood sheathing, and then felt-backed membrane roofing. In order for the rain to be collected in a cistern, the roof is sloped for high ceilings to the south and low ceilings to the north.
Architect: Flavin Architects, flavinarchitects.com
Builder: Chris May Builders, chrismaybuilders.com
Location: Lenox, Mass.
Photographer: Nat Rea Photography
---
RELATED LINKS