Ladder Tool Topper
Create tool tray and attach it to the top of a stepladder to minimize ups and downs.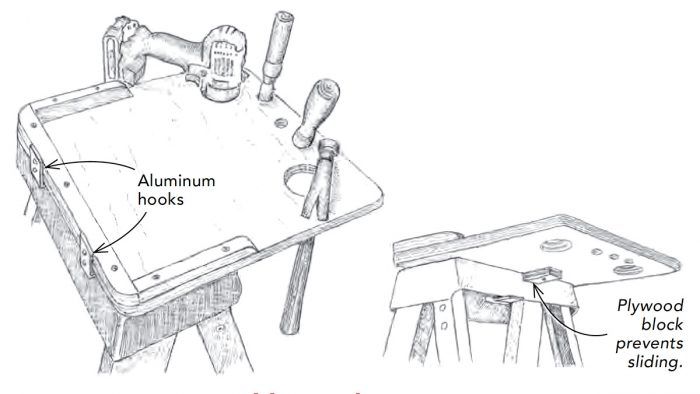 I work from stepladders a lot, so to minimize the ups and downs I started thinking about a tool tray for the top of my stepladder and how to attach it. To begin, I screwed hooks made from two pieces of aluminum to the back of the 3/4-in. plywood tray. The hooks fit into slots molded into the back ladder's top for a paint tray. I screwed a 2-in.-long block of 3/4-in. plywood underneath the tray to prevent it from sliding or coming unhitched and then added pieces to the sides and back to keep things contained. Finally, I rounded the corners with a belt sander. Holes in the front hold drills, screwdrivers, and paintbrushes. This easy-to-make and easy-to-store work surface has been a time-saver and has improved my quality of work in many ways.
—Mike Alexander, Monrovia, Md.
Edited and Illustrated by Charles Miller
Published in Fine Homebuilding #304