Podcast 537: Bowed Block Walls, Air-Sealing a Post-Frame Shop, and a Rotten Door Jamb Fix
The crew hears from listeners about Vancouver Special houses and wind-blown trash before taking questions about a bowed foundation wall, air-sealing and insulating a new shop, and fixing a door jamb with Bondo.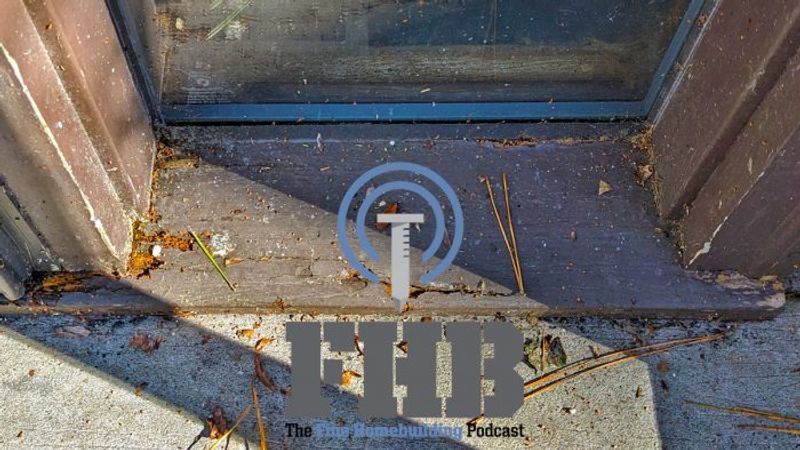 ---
Follow the Fine Homebuilding Podcast on your favorite app. Subscribe now and don't miss an episode:
Help us make better episodes and enter for a chance to win an FHB Podcast T-shirt:
www.finehomebuilding.com/podcastsurvey
Tim has experience with Vancouver Specials. Will shows us wind-blown trash from a 15-year-old build. Michael needs help with his Lesco Home's foundation. Adam asks about making a comfortable shop. Walter wonders how to fix a door jamb with Bondo.
---
Editor Updates:
---
Listener Feedback 1:
Tim writes: Hey gang.
Just listened to this segment. Having lived in Vancouver for 6 years, and now settled about an hour away on a peninsula requiring a ferry, I am pretty familiar with the Vancouver specials.
A lot of these homes have poured concrete walkways around the exterior, and many I have seen have less than ideal drainage because these were builder-grade homes that were fast-tracked during permitting to help with the housing crisis at the time. While they usually have large overhangs, Mike was correct that when it rains it pours. I think we got three inches the other day.
That would be my first spot to look, especially with the letter writer noting cracks in the foundation. I think you all have spoken to this before, and if water is getting in, it's easier to stop it from the outside.
We did a similar renovation to my old boss's home in North Vancouver with a very similar foundation. We glued 3-in. foam to the concrete foundation wall, glued the drywall to that, filled the cavities with rock wool, and used a smart vapor barrier. Can't recall which one.
It does require some dehumidification as his soil on the lot is all clay and does not drain well.
Ask me how fun it was to dig the deck footings.
Hope this helps.
Related Links:
---
Listener Feedback 2:
Will writes: Hi folks, walking in the woods today behind a 15-year-old development and it's just amazing the amount of building trash I find every time I walk. I'm sure wind took a lot of this stuff, but it's disappointing to see people just not caring at all that trash has blown off the site and into the woods, further increasing microplastics in our environment. Perhaps this is a reminder to be a little more conscious with our work.
Related Links:
---
Question 1: Can I fixed my bowed foundation walls, or should I start from scratch?
Michael writes: Greetings FHB Podcast Team-
Thank you so much for all the insight you share with us eager listeners every week!
I have two questions for you that I'm hoping you'll consider discussing on a future podcast:
1)  My wife and I recently inherited a beautiful parcel in an agricultural area of Northern Virginia that has a circa 1958 prefabricated cottage, built by long-defunct Lesco Homes that operated out of Martinsville, Virginia. I have attached some photos of the approximately 900-square-foot cottage, as well as a 1958 advertisement for the company's "Line of the Presidents" catalog of prefabricated homes. The 60-year-old, single-story structure is in desperate need of repair and a major remodel, as the three bedrooms are simply too small for modern living and the basement floods quite often. To help us evaluate whether to renovate or entirely replace this home, I wonder if you could share your thoughts on how we could address the leaky basement? As you will see, the CMU walls are bowing inwards (presumably due to hydrostatic pressure), causing long linear cracking. I don't know whether or not site-built CMU basements of this era would have included rebar, but perhaps you could speculate on this and how best to prevent future leaks? Ideally, we would avoid the need to excavate the existing grade along the perimeter to install a new drain tile and positive-side waterproofing, but perhaps this will be unavoidable? Are the CMU basement walls even worth saving, or should we jack up the house and then re-pour the basement walls entirely?
I should mention that we plan to remove and seal the interior staircase so that the only future basement access would be via an existing outdoor stair, which should help with the thermal envelope and continuous air-sealing. Since our plans will essentially convert our basement into a tall crawlspace, should we make it unvented by installing a robust vapor barrier inbound of the existing slab and walls, or is that unadvisable given the risk of future water infiltration through existing or new CMU cracks?
We are aiming for 'Pretty Good House' standards on this project, so once the leaking basement is solved, we plan to remove the existing siding and install continuous exterior rigid insulation (hopefully wood-fiber insulation board, if TimberHP is up and running by then) over the existing 2×4 stud walls. We will install a rainscreen and new siding. We also hope to install a structural ridge beam so that we can vault the ceilings throughout and will install rigid insulation over the existing roof sheathing, with either an unvented rafter assembly or a vented over-roof, then install new standing-seam or corrugated metal roofing. We will also install new windows, an ERV or HRV, a heat-pump water heater, and ductless minisplit cassettes. We hope to run blower-door tests both during and after construction.
2)  This particular site is in Climate Zone 4, but we could throw a stone and it would land in Climate Zone 5… Given the relentless trajectory of climate change, do you and the team feel it is best to err upward or downward for locations that are on the border between two climate zones? I would assume we should stick with Climate Zone 4, but of course the winters will only get harsher…
Keep up the great work!
Thank You,
Michael
PM: Hi Michael, Thanks for the kind words and for listening to the show. The basement walls don't look too bad, but I'm never a big fan of block walls with what I suspect is clay soil given the house's location. How is the storm and roof water management? Is there a heating plant and water heater in the basement presently? Are you planning to leave those in the basement?
Hi Patrick-
Thanks for the quick reply! From what I understand, the basement leaking was indeed reduced once we had the gutters cleaned (after the attached photo was taken), but some leaking is still occurring. The topography does gently slope toward the rear of the house, and we did some minor re-grading a decade or so ago, which also helped. But the mid-height location of the basement-wall cracks suggests to me some hydrostatic pressure issues beyond merely roof or surface water drainage issues.
I suppose I am just nervous about investing in a major remodel of the above-grade livable space atop a basement with such pronounced cracking…
To answer your other question, there is indeed a tank water heater in the basement and a furnace of some sort, although I'm not sure of the manufacturer/model. There is an exterior propane tank, so I assume that fuels both the existing furnace and the water heater. I have attached some additional photos for reference. We would aim to use the basement to house the new heat-pump water heater and likely a washer/dryer, but we hope to handle heating and cooling within the tighter renovation with minisplit cassettes and a single outdoor condenser. That will enable us to remove the CMU chimney for the furnace flue. If we are going to convert the basement into an unvented crawlspace, should we fill in the windows?
According to the local county soils map, the soil is primarily silt loam with moderate infiltration rate. I welcome your feedback! Also very interested in your thoughts on the climate zone border question:)
Best,
MM
Related Links:
---
Question 2: Does my air-sealing plan for my pole-barn shop work?
Adam in Afton, MN, writes: Greetings,
I have really come to enjoy the podcast and have been fascinated by many of the topics you cover. I'm a committed DIYer but an electrical engineer by profession. I like to do things right so they will last a long time and perform well but often find myself getting into highly customized projects that require some deep thinking to figure out. I really appreciate your willingness to recognize DIYers as serious craftsmen who can be capable of doing good work.
My current project is a 30×48-ft. pole barn next to my house in Afton, MN, that will serve as both vehicle storage and metal/wood shop space with a room-in-attic over half of the barn for storing all the things that would go in my basement, if my house had one. I got the laminated columns in the ground just before the frost set in and also buried 2-in. XPS 2 ft. down and 2 ft. out around the perimeter. I added a layer of 6-mil poly over the foam and up to the top of the grade boards (double-high treated 2x8s) in an attempt to keep the soil under the barn as dry as possible.  The slab will be poured later, and I'm planning to put more 2-in. XPS under the concrete and embed PEX for eventual heating (hopefully an expansion of my home's geothermal system). I'm doing all the work myself with the exception of the slab pour. My intention is to keep the interior above freezing through the winters, maybe warmer if I have a project going on—with possible window A/C units or a minisplit for occasional cooling.  I'm hoping for a good balance of investment in the building envelope vs. energy costs over time.
My plan for the envelope is as follows: 2×6 outset girts with 1.5-in. EPS between the girts, WRB over the girts/foam and overlapping the poly mentioned above (with some flashing or something to cover the poly down to grade), horizontal 1×4 furring strips over the girts, fresh-milled 3/4-in. boards and battens from Scots and red pines on my property (probably varying width boards in order to make the most out of the trees). Siding will be either screwed in or maybe attached with ring-shank galvanized collated framing nails if I can be convinced that they will hold against the cupping pine as it dries. I'm planning to leave about an inch between the boards in order to allow vertical airflow behind the siding—I know there are vented furring strips that would augment the airflow but they seem a bit pricey. I'm also considering cutting numerous dado slots into the furring strips to increase the airflow. I was going to use some kind of metal screen/mesh product to cover the openings between the boards at the bottom of the wall to keep bugs and mice out of this "rainscreen" system.  Later, I plan to add insulation batts between the columns and finish the inside with some plywood or pine boards (which will be dried before installation, unlike the siding, which will go up green). I assume I should also include an air barrier somewhere in this sandwich, but I'm not a big fan of drywalling the whole barn—expensive, heavy, hard work, messy, not good for mounting things, and it only looks good until the first time you bang it with a piece of lumber or splash liquids on it. As there is no OSB or metal siding to provide racking strength in the walls, I'm planning to include diagonal bracing with 2x4s in all wall sections, not just the end sections as in most pole barns. There will be a number of smaller windows, but I'm leaning toward inoperable for most of them to save cost and improve air-sealing. I realize that my two overhead garage doors are going to be the weakest link in the envelope and don't want to waste my effort and money over-insulating and sealing the rest of it.
The roof will be supported by two different truss designs but with some custom framing to allow for continuous under-deck ventilation from the eaves to a ridge vent. I'll be sheathing the roof with 5/8 OSB and then installing architectural shingles using the manufacturer's "system." I'll put insulation batts between the 2×8 top chords later on and use a combination of insulation baffles and EPS foam to keep the ventilation channels clear. I'd love to finish the whole ceiling with pine boards too. I really want to keep the space between the trusses open so the finished ceiling will be attached to the bottom of the top chords (no place for cheap tricks like blown-in insulation).
I could write out a bunch of specific questions about my design, but you probably have a lot of really helpful observations just based on what I've described.  Thanks.
Related Links:
---
Question 3: How do I fix a rotten door jamb and sidelight sill?
Walter in Chapel Hill, NC, writes: Hi Podcast cast,
In podcast 529, Mike Guertin repaired his in-laws' rotted jamb with formed Bondo(!). I am facing this repair, and so I am wondering if there is a video or other resource that gives the details. The sill is now held together by a deceptively intact paint film, and I am expecting rot. When I searched for "door jamb" on the Fine Homebuilding site, the closest match was to Mike's story. There is an adjoining sidelight with a sill that also needs replacing. Predictions about what lies beneath, more about forms for Bondo, and any suggestions would be great.
I'm not in the trades, but I am retired and curious. Even before the acute shortage of crafty people due to the virus, it was getting hard to find help, and so I have been taking a first swipe at everything that doesn't require going up a ladder.  I've been a subscriber for years and have listened to all the podcasts. I've learned a lot. With Kiley not around so much lately, I miss the feminine voice. You've had a number of competent women on Pro Talk. Maybe one of them would volunteer.
Thanks for all you do.
Related Links:
---
END NOTES:
Podcast 537: Members-only Aftershow — Tool Storage and Organization
Mike starts off by talking about his VW Beetle tool hauler. Patrick talks about his tall wall of tools. Andrew describes making the switch in tools and storage when he transitioned from woodworker to home remodeler. Jeff confesses that he saves everything, which makes functional storage more important.
---
Check out one of our latest Project Guides: Energy Retrofit!
Check out our FHB Houses:
Visit the Taunton Store  •  Magazine Index  •  Online Archive   •  Our First Issues   •  All Access
---
Help us make better episodes and enter for a chance to win an FHB Podcast T-shirt: www.finehomebuilding.com/podcastsurvey
---
If you have any questions you would like us to dig into for a future show, shoot an email our way:

[email protected]

.
If we use your question we'll send you a FHB Podcast sticker!
---
FHB Podcast T-shirts!
Represent your favorite podcast! Available in several styles and colors. Made from 100% cotton. Find the Podcast t-shirt and more cool products in the Fine Homebuilding Store.
---
Fine Homebuilding podcast listeners can now get 20% off anything in the Taunton store, including Pretty Good House.

Use the discount code FHBPODCAST to take advantage of this special offer.

"Finally, knowledgeable people talking about building reasonably-sized, high-performance houses for normal people with real budgets!"
— DanD, VA, 8/19/22, Amazon.com review
---
We hope you will take advantage of a great offer for our podcast listeners: A special 20% off the discounted rate to subscribe to the Fine Homebuilding print magazine. That link goes to finehomebuilding.com/podoffer.
The show is driven by our listeners, so please subscribe and rate us on iTunes or Google Play, and if you have any questions you would like us to dig into for a future show, shoot an email our way: [email protected]. Also, be sure to follow Fine Homebuilding on Instagram, and "like" us on Facebook. Note that you can watch the show above, or on YouTube at the Fine Homebuilding YouTube Channel.
The Fine Homebuilding Podcast embodies Fine Homebuilding magazine's commitment to the preservation of craftsmanship and the advancement of home performance in residential construction. The show is an informal but vigorous conversation about the techniques and principles that allow listeners to master their design and building challenges.
Other related links