Podcast 545: Mystery Fasteners, Basement-Ceiling Insulation, and Mixed-Use Malls
The crew hears from listeners about Bonfiglioli walls and ready-mix concrete before taking listener questions about weird screws, insulating a basement ceiling, and suburban mall redevelopment.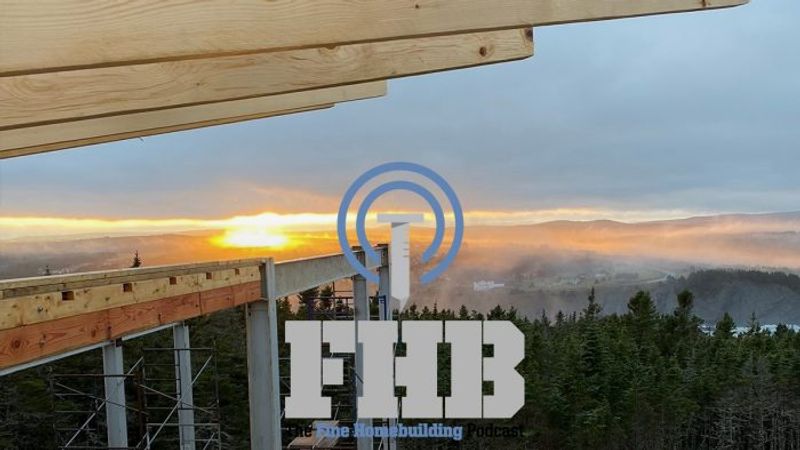 ---
Follow the Fine Homebuilding Podcast on your favorite app. Subscribe now and don't miss an episode:
Help us make better episodes and enter for a chance to win an FHB Podcast T-shirt:
www.finehomebuilding.com/podcastsurvey
This Guy asks about Bonfig walls and thermal bridging. Doug says his tool storage is evolving. Scott confirms that ready-mix concrete can be in short supply. Evan asks about a weird screw he found on the ground. Ben wonders if he should insulate the basement ceiling of his rental house. Mario answers our podcast listener questions. The crew discusses how old malls are being turned into mixed-use development.
---
Editor Updates:
---
Coley writes: Hate to be this guy, but does a Bonfig wall solve the thermal bridging problem?
—This Guy
PM: I added Bonfig to my MS Word dictionary.
Related Links:
---
Listener Feedback 2:
Doug writes: Hi All, I enjoyed the discussion of tool storage. It was gratifying to see that I am not the only one who keeps thinking "I need to get better organized." That thought can persist for years. I keep meaning to build a case of shallow drawers—I even have the 1/2-in. Baltic birch—but it hasn't happened yet. I appreciated the discussion of what to do with seldom-used tools. There are tools that you don't know when you will ever use them again, but if you need them, you need them. A couple of months ago a neighbor or came to the door wondering if I had a basin wrench. After 30 minutes of searching, I found mine. When he returned it, he said I saved his life. If you are not a plumber, you may need a basin wrench only once or twice in a decade, but when you need it there is no substitute.
Related Links:
---
Listener Feedback 3:
Scott writes: Hello, I enjoy the podcast and just listened to episode #539. I live north of Cincinnati and have two concrete ready-mix plants within about 10 miles. As of fall 2022, one will no longer sell to anyone without an account, but the other continues to support whoever calls in to order.
The biggest surprise from the episode was the comment about a solar project taking 4 months of production from a concrete ready-mix facility. That is a lot of concrete! Does anyone account for the actual carbon footprint of building a solar plant?
Related Links:
---
Question 1: What kind of screw is this?
Evan writes: Hello FHB podcast!
I'm a mold-assessment consultant in Dallas-Fort Worth (climate zone 3A), and I enjoy walking production-builder job sites to learn where they're making building-envelope mistakes so I can better track moisture intrusion in the future. I found this mysterious fastener at one of the jobs, and I can't find out what it is. I hope y'all can help. It has a rotating ring at the top and appears to be some kind of lag bolt or wood screw.
I was listening to episode 489 about what y'all keep on hand in your shops, and while I keep many fasteners and lots of types of tape on hand, I found having SharkBite caps in 1/2 in., 3/4 in., and 1 in. are essential for winter weather, as friends, neighbors, and family will call me if there is a plumbing leak from a busted pipe. During the winter, these parts can be hard to find during freezes in our area. I also keep PEX and copper fittings of various sizes to make repairs should there be such an event in my 1996 townhouse.
I am feeding my burgeoning interest in building science with y'all's show and have enjoyed your Pretty Good House book immensely. Thank you for all you do. Keep up the good work!
Related Links:
---
Question 2: Should I insulate my basement ceiling?
Ben in Littleton, MA, writes: Greetings FHB Crew!
My wife and I will soon be moving and renting a 1,500-sq.-ft. ranch-style house that was built in the 1960s. While the landlord is doing extensive renovations to the interior, after touring the house, there were some concerns that caught my eye. One of them is a lack of insulation between the unfinished basement and first floor.
Since we will be paying for utilities, I brought this to the landlord's attention. He agreed that if I am willing to do the work of insulating, he will pay for material.
Here are my thoughts on how to insulate it, and I would really appreciate some feedback:
Cut and cobble 2-in. rigid foam along the rim joist.
Spray-foam any penetrations going from the basement to the first floor.
Staple insulation mesh to the joists and prep for blown-in cellulose.
A couple of questions:
– Since it's an unfinished basement, do I need a vapor retarder between the bottom of the subfloor of the first floor (which are pine planks and not plywood) and the cellulose? If so, any thoughts on how to accomplish that?
– Do I need additional support for the cellulose (strapping?), or will the insulation mesh hold fine if stapled sufficiently?
Something else to consider. The basement is dry, but there is efflorescence on the lower part of the basement walls that, if I understand correctly, could be a sign of water intrusion. I plan on cleaning some of it off and seeing if it comes back to determine if it is still active water intrusion or simply the leftovers from something in the past. If it's still an issue, then I may need a dehumidifier if I add insulation and block drying potential. Or maybe I should have a dehumidifier regardless.
If I do need a vapor barrier, then I may swap the blown-in cellulose for faced fiberglass batts for the ease of it. (I can feel my arms itching already.)
The reason I wanted to stick with cellulose for the basement is because I'm sure the attic has little to no insulation as well, and I thought I could kill two birds with one insulation stone.
Any input would be appreciated! Thank you in advance!
Related Links:
---
Question 3: A listener answers the podcast crew's questions
Mario writes: Questions from the crew, I'll bite.
Q: What's a great day on the job for you?
A:  Working outside when the weather's cooperating, with a fun crew! Even on a nice cold winter day, it's good when we're having a productive day and we're all in good moods and having a laugh. Not too many days do I wish I were inside… even in the hugely variable Newfoundland climate. And the view doesn't hurt (see pics below).
Q: Would you buy a house that needs a well?/has a big flaw?
A: Yes, if the price reflects the work required. We bought a real dump 5 years ago because it was centrally located and really cheap. We have been fixing it up ever since… Would I do it again? Maybe not! I was unprepared for how difficult it is to do work on your own house—after-work motivation, material costs, moving "stuff" out of the way, living in a reno zone.
But I shouldn't ever have to be worried about making the (small) mortgage payments.
Q: Are interest rates/the economic outlook affecting your home projects?
A: Yes, somewhat. The rising interest rates are serving their intended purpose. Borrowing money against the property to renovate is less appealing as the rates go up, not knowing how hard it will be to pay it back
Q: What's the most interesting project you've ever worked on?
A:  Refitting a steel-hull ship into a "Tall Ship." It wasn't much carpentry work, but I was young and did a huge variety of labor tasks. I spent the winter in a Hamilton shipyard (not ideal!) then the summer "sailing" the ship around the Great Lakes and out to the Atlantic (amazing!). We worked hard and had a diverse and fun crew that made it a once-in-a-lifetime experience.
I really enjoy what you guys put out each week, keep up the good work. It's nice to keep advancing the thinking about how we do what we do.
Related Links:
---
Question 4:  Mixed-Use Malls?
From The New York Times: By Adding Apartments, Malls Seek to Bring Shopping Closer to Home: Facing an existential crisis over empty space, owners are trying to fill malls with residences, building on the live-work-play model sought by young adults.
Related Links:
---
END NOTES:
Podcast 545: Members-only Aftershow — The Future of Housing
Kiley, Mike, and Patrick talk about how suburban and urban redevelopment will look in the coming decades. Will ADUs and in-fills be enough to move the needle in desirable locations? How do we create more affordable housing?
---
Check out one of our latest Project Guides: Energy Retrofit!
Check out our FHB Houses:
Visit the Taunton Store  •  Magazine Index  •  Online Archive   •  Our First Issues   •  All Access
---
Help us make better episodes and enter for a chance to win an FHB Podcast T-shirt: www.finehomebuilding.com/podcastsurvey
---
If you have any questions you would like us to dig into for a future show, shoot an email our way:

[email protected]

.
If we use your question we'll send you a FHB Podcast sticker!
---
FHB Podcast T-shirts!
Represent your favorite podcast! Available in several styles and colors. Made from 100% cotton. Find the Podcast t-shirt and more cool products in the Fine Homebuilding Store.
---
Fine Homebuilding podcast listeners can now get 20% off anything in the Taunton store, including Pretty Good House.

Use the discount code FHBPODCAST to take advantage of this special offer.

"Finally, knowledgeable people talking about building reasonably-sized, high-performance houses for normal people with real budgets!"
— DanD, VA, 8/19/22, Amazon.com review
---
We hope you will take advantage of a great offer for our podcast listeners: A special 20% off the discounted rate to subscribe to the Fine Homebuilding print magazine. That link goes to finehomebuilding.com/podoffer.
The show is driven by our listeners, so please subscribe and rate us on iTunes or Google Play, and if you have any questions you would like us to dig into for a future show, shoot an email our way: [email protected]. Also, be sure to follow Fine Homebuilding on Instagram, and "like" us on Facebook. Note that you can watch the show above, or on YouTube at the Fine Homebuilding YouTube Channel.
The Fine Homebuilding Podcast embodies Fine Homebuilding magazine's commitment to the preservation of craftsmanship and the advancement of home performance in residential construction. The show is an informal but vigorous conversation about the techniques and principles that allow listeners to master their design and building challenges.
Other related links