Podcast 420: Soundproofing, Cold Chimneys, and Dealing With Increased Building Costs
Mark, Ian, and Patrick discuss inexpensive soundproofing, building a chase around a chimney in an unconditioned attic, and the current climate of material and labor cost increases.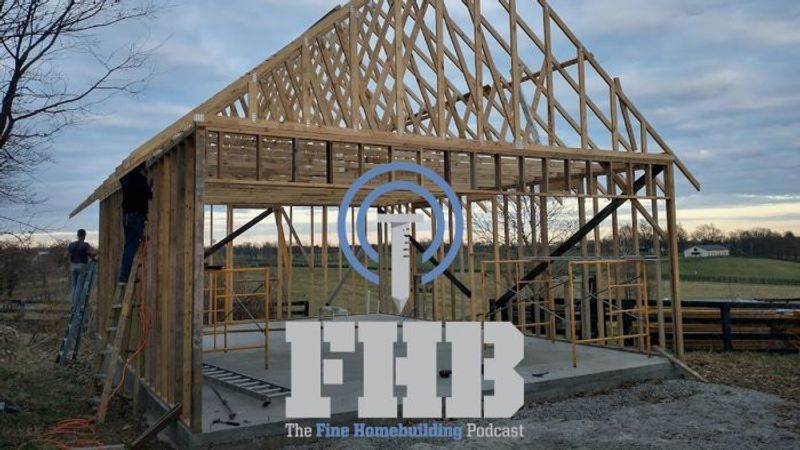 ---
Follow the Fine Homebuilding Podcast on your favorite app. Subscribe now and don't miss an episode:
Help us make better episodes and enter for a chance to win an FHB Podcast T-shirt:
www.finehomebuilding.com/podcastsurvey
Dianna asks about soundproofing her kids' bedrooms. Ray asks if he should build an attic chimney chase. Michael asks how to insulate his new shop ceiling. Ian shares thoughts from his trade partners on increasing costs of material and labor.
---
Editor Update:
---
Question 1: What's the best way to soundproof walls on a budget?
Dianna from Champaign, Ill writes: Hello FH Podcast crew, My husband and I are building a house and are wondering if you know of an effective, yet economical, way to soundproof interior walls. We have three young kids and are hoping to keep the bedrooms quiet both for the kids and because of them.
Related Links:
---
Question 2: Should I create an insulated chase in my cabin attic to prevent it from heating up that space?
Ray from Wisconsin writes: Hey Patrick and Gang, I'm in the process of building a cabin in northern Wisconsin using pretty standard construction methods: 2×6 framing, fiberglass batts in the walls, and blown in cellulose in the attic. I plan on installing a wood burning stove to use as an auxiliary heat source. The stove pipe that passes up through the ceiling, into the attic, and out through the roof will be insulated. The pipe only needs 2" of clearance from combustibles, so I'm sure it doesn't get super-hot, but I'm guessing that it does heat up quite a bit. My question is, should I create an insulated chase in the attic to prevent it from heating up that space? The pitch of the roof is steep, so there's going to be quite a long length of exposed hot pipe running through it. My concern is that the warm air in the cold attic will cause condensation to build up in the form of frost and ice on the cold surfaces like the truss framing and underside of the decking? The fireplace folks say it's not necessary, but it seems like cheap insurance to me. Thoughts?
Love the show, Ray
Related Links:
---
Question 3: Is it better to leave my stand-alone workshop open or install a ceiling?

Michael in KY writes: Dear Podcast Crew, I enjoy listening to your weekly podcast and to the others that you all produce as well. Now it's my turn to ask a question!
I am building a stand-alone workshop that is 24 by 32. It is on a slab in which I have installed PEX tubing for a radiant floor heating system. I have ten-foot walls and a truss roof system that is 24 inches on center and pitched at 10/12. I have not yet decided if I want to put a ceiling in or leave it open to the attic space for storage of materials. If I leave it open, what are my insulation options? If I put a ceiling in, what are my options? I plan on putting on metal roofing. Should I be worried about moisture build up? How should it be vented? I have already put 6″ blocking between all the trusses which effectively blocks ventilation through there. Here are some pictures. I'm pretty sure that I live pretty close to Mark in central Kentucky. Perhaps he can come over and insulate for me!
Thanks for all you do to Keep the Craft Alive, Michael
| | |
| --- | --- |
| | |
Related Links:
End Note:
Talk about price increase and how Ian's company and clients are dealing with it:
Hi Ian, everything electrical like I am sure all trades are experiencing is all over the board.  Copper has seen the highest increase which unfortunately is what makes electricity work.  While copper is high, I am told that the plastic sheathing around wiring is where the real problem is.  Most or all of the plastic refineries that make all sorts of products are in Texas.  So, with Texas's hurricanes, winter storms and COVID it has greatly reduced the production and in turn access to products.  We have also seen increases in electrical panels, breakers and electrical devices.  Shortages in electric meters, GFCI receptacles, certain colors of devices (mainly white), and almost all breaker and panel manufacturers.  For example, I have had 200-amp meter sockets on order for 4 months as I am down to a total of 3 left in my possession.  I cannot get any anywhere, even eBay.  Everything is on back order and after 3 more service upgrades we will not be able to upgrade a service until some of these meters arrive.  The receiving dates keep getting pushed back as they have for months now.  Generators are another big issue, mostly due to Texas buying them all up after their storms.  I have 6 on order, and they have been on order over 6 months now and am still waiting.  New generator orders are 9–12-month deliveries we are told.  As far as labor is concerned, it has really spiked on the administrative end.  We cannot keep people in our office for billing, scheduling etc… due to the fact that everyone is paying over 20.00/hr. plus benefits these days.  So, if someone can find an easier job that pays a buck an hour more, we lose that person. Now a standard position that used to do billing for 18.00-20.00/hr. plus benefits has increased 10-20%. The electricians cost seems to go up 5%-7% yearly, but that is something we are used to at least.  Hopefully this helps a bit, and let me know if you have any other questions.
Hi Ian, both labor and materials have been a pain to work through this last year or so. Very few people applied for a job and the ones that did were generally unskilled labor and wanted premium pay to start out at. The materials have had incremental price increases throughout the year, along with Sherwin Williams adding in a 4% supply chain charge to every item. That was said to end at the end of this calendar year but it is being extended out into 2022 along with another price increase. It's been difficult because with painting everyone has done it so it's hard for customers to justify paying high prices. We end up absorbing the majority of the materials increases just to be competitive. Also, it's not building a staircase where if they do it poorly grandma could meet her final moments coming down the stairs Christmas morning, it's just painting and if the cut lines look bad nobody gets hurt, especially their bank accounts. People are more likely to decide to tackle projects on their own, especially if they are just a room or two. Exteriors are different, people are less likely to take on those projects, but they are searching for the lowest bid.
Related Links:
---
Check out our latest Project Guide: Siding & Exterior Trim!
Check out our FHB Houses:
Visit the Taunton Store  •  Magazine Index  •  Online Archive   •  Our First Issues   •  All Access
---
Help us make better episodes and enter for a chance to win an FHB Podcast T-shirt: www.finehomebuilding.com/podcastsurvey
---
If you have any questions you would like us to dig into for a future show, shoot an email our way:

[email protected]

.
If we use your question we'll send you a FHB Podcast sticker!
---
FHB Podcast T-shirts!
Represent your favorite podcast! Available in several styles and colors. Made from 100% cotton. Find the Podcast t-shirt and more cool products in the Fine Homebuilding Store.
---
Fine Homebuilding podcast listeners can now get 20% off anything in the Taunton store, including Insulate & Weatherize.
Use the discount code FHBPODCAST to take advantage of this special offer.
---
We hope you will take advantage of a great offer for our podcast listeners: A special 20% off the discounted rate to subscribe to the Fine Homebuilding print magazine. That link goes to finehomebuilding.com/podoffer.
The show is driven by our listeners, so please subscribe and rate us on iTunes or Google Play, and if you have any questions you would like us to dig into for a future show, shoot an email our way: [email protected]. Also, be sure to follow Fine Homebuilding on Instagram, and "like" us on Facebook. Note that you can watch the show above, or on YouTube at the Fine Homebuilding YouTube Channel.
The Fine Homebuilding Podcast embodies Fine Homebuilding magazine's commitment to the preservation of craftsmanship and the advancement of home performance in residential construction. The show is an informal but vigorous conversation about the techniques and principles that allow listeners to master their design and building challenges.
Other related links