Grout Bag to Fill Gaps
Solve gap problems using a contractor's version of a heavy duty pastry bag.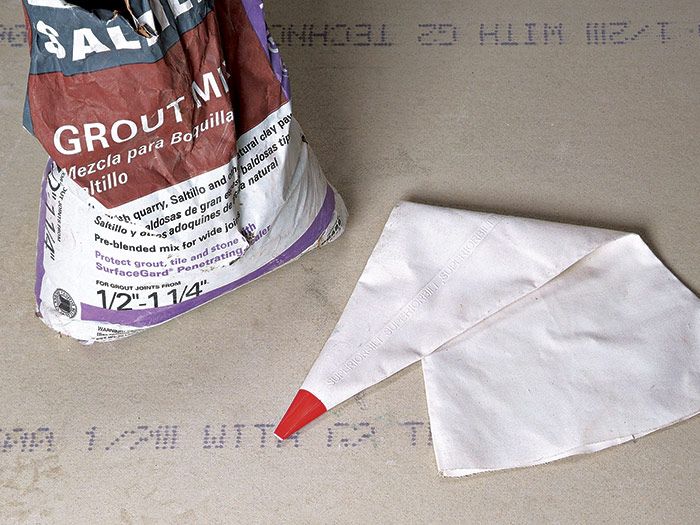 I'm installing new windows in an existing house with stone veneer. Because of how irregular the stone is I've found it impossible to scribe the PVC trim boards to fit the stone exactly. In fact, the best I can do still has some gaps as wide as ½ in. and even larger here and there. Help!
—Gary H., Greenwich, CT
Contributing editor and remodeling contractor Andy Engel replies: I've encountered the same situation. There isn't a caulk that I trust for gaps that big, so what I use instead is mortar applied with a grout bag. Grout bags are contractor versions of the bags pastry chefs use to pipe icing onto cakes. You can buy one for less than $10 at big box stores or masonry supply yards.
Start by taping off the trim so you don't stain or scuff up the surface. Mix up small batches of mortar to a nice, flowable consistency. Load the bag with a trowel, and go to town like you're icing a cake. Leave enough room so you can twist the top of the grout bag closed, and then keep twisting it as you squeeze out the mortar. Fill the gaps as deeply as you can, and then use a pointing trowel to shape the mortar to your liking. Use a coarse brush or a sponge with water to clean the stray bits of mortar off the trim.
Keep in mind that the mortar is inflexible, while PVC trim moves a lot, and that motion has to be accommodated. Because the trim won't be able to expand toward the stone, you'll want to leave a 1/8-in. gap between the trim and the window. Fill the gap with an exterior-grade polyurethane or polyurethane/silicone-hybrid sealant.
Photo from Tiling Complete, 2nd Edition by Robin Nicholas and Michael Schweit.
Available in the Taunton Store and at Amazon.com.
---
RELATED LINKS