Tools & Materials
Quiet Air Compressors for Interior Trim
This model from California Air Tools may be the last air compressor you'll ever need to buy.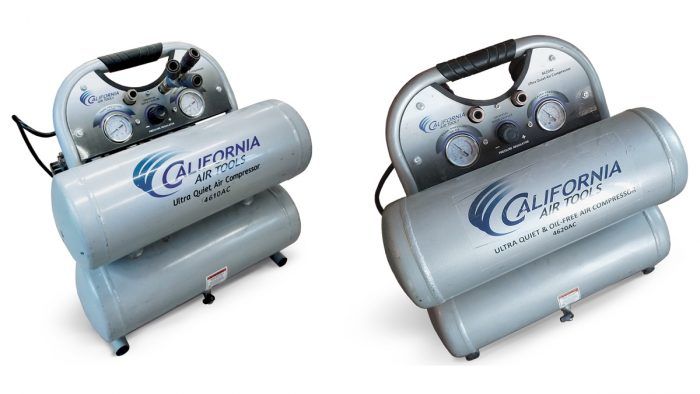 The noise from the first air compressor I ever bought was like working next to a machine gun. It was so loud that I started rolling it down the stairs into the basements of the houses I was trimming, after clients literally screamed in fright when it kicked on next to them. Taking it into the basement was a true undertaking, because the thing was ungodly heavy. I did get smarter, eventually, and started leaving it in my truck, where it could make as much noise and be as heavy as it wanted without bothering anyone. 
Since then, I've gone through at least three other compressors. Last year, my partner Brent and I each bought what I think will be our last compressors, a pair from California Air Tools. Brent's is the 4610AC 1-hp model, with aluminum tanks. Weighing 45 lb. and making only 60 db of noise, it's an awesome machine. I bought the 2-hp version, model 4620AC. It weighs more, but the carrying handle is perfectly located for balance, so the weight isn't as onerous as it sounds. The 4620AC is louder, but still only 70 db.  
These compressors are incredibly quiet. Now when I'm running tongue-and-groove paneling in a 9×14 room, my 4620AC is sitting right where I can trip on it. My coffee pot's gurgles might be louder than this compressor, and Brent's is even quieter.
Were I to do it again, I'd buy the lighter 4610AC. Most of our work is trim, and that machine has no trouble keeping up with a couple of us running trim guns. We don't do a lot of framing or roofing—but I'm ready when we get a call.   
Andy Engel, contributing editor and carpenter from Roxbury, Conn.
Photos: courtesy of California Air Tools
From Fine Homebuilding #306
---
RELATED STORIES