Tools & Materials
Tool Test: Twin-Stack Air Compressors
If you choose wisely, your go-to air compressor can be quiet, durable, and easy to operate.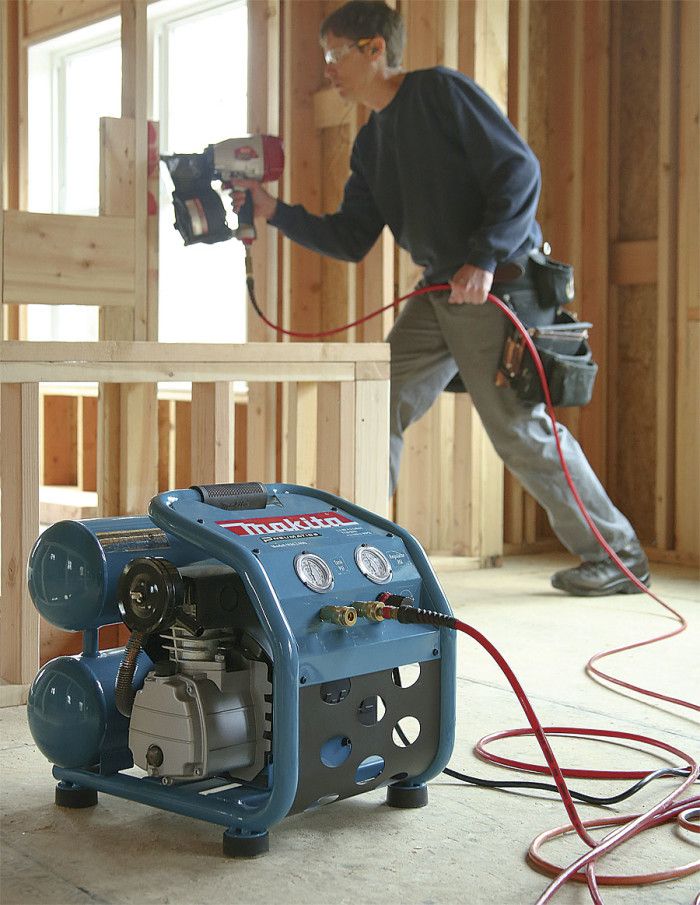 Synopsis: Twin-stack air compressors are a mainstay of modern residential construction. For this article, associate editor Patrick McCombe gave nine twin stacks a workout and a thorough examination. He focused on air delivery, cold-weather starts, design, ergonomics, and quality of components. A comprehensive chart shows specs, performance, and price at a glance. Individual write-ups describe the pros and cons of each model.
With a big pump and two air tanks, a twin-stack compressor is a mainstay of modern residential construction. Capable of powering nail guns from the tiniest pin nailers to roofing and framing nailers, twin stacks are a job site's most versatile hand-carry compressors. Unfortunately, these workhorses weigh between 60 lb. and 70 lb., so it's nice when there's some thought given to how they are carried.
Unsatisfied with my own twin stack because of its mediocre performance and abysmal ergonomics, I decided to test nine other twin-stack compressors from major manufacturers. I stuck to compressors with the conventional design of a pair of 2-gal. (approximate) tanks and a piston air pump powered by an electric motor. All but one of these compressors have oil-splash pumps, which is the traditional choice for a compressor that gets a daily workout. The exception is the oilless model from California Air Tools. Its design is similar to that of a former contractor favorite, the Thomas Air Pac, which went out of production in 2009.
How we tested
One of the most common complaints about twin stacks is that their large motors and oil-splash pumps trip breakers because they require a large surge of electricity to get turning, especially in cold weather when pump oil is more viscous. To measure the propensity of the tested models to trip breakers, I used a clamp-on multimeter to measure their amperage draw at startup and at their maximum, a point usually reached just before the tanks are full. I did the same test at low temperature by putting them in a walk-in freezer (at –10°F) for about 18 hours.
The low-temperature test was revealing. Only three of the nine compressors would even start up after their deep freeze: the California Air Tools, the Rol-Air, and the Makita. The Rol-Air and Makita models were completely trouble free. The California Air Tools compressor started just fine, but then it wouldn't shut off until the blow-off valve released the excess pressure. I wondered if the manufacturer had received complaints like this before, so I called marketing manager Larry Ceruka. He told me that he'd never heard of the problem and that the company sells a lot of compressors in Canada because the oilless pumps are very reliable in cold weather. The unit worked fine once it warmed up again. All of the other compressors that wouldn't start also worked fine once they thawed.
For more photos and details, click the View PDF button below:
View PDF