Tradesperson Interview: Maria Adson, Tilesetter
A project engineer by day, Maria Adson owns her own tiling company as her "side hustle." Learn how remodeling her first Airbnb turned her into a tilesetter.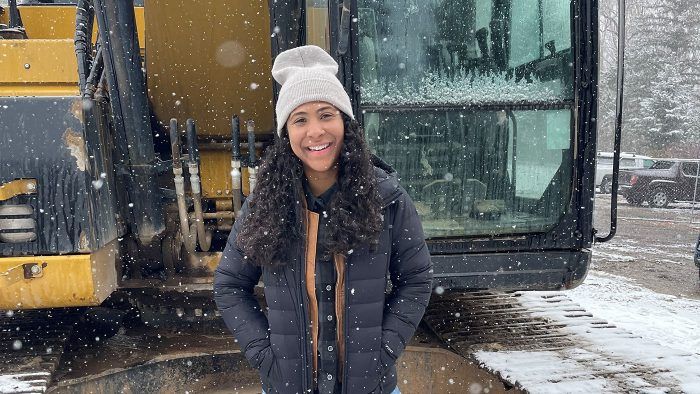 Maria Adson (she/her) is a tilesetter based in Seattle. By day she works as a project engineer; as her "side hustle" she is the owner at Simora Tiling Service. Keep up with Maria's work on her Instagram, @she.tiles.

Q: Describe the work that you do in the home-building world? How did you get into the craft?
M: I'm a tilesetter and a project engineer at a large flooring commercial company. We furnish and install all kinds of flooring, including tile, sheet vinyl (used a lot in healthcare), carpet, hardwood, lvp, vct, and any kind of flooring that you can imagine. I started doing tile when I renovated my first condo (now used as an Airbnb). I started experimenting tiling with my backsplash, bathroom, and fireplace and fell in love.
Q: What kind of projects do you typically work on, and which ones are the most exciting or fulfilling for you?
M: I usually do a lot of large commercial projects; about 70% healthcare. The most fulfilling projects are for sure at the children's hospitals. They are usually colorful and I have the feeling that will bring a smile to kids during a hard time in their life.
Q: Tell us about any favorite materials, tools, or techniques you're finding helpful right now.
M: Look no more than the Beast Mixer, which is a bucket liner that made me not buy any new buckets for a year after working with mortar! It helps the environment and my hands.
Q: What have been the crucial steps or learning points to get where you are in terms of tiling/home-building?
M: Specifically for tiling, the NTCA (National Tile Contractor's Association) handbook is my best friend teaching all the standards. YouTube, Facebook, Instagram, and Google have a lot of information but not everything is correct. And of course, other general contractors that have a lot of knowledge and are willing to teach me.
Q: What sort of challenges/barriers have you faced in your learning process or career?
M: Being a woman and an immigrant (I'm originally from Brazil) in the industry is a challenge. I've needed to prove myself to show that I'm capable of doing the trade. A small amount of people didn't believe that I wanted to learn how to tile in the beginning because it's not "a woman's job." It took a little bit of persistence.
Q: You recently put up your own Airbnb—tell us about what that process was like. What improvements did you make to the space?
M: I transformed the entire space (on a budget). I installed new flooring, paint, tile (backsplash, fireplace, bathrooms), carpet, and countertops. I learned a lot during the process—not only about the trade but also as an investment and hospitality business.
Q: You worked on The House That SHE Built in Utah. What was that experience like?
M: I donated my labor as a tilesetter and worked there for two weeks just to work in the house. It ended up being so much more than I could have imagined and the experience was amazing. The friendships that I made are priceless. I learned a lot and got inspired from each person's story.
Photos courtesy of Maria Adson
---
RELATED STORIES