Polly Doolittle, Specialty Plaster Painter
In this Q&A, Polly Doolittle talks about how she learned the craft of plaster veneer and dives deep into the materials she uses in people's homes.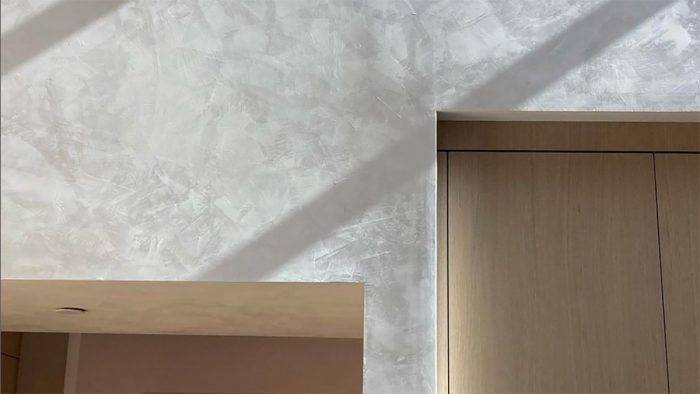 Polly Doolitte (she/her) occupies a very niche corner of the residential building industry. As a decorative plaster painter working with organic materials, Polly helps her residential clients bring vibrant but earthy textures and feels to their home environments. In this interview, we talked with Polly about her journey from ceramicist and float maker to decorative painter with a thriving business based out of Charlotte, N.C. You can find examples of Polly's work and connect with her on Instagram or her website.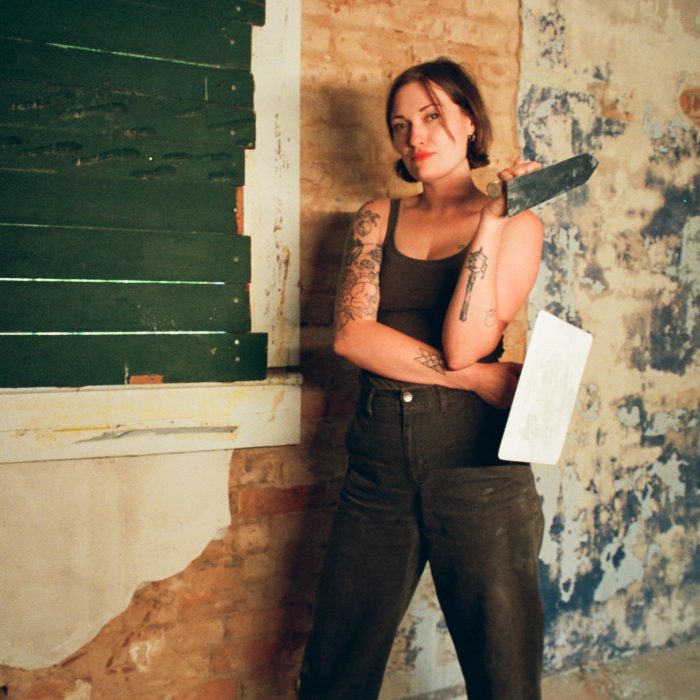 LMH: How would you describe your craft?
PD: I am a decorative painter specializing in veneer plaster finishes. Plaster is an ancient building material but the types of plaster I use are veneer, so they are more like fine coatings. You can also use plasters as a substrate. Originally, plasters were used for what drywall is used for now, but I do fine coatings and multilayered decorative finishes. The possibilities with plaster are endless, so it's hard to say I do one thing. Most people are familiar with Venetian plaster, which is a very artistic finish, but I work with specialty plaster and an interpretation of Venetian plaster in which I use wax, which makes my process a lot simpler.
LMH: I know you studied ceramics in college. What was your journey to getting where you are today?
PD: Ceramics is what got me in the door. While I was living in the Bay Area, I was doing float assemblies, building props for Pride floats, and I really loved the environment of working as an artist's assistant and learning new skills. So when my husband and I moved to New York in 2018, I was determined to find one artist who just needed me so we could be a two-person team. I ended up posting an ad on Craigslist. As a freelancer, you have to find all the forums and throw yourself out there. An artist, Ben Lai, saw my listing, which included my experience in ceramics, and he said if I liked mud then I would like plaster. And I did. I fell in love with it. The first time I tried it, he told me to play with the material on the job site, and he said, "Wow, you're a natural." I worked with him every day for a year and when I told him I was leaving New York, he gave me his blessing with the skills and techniques I had learned from him.
LMH: What are common projects you work on and if different, what are your favorite projects to do?
PD: Right now, range hoods and fireplaces are my bread and butter. As soon as I started doing range hoods, I kept getting requests. The more I do them, the more people want them because they browse my Instagram, which is where I get about 80% of my business. The work speaks for itself. I also do powder rooms, bedrooms, and accent walls, but 75% of my work is range hoods and fireplaces. My favorite projects, though, are commercial accent walls because the clients are always more willing to do something a bit more experimental or a special finish of gold mica or staining or rustic textures. Most of the time, residential clients want something more subtle. With this modern plaster appeal right now, everyone wants to be clean, but they like that organic feel. It's beautiful and it never gets old, but commercial spaces are the best.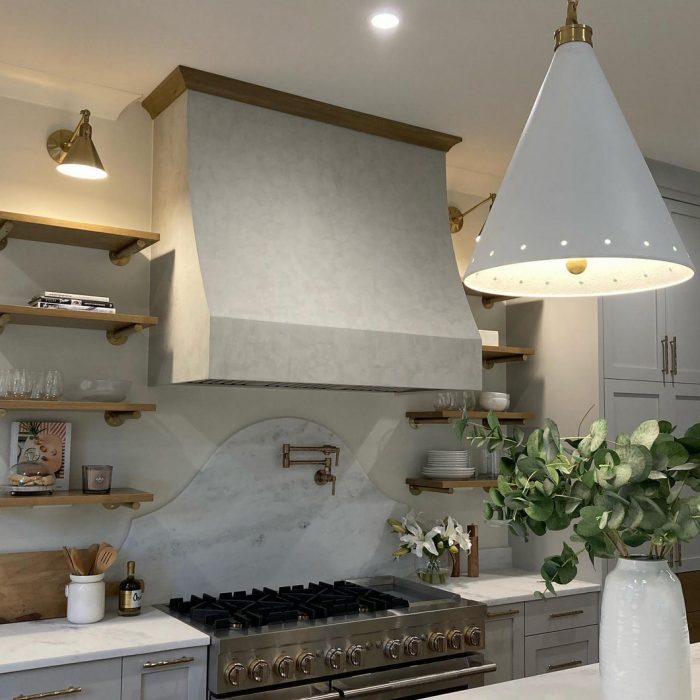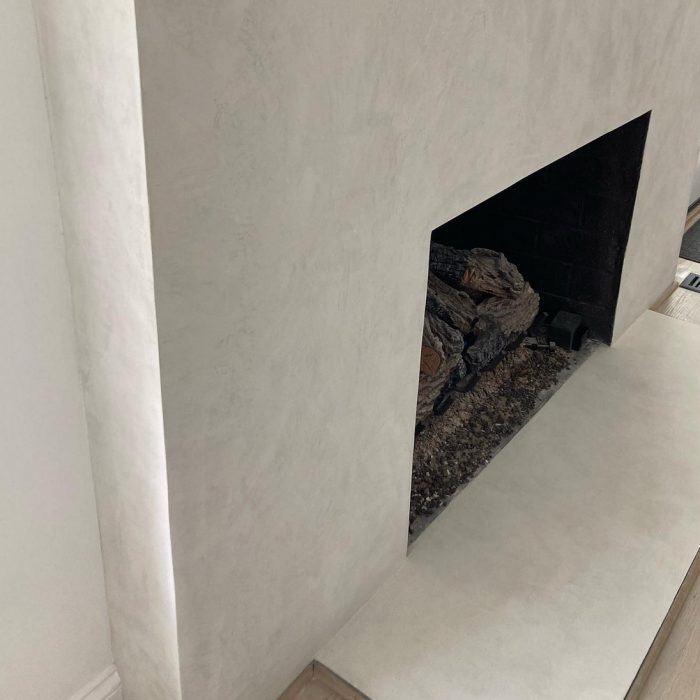 LMH: Tell me about what kind of materials you work with.
PD: There is a lot of variation, but for the most part, plaster is basically ground up limestone, water, and sand particles at different aggregate sizes depending on the texture you're going for. A topcoat finish will be really fine so when you stick your finger in the topcoat, it's very smooth and buttery. The base coat will have a larger aggregate of sand. I am super loyal to Master of Plaster, a family-owned and woman-run business based out of South Carolina. Lauren Dillon does amazing color work. Her pigments are so vibrant, and she hires me as an assistant for installations sometimes. I never use any other product. It's organic, and there are no acrylic additives, which are bonding agents that create structural strength and aren't needed for finishes.
LMH: What's your method of working with clients on their homes?
PD: I always have a consultation phase. I set up a site visit where I see the location and check out the substrate. If it's during construction, sometimes it's a drywall fireplace and it's not finished, so I tell them I need it to be a level 4—basically ready to paint. It needs to be taped, mudded, primed, and sanded. I always bring a box of samples. Then we discuss textures, such as the difference between movement that you can see versus textures that you can feel, or micr texture which is more like small holes or pores. It's easier to digest all that when someone can look at it and I can show the client the difference. For example, Venetian plaster with pigment is going to have a lot of movement, but you're not going to feel texture when you touch it. Once we nail down a design, we decide the color.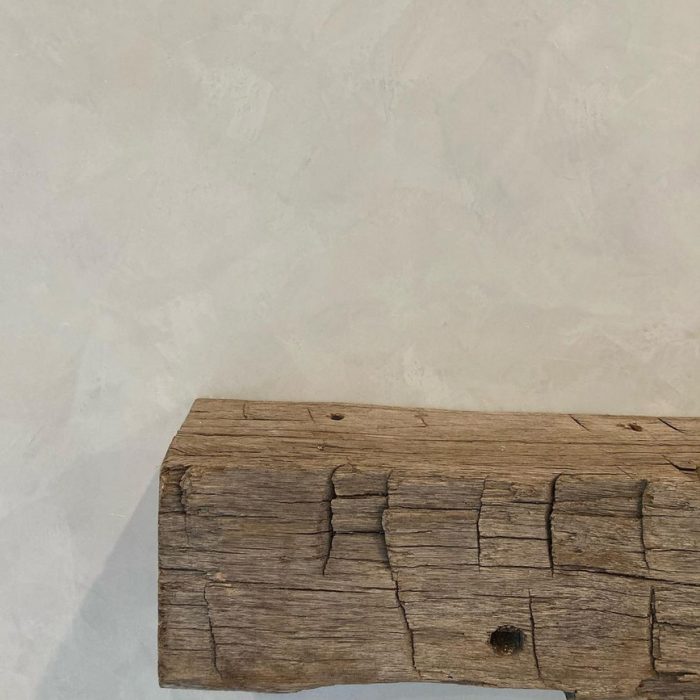 LMH: Have you been able to connect with people in your trade?
PD: I am really the only one doing decorative plaster in my area, but on Instagram, there's a whole network. I actually have a friend in Australia through Instagram who does great work; it is amazing to have an international connection with artists who do specialty painting work.
LMH: You talked earlier about the importance of your first mentor. What are some other resources you've been able to tap into for further learning?
PD: Eric from Mudwerk has been doing plaster for 30 years here in Charlotte, and he actually reached out to me and wanted to meet me. He taught me how to do crown-molding mitering. When you install ornate plaster crown molding, every piece has to be patched where the two pieces meet and then the ornamental elements all have to be sculpted and placed. He taught me how to do that and that is a very niche craft. My background in ceramics is helpful, to be able to make forms. He really pushed me to learn something within the realm of plaster but also so different. I also get asked to do decor. I've done portraits and painting.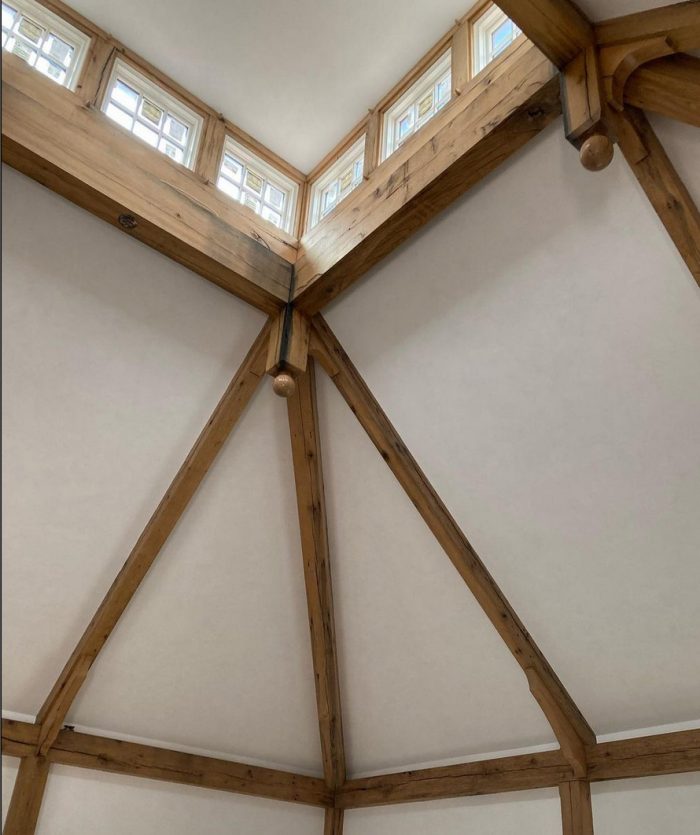 Photos courtesy of Polly Doolittle.
---
RELATED STORIES