Podcast 471: Members-only Aftershow
Patrick, Ian, and Andrew recap the podcast and talk about Andrew's aspirational home projects.
---
In our inaugural members-only podcast aftershow, Patrick and Ian give Andrew advice about how to tackle his upcoming home projects, as well as share insight into how to approach insulation and air-sealing as a pragmatic homeowner.
---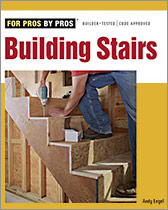 Fine Homebuilding podcast listeners can now get 20% off anything in the Taunton store, including Building Stairs.
Andy Engel takes the reader from a simple structure built of framing lumber to a set of stairs fit for a king by clearly laying out the geometry, planning, and construction involved.
Use the discount code FHBPODCAST to take advantage of this special offer.
---
The Fine Homebuilding Podcast embodies Fine Homebuilding magazine's commitment to the preservation of craftsmanship and the advancement of home performance in residential construction. The show is an informal but vigorous conversation about the techniques and principles that allow listeners to master their design and building challenges.
Other related links