Tools & Materials
Industry-First Cordless Rebar Cutter and Bender
A brushless motor and 36v batteries power Metabo HPT's cordless rebar bender and cutter.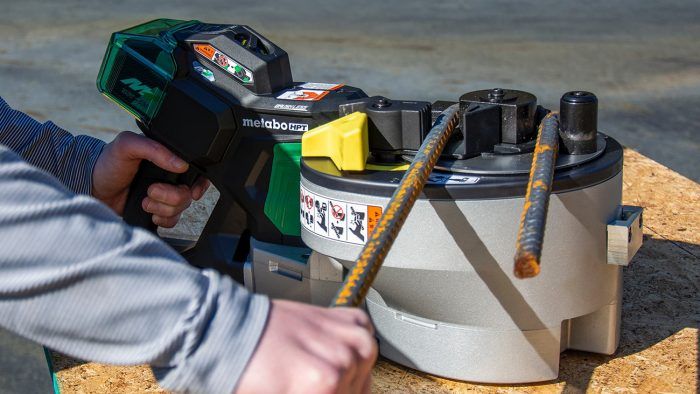 The combination of brushless motors and high-powered batteries is leading to more cordless equipment for the job site, including this Metabo HPT rebar cutter and bender.
The Metabo HPT VB3616DA is essentially a cordless version of the VBY16. The tool is the only cordless rebar cutter and bender in the market and runs on one 4.0-Ah battery. One charge can cut roughly 270 pieces of #5 rebar, while bending about 520 pieces of #5 rebar at 90°, according to the manufacturer. The tool weighs in at just over 40 lb., and you can also power it with Metabo HPT's MultiVolt adapter when a power outlet is nearby.
The tool operates very smoothly and intuitively even for a first-timer, and if you plan on using it all day while bending and cutting, the ability to add the plug-in adapter is useful. For the work we do, we are rarely on sites with power close by, so the ability to easily bend and cut rebar when and where we need it is a game changer.
The cordless rebar cutter/bender also allows you to preset the bend angle depending on the task (0°, 45°, 90°, 135°, and 180°.) The VB3616DA can bend up to #5 rebar in less than 3 seconds, according to the manufacturer. You can bend either 1 piece of #5 rebar, 2 pieces of #4 rebar, or 3 pieces of #3 rebar simultaneously. A 180° bend takes about 4 seconds.
The Metabo HPT VB3616DA has a price tag of about $2400 with two 36V MultiVolt 4.0-Ah batteries, a charger, a deflection guard, a pair of cutter sets (on tool), a 4-mm wrench (on tool), and a carrying case. The MultiVolt AC adapter is purchased separately.
Photos courtesy of the manufacturer.
---
RELATED LINKS