Speed Square Hacks
Modification of this measuring tool can make it useful for marking cabinet reveals or creating a pattern for exposed deck screws.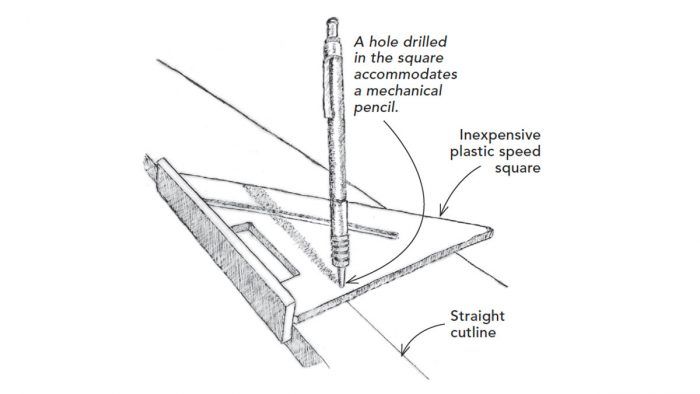 I don't ordinarily condone the misuse, abuse, or modification of a tool, but from time to time it can be the right choice. One of those occasions is in the case of the very inexpensive plastic Speed Square. I drill a 1 ⁄ 16-in. hole in my plastic square at 3 ⁄ 8 in. in from the index to allow the metal tip of my mechanical pencil to precisely slide through and mark reveals on the back of cabinet drawer fronts. The plastic doesn't mar the work even when I slide it down square-edged prefinished cabinet parts. Similarly, I have converted a speed square into a jig by drilling two 1 ⁄ 8-in. holes into the edge index at 11 ⁄ 4 in. and 4-1 ⁄ 4 in. to create a very accurate and aesthetically pleasing pattern for exposed screws on decking.
—Travis Brungardt, Prairie Village, Kan.
Edited and Illustrated by Charles Miller.
From Fine Homebuilding #311
---
RELATED STORIES