Cutting Narrow Strips of Drywall
Use an inexpensive plastic speed square to quickly and accurately score pieces without a chalkline or straightedge.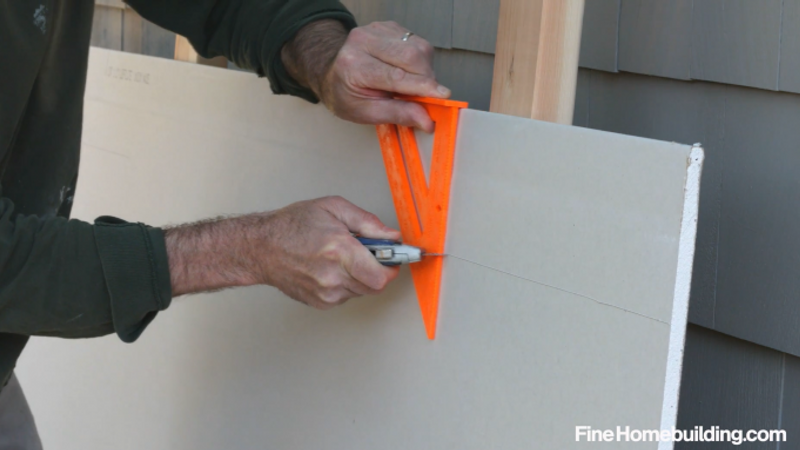 The video above was inspired by this smart reader-submitted tip from Issue 205 of Fine Homebuilding magazine:
On a recent job, we had limited space to work, so the drywall was stacked against a wall rather than lying flat on benches. We needed a bunch of long, narrow strips, but with the drywall leaning against the wall, it was difficult to score narrow pieces properly, at least at first. Then we discovered that we could use an inexpensive plastic speed square to help us quickly and accurately score the drywall.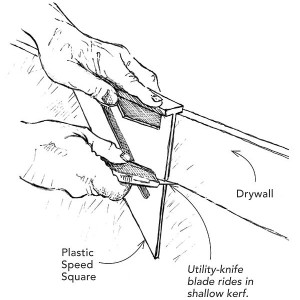 As shown in the drawing, we placed the square's flange on the edge of the drywall, and then pressed the knife's blade against the edge of the square so that the knife tip just sliced through the drywall paper. Then we simply pulled the square and knife along the length of the sheet, resulting in perfectly straight cuts for those pesky narrow pieces.
I think the reason this process works so well is that the knife blade can dig a little into the plastic square, creating a shallow kerf that keeps the blade from wandering. A metal square wouldn't work as well.
– Sariq Turner
Edited and Illustrated by Charles Miller
From Fine Homebuilding #205
Previous:
Cut Drywall Without a T-Square
Next:
Cutting Out Drywall for Doorways