High-Tech Well Water Storage Tanks
Smart controls and modular tanks make the Epp Low Yield Well System customizable to perfectly fit your home's water-storage needs.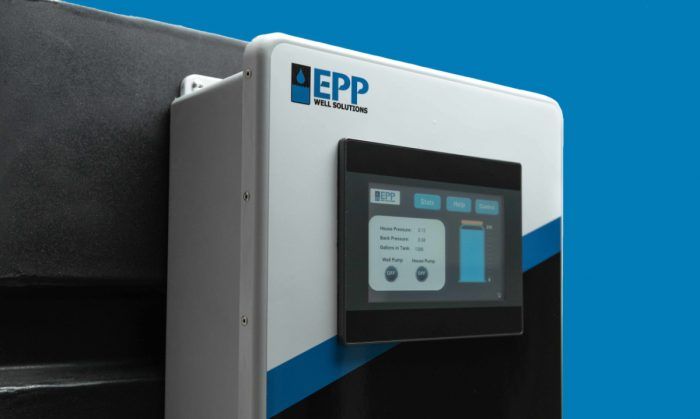 There are a bunch of reasons why it can be a good idea to add a water-storage tank to a home's well. For some homes, backup storage can support periodic high demands, such as when running irrigation systems, or extra bathroom use during large gatherings. Other homes have wells that just don't provide enough volume or pressure to keep up with typical water usage. Whatever reason you have for adding a storage tank to your well, the Low Yield Well System by Epp Well Solutions is a relatively new option on the market that runs more efficiently, takes up less space, and is easier to install and operate than old-fashioned water-storage systems.
Epp's computer control box gives the system a number of advantages over traditional pump controls. The Epp system uses smart sensors to measure flow rate and back pressure in real time, giving the control box the data it needs to perfectly regulate when to pump water, ensuring that there's always enough on hand without depleting the well. This is a big improvement over a typical analog system that relies on fussy timers and float valves to turn the well pump on and off. Also, those more primitive systems will only shut down an overpumped well by sensing that the motor is overheating as the well runs dry, potentially causing premature wear of the supply pump and diminishing the water quality in the well.
The base Epp Well Solutions system includes the computer control box, a pressure-booster pump, and a 215-gal. storage tank—enough backup storage for the average small family, even when connected to a well with a miniscule yield of 1/4-gal per min. The tank is only 73 in. tall and 26 in. wide, and the whole setup weighs less than 200 lb., so it can be easily carried through any standard doorway, making it a good fit for remodels as well as new-construction projects. If 215 gal. isn't enough, additional tanks can be added to the system—but you will still only need the one control box and booster pump.
All of the components are IP65 rated, which means they can withstand harsh environmental conditions, but because of the Epp system's operating temperature range of 33F to 104°F, it's recommended that you install it indoors. The system is virtually maintenance-free, though it's recommended that you check the tank for sediment every year or two, and flush it out if there appears to be any buildup. You can use a whole-house water filter to keep sediment out of your plumbing system, but it should be installed between the Epp system and the supply lines running to your house rather than between the well and the storage tank.
The base Low Yield Well System with the controls, booster pump, and a single 215-gal. tank costs $7,895. Additional 215-gal. tanks cost $1,495 each.
Visit eppwellsolutions.com to learn more.
Photos courtesy of the manufacturer.
| | |
| --- | --- |
| The base system consists of a control box, a single water tank, and a pressure booster pump. | If you need more capacity, simply add more tanks to the base system. |
---
RELATED STORIES