How-To
A Look at Three Fence Gates
When it comes to fence gates, you have lots of options. Check out three different, sturdy fence gates Jeff Nixon made with PVC.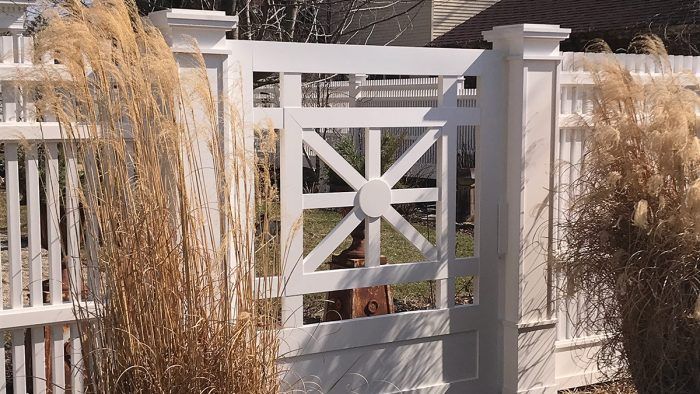 This article takes a closer look at the three gates that complete a fence project. Read in depth about this project in PVC for a Rot-Proof Fence.
On this property there are three distinct gates that complete the fence. While I did not provide step-by-step instruction on how to build these gates in the article, the cutting and fastening techniques are the same (and in the case of the blind gate, exactly the same). One thing to keep in mind when hanging the gates is that unlike door or cabinet hardware, gate hardware often has slack, which means that if your upper and bottom hinge are placed in the exact same spot relative the post and gate rail, you could still end up with a droopy gate. Plan on adding shims to keep everything aligned.
Driveway gate
This backyard gate is located at the house end of my driveway and is designed and built to complement the alley gate. I wanted to create a visual anchor, so I bookended this gate between two pillars made of natural granite stone over a masonry-block base. The caps are made of PVC as are the blocks that the hinges are fastened to.
Alley gate
This gate leads from the backyard to the alley. The two posts on either side are constructed in the same manner as the other posts with the exception of the board along the sides that supports the hinges and latch hardware. I added a circular button at the center as an interesting contrast to the straight lines and right angles that dominate the composition of the fence itself.
Blind gate
This gate was a direct request from Mrs. Nixon, the chief architect responsible for all things green and flowering in our yard. She wanted a passage from the side yard to the front yard but didn't want to advertise the additional access point to passersby on the street and sidewalk, so the gate has the same look as the surrounding fence sections. To enhance the subterfuge, I built the gate to fill the entire space between the posts and then cut off a small section at an angle. I attached that smaller section to the post on the latch side so that when the gate closes, there's no tell-tale gap between the gate and the post
Jeff Nixon is a freelance art director. 
---
RELATED STORIES