Katie Hughes, Founder, Girls Build
In 2016, this carpenter started a program that introduces girls from eight to 15 to the basics of carpentry and other trades.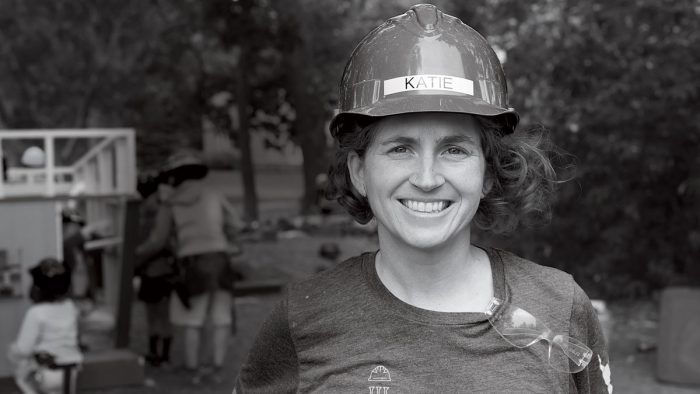 "To bring more people into the fold, it's important to have role models."

–Katie Hughes, Founder, Girls Build, Portland , Ore.
Carpenter and framer Katie Hughes remembers a time early in her career when she was volunteering on a build and a supervisor wouldn't teach her how to drive a backhoe—even though he taught the men. So she took matters into her own hands and started teaching herself. Since then, Katie's career as a tradesperson and educator has been defined by her commitment to helping girls and women get the training they need.
After growing up in rural Oregon and attending college, Katie started volunteering with Habitat for Humanity, where she realized she loved building. This love turned into more work with Habitat as well as remodeling work flipping houses, one of which she lived in herself.
Once Katie honed her skills as a carpenter and specifically as a framer, she started teaching women the trades and running a summer camp for girls via Oregon Tradeswomen. When the camp folded, Katie met with a group of women over soup and talked about starting their own program.
"I had a lot of tradeswomen coming to me asking what we were going to do about the next generation," she says. "They wanted girls to know that the trades are an option when they graduate high school."
In 2016 that dinner conversation evolved into Girls Build, a program in which girls ages eight to 15 learn the basics of a variety of trades, including carpentry, metalwork, and electrical. Eight-year-olds are using jigsaws, and 10-year-olds are learning their way around a chop saw. Katie has interviewed and profi led some of these girls in her book Girls Who Build (Hachette, 2020), which aims to celebrate and inspire interest in the trades.
"A parent of one of our first years came up to us and said, 'We're really used to coming home from camp with macaroni necklaces; now we're going to be putting the clock she made in the living room,'" Katie says. "It changes the way parents see their kids."
Girls Build is entirely run and taught by women and nonbinary craftspeople, which enables the campers to meet tradespeople who can be their role models and respond to their questions. Maybe some of these girls will decide that a career in the trades is the right road for them. Thanks to Girls Build, they will have the tools to succeed.
—Lana Melonakos-Harrison, digital editor
From Fine Homebuilding #319
---
RELATED STORIES