The BS* + Beer Show: Two Deep-Energy Retrofits
In this episode, we hear about the complexities of turning two structures into high-performance buildings.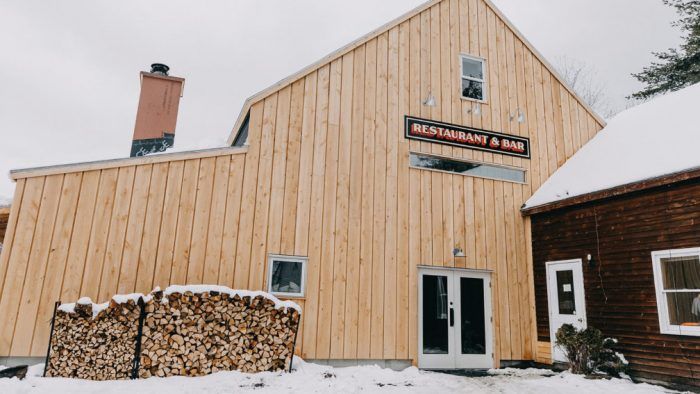 This episode of the BS* + Beer show features Jesper Kruse and Anna Heath of Maine Passive House discussing two deep-energy-retrofit projects—one is the Oxbow Brewery, a 200-year-old barn that they turned into a high-performance structure while preserving historic details; the other is Jesper's own home. Anna shares a presentation detailing the work on the barn, describing their approach of "building in." The project was involved and included lifting and moving the structure in order to give it a proper foundation. She explains how they broke the thermal bridge between the slab and frost wall, and how a strict budget hindered them from using some of their preferred insulation methods. She shares products used as well as construction details.
Jesper describes the methodical retrofitting of his 1980-sq.-ft. house, which he built in 2000 for $85,000. The impetus was 15-year-old Broscco wood windows that needed upgrading. He felt it didn't make sense to put triple-pane windows imported from his native Finland into a 2×6 wall, and decided it would be better to build a Passive House wall. He started with the south wall and worked his way around the house replacing walls—one at a time, as budget allowed. He walks us through the changes he made to the assemblies in order to satisfy the Passive House EnerPHit standard. They included: adding a TJI wall system to the existing shell, installing 10 in. of recycled rigid foam to the exterior of the frost walls; replacing the old windows with Ecliptica units, air-sealing with ProClima membranes and tapes, and investing in a Lunos ventilation system.
Enjoy the show!
Join us on Thursday, March 4, from 6 to 7:30 p.m. EST when we will discuss "Pretty Good Lighting," i.e. lighting for the rest of us. It seems good lighting is a high-end commodity and that what is affordable is pitiful. Returning guests David Warfel, author of "Lighting for the Long Term" and "The Lighting Power of LEDs", and Jeff Calkins will be joined by Ben Parra to share strategies for improving what we are doing with lighting without breaking the bank. We will get expert advice on product selections and installation techniques. The last lighting episode was so popular that we wanted to continue the conversation with practical applications in mind. We learned why full-spectrum lighting is so important; this time we will learn how to create it.
Speaker bios
David Warfel is founding designer of Light Can Help You (LCHY), an author, and an educator. He serves as lighting advisor to the ProSource buying group, is leading the development of the first integrator-specific lighting certification program, and is former head of the graduate lighting design program at the University of Illinois. David's company built their Signature Custom Lighting Design service to be an easy, affordable, and professional option for lighting design. The LCHY team partners with custom integrators nationwide to help them grow lighting fixture sales and navigate the complex and rapidly changing world of light. David's design credits range from projects at Carnegie Hall and Las Vegas's Luxor to Chicago's Hyde Park Arts Center, and multiple themed spaces for Royal Caribbean Cruise Lines. While he and his team still design commercial projects, their primary focus is on custom residential projects from coast to coast (and beyond). His work and writing have been featured in Technology Design, Fine Homebuilding, Lighting Australia, and  Houzz.com. David blogs at Language of Light and lives in Madison, WI.
Jeff Calkins studied architectural engineering, mathematics, and psychology at the University of Kansas. In 1991, he began working full time for the family business, Calkins Electric Supply, in downtown Shawnee, Kansas, which was started by his grandfather in 1957. He, his sister, and his son now run the company. Of all aspects of the electrical industry, Jeff has always enjoyed lighting and lighting design the most. He has been part of some gratifying lighting installations that include the Johnson County Arts & Heritage Center's "All Electric" house exhibit. Recently, he and his brother purchased and renovated the historic Aztec Theater—also in downtown Shawnee—which recently re-opened for business.
Ben Parra has been working in residential and commercial lighting for over 20 years and is currently serving the Dallas−Fort Worth area as sales manager at Lights Fantastic. As a second-generation lighting specialist, he has grown with the industry and remains on the cutting-edge of innovation through constant research, and by remaining active with a number of trade and industry groups. Perhaps Ben's greatest accomplishment is his beautiful family including wife Luciana, daughters Emily and Leah, and his son, Nick. He also has the unfortunate distinction of being college roommates with our own Travis Brungardt, and participating in the great "Presidential Bust/Potato Carving" conspiracy.
Use this link to register for The BS* + Beer Show
BS* + Beer Book Club
Because the hosts of the BS* + Beer Show all love to read, we thought we would celebrate the authors in our industry by adding a book club to the show every few months. We'll announce the book, give you a few months to get it and read it, and conclude with a BS* + Beer Show episode where we will invite the author to join us, present, and take questions.
We have selected our third book: Essential Building Science: Understanding Energy and Moisture in High Performance House Design by Jacob Deva Racusin. New Society Publishers has generously extended a 25% discount for this book and others in their Essential Building Science series (paperback or ebook). Use the discount code Essential25 now through March 31.
We hope you will pick up a copy and join the discussion on April 1, 2021.
---
You can contact Kiley Jacques at [email protected]. Photo courtesy of Maine Passive House.
Previous:
Flood-Ready Passive House
Next:
Deep-Energy Retrofit for an Adaptive-Reuse Project