Tools & Materials
Hammer-Action Drills vs. Rotary Hammers
Choose the best tool for drilling holes in concrete.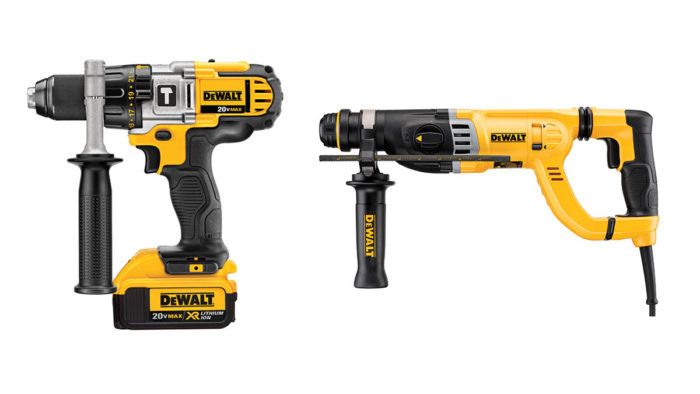 There are times when a conventional drill just won't get the job done. For example, when you're installing a deck ledger against a concrete foundation and need to drill lots of holes, you need a more specialized tool. That's when you might pick up a hammer drill or a rotary hammer. While the names are often used interchangeably, they are not the same tools.
Broadly, a rotary hammer is a heavy-duty tool that's more like a jackhammer than a standard power drill, while a hammer drill is a less-advanced tool that can also be used for drilling into wood or metal. Below is a more in-depth look at each one.
Hammer Drill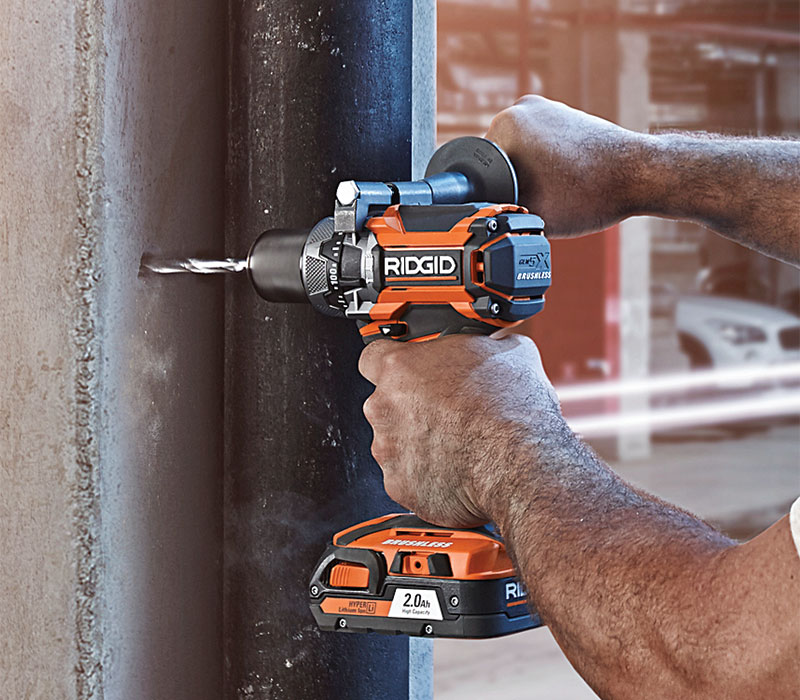 A hammer drill delivers its hammering action using a specialized clutch system containing two ridged metal disks (or gears). As the disks spin against each other, the ridges ride up and down and cause the chuck to move in and out. As a result, the drill bit moves up and down while spinning. The distance the bit travels is small, and the hammering action is very fast and shallow—up to 30,000 BPM (blows per minute).
One upside of a hammer drill vs a rotary hammer is that you can turn the hammering action off. With the flip of a switch and the swap of a bit, you can go from drilling in concrete block to boring into wood framing. Typically, these tools can use up to a 1/4-in.-dia. bit when working on poured concrete. A 3/8-in.-dia. or smaller bit can be used in block and masonry.
Because of the physical mechanics needed to create the hammering action, a hammer drill is typically bulkier than a traditional drill. That said, many of today's hammer drills aren't shaped and sized all that differently from traditional drills. A standoff handle to keep the tool steady is one telltale feature of a hammer drill.
Rotary Hammer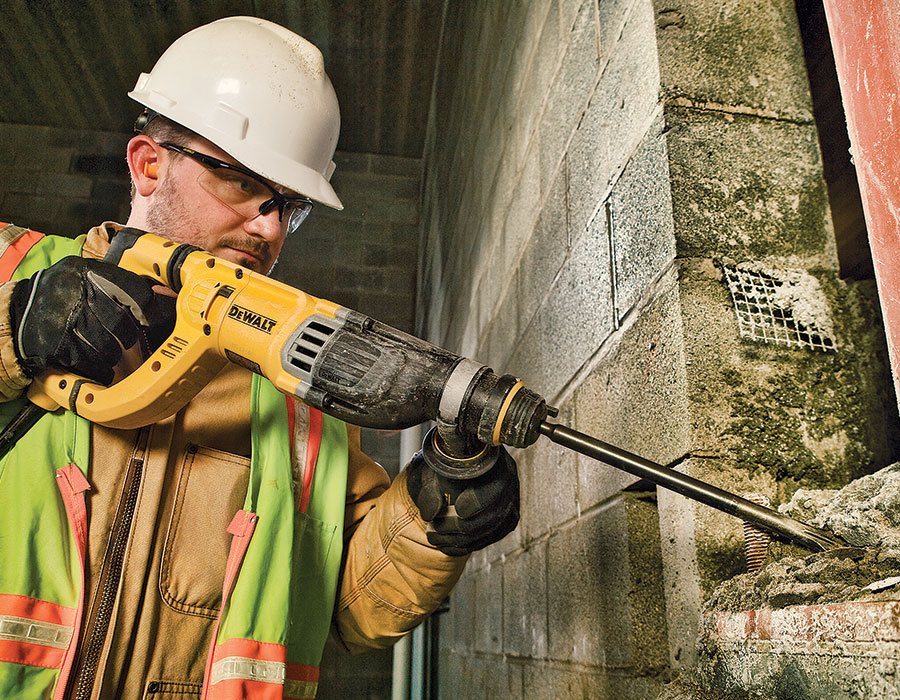 For larger holes, a rotary hammer is the go-to tool. A rotary hammer uses a piston to compress air that moves a striker to create the hammering action. The rate of the blows is slower than with a hammer drill, but those impacts are far more powerful. Think of the hammer drill as delivering numerous jabs and the rotary hammer as hauling off with haymakers. The power of the rotary hammer means less work for the user, but it also means that the rotary hammer is not suitable for use on wood or metal.
While hammer drills typically are outfitted with a standard adjustable chuck, rotary hammers have a spring-loaded chuck that corresponds directly to the size of the bits being used. This means that you must use only bits that fit that specific chuck. SDS-plus are the most popular bits and are designed for drilling holes with diameters from 5/32 in. to 3/4 in. SDS-max bits step the capability up to a range of 3/8 in. to 2 in.
Unlike a hammer drill, a rotary hammer can be switched to hammer-only mode. This is useful for light demolition work, such as tile removal. However, a rotary hammer does not have a drill-only mode.
Rotary Hammer vs. Hammer Drill: Which One Do I Need?
Rotary hammers allow you to take on bigger tasks, and using one requires less effort on your part. If you're drilling 3/8-inch or larger holes in masonry, breaking up concrete, or drilling through rebar, you'll definitely want a rotary hammer. However, that additional force doesn't come cheap. If the job doesn't call for it, purchasing a rotary hammer might be overkill. If you're looking to do some light carpentry or fairly minor home repair tasks, a hammer drill will probably serve you well.
—Matt Higgins, assistant editor.
From Fine Homebuilding #254
Previous:
Choosing the Right Hand Float for Your Next Concrete Project
Next:
Spinning Screed for Concrete Finishing