Design
Evolution of the House Frame
We can trace the history of framing from timber frames through balloon frames and platform frames.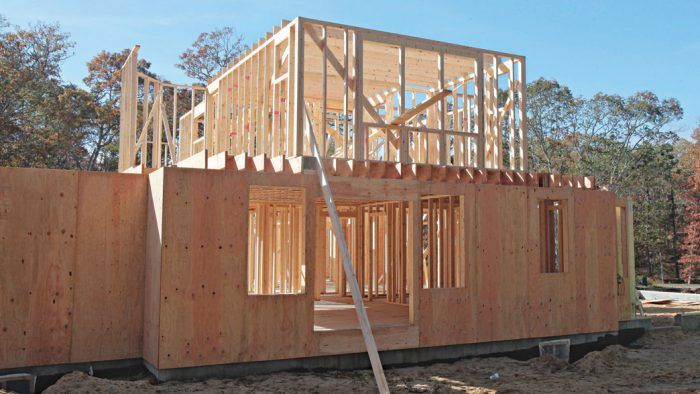 In North America, homes made of brick, concrete blocks, stone, and stacked logs can be found in almost every region. In these homes, the material serves as both the structure and the exterior finish. But that's not always the case. For example, a wood-frame house consists of a system of evenly spaced solid-wood pieces covered with wood panels, called sheathing, a combination of materials that results in a strong, resilient structure. Here's a brief look at how the wood house frame evolved.
Timber frames
Homes built by the first colonists were often timber frames. This building style, which has enjoyed a renaissance in the last few decades, uses large beams supported by massive posts to create the structure of the house (see the drawing above). Posts and beams connect to each other via complex joinery, often secured by wooden pegs. Timber frames were a natural choice for the first settlers. Large trees were plentiful and had to be cut down to clear land for the house sites and for farmland.
Balloon frames
As land was steadily converted to farming and large timbers became harder to obtain, builders devised a framing system that made good use of smaller, more readily available wood. House frames were fastened together with nails instead of interlocking joinery and pegs, and a carpenter with basic skills could do the work. Instead of heavy, widely spaced timbers, the frame called for lighter pieces of wood spaced more closely together. The first version of this system was called balloon framing and featured long sticks of sawn lumber that extended from the foundation to the roof.
Platform frames
Balloon framing eventually evolved into a stronger method that relied on shorter lengths of lumber. It was called platform framing and is the version we use today. A platform frame consists of wood-framed walls capped with a floor system, or platform. As a house increases in height, the platform serves as the base for the next set of walls. The single-story lengths of lumber used in platform framing are less expensive, easier to produce, and more widely available than the lumber needed for balloon framing. The frame can be built very quickly, and when sheathed, it takes on the structural qualities of a stiff, solid box.
Next:
Components of a House Frame