Design
6 Tips for Net-Zero House Design
Architect Garth Schwellenbach shares the lessons learned from a high-performance, low-impact, and zero-maintenance home with stunning views to spare.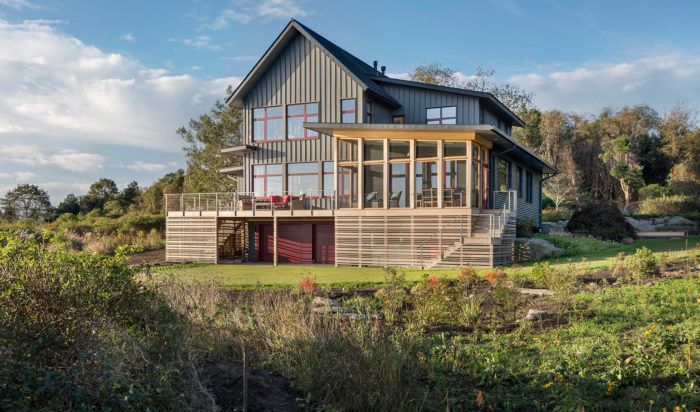 Synopsis: In the 2018 April/May issue of Fine Homebuilding, I wrote about a home that we recently designed for a coastal Rhode Island site. The homeowners had high priorities for the project. They were determined to build a house that made as little impact on the site as possible, had a low-maintenance exterior, was net-zero energy, and didn't miss any opportunity for a view of the shoreline. I'd say that that we achieved those goals and learned a lot along the way. The construction required a great deal of planning and organization. Here are six lessons learned that I think are worth sharing.
---
1. European windows and doors are worth the wait.
During the design process, I pushed back a few times on the amount of glass we were using, mostly out of concern for energy use and sensible comfort. But I am happy to say the client was right in her persistent push for more, as the views are hard to look away from. And by using high-performance window frames and glazing, we were able to provide the large expanses of glass without too much impact on comfort or heat loss. But it's worth noting that these European windows and doors (from Schuco) required long lead times, which meant both ordering and shop drawings took place before construction started. This demanded accurate rough openings with no possibility for adjustment at the time of window installation.
2. Simple trim can be quite complex.
Interiors often have focal points which might include trim details, a fireplace, or a staircase. In this house, the views are the focal point, so we designed interior details that are minimalist in style. It turns out that these details required a lot of thought and planning due to their tight tolerances. The flush baseboard, for example, and the lack of casing around doors and windows, required extraordinary craftsmanship from the framing crew to the drywall finishers. The 1/2-in. reglet detail carried throughout the interior at all material intersections necessitated careful planning and understanding from all trades.
3. A tight house must be tested.
As simple as the air barrier is on this house—a combination of taped Zip System sheathing and spray foam insulation—had we not performed multiple blower-door tests we would not have achieved the low air-infiltration rate of 0.56 ACH50. For example, by performing a blower door test after the Zip System sheathing was installed, but before the spray foam, we were able to find and fix holes in the primary air barrier. The air barrier location also allowed for blower-door testing and improvements prior to installing exterior insulation and siding, saving future time and cost chasing leaks. These early blower-door tests also increased confidence in the construction quality of the house at an early stage.
4. There are a lot of variables in energy use.
In all projects that strive for net-zero electricity, the big variables are the user habits and getting the model inputs correct. User habits remain to be seen, and I know I missed a few items in the modeling, including the septic system pumps and sump pump. I didn't include the septic system in our early projections since systems typically use gravity to do the work of transferring liquids. Because we had to move the drain field away from the coastal features, we were required to use a pumping system, which will have some impact on total energy use. As of now, the project is performing at net-zero—but we're still tracking electricity production and use on a monthly basis and won't know if we achieved net-zero until the house has been occupied for at least a year.
5. Not all polyisocyanurate is foil faced.
Polyisocyanurate rigid foam is a common choice for exterior insulation. Of the options, it has the highest R-value per inch. However, most polyisocyanurate has a foil facing, which creates a vapor barrier outside of the walls. We didn't want to take any chances with these supertight and superinsulated walls. We wanted them to be able to dry in both directions. So, we chose fiberglass-mat-faced polyisocyanurate rigid foam for this project. The mat-faced foam is slightly more permeable to increase drying potential. We've also found using foil-faced insulation can greatly reduce cell-phone service within the house.
6. Sometimes you have to compromise.
We originally designed the house with a Mitsubishi heating and cooling system that had the potential to be extremely efficient, but we changed to the Carrier Infinity Greenspeed system during construction. Due to difference in reporting standards and testing, we don't yet know what the energy impacts of the Carrier system will be, but it will most likely use more energy than the Mitsubishi system. This wasn't a mistake, but an example of how sometimes we need to compromise. It came down to me pressing everyone else at the table to use a system to save energy, when the builder, installer, and homeowner all had experience with, and confidence in, another system. The system I was pushing for may have saved energy, but could have resulted in backlash from the builders and owners. Sometimes it's better to compromise to make the whole team feel confident in the design and build process.
– Garth Schwellenbach, AIA, is a partner at C&H Architects in Amherst, Mass.
Photos by Nat Rea.
Read more about the design and build process of this home in the full article, "High Priorities," in FHB #274.
And also click here to see a gallery of photos of this project.
From Fine Homebuilding #274
Previous:
Anatomy of a Net-Zero Home
Next:
Building a Net-Zero Production Home