Tools & Materials
Get the Right Rigid Foam
Foam-board insulation can boost R-value, slow thermal bridging, and control condensation—but you better choose the right type.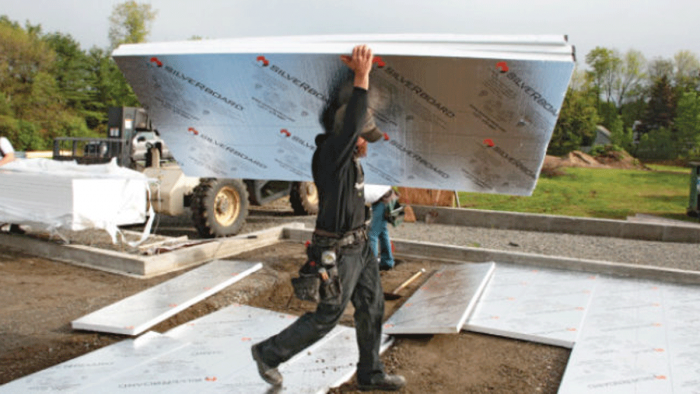 Suitable for insulating foundations, walls, and roofs of all types, rigid foam is one of the most versatile types of insulation. It has a high R-value. It blocks airflow and is good at controlling moisture movement. Unfortunately, it's often flammable and releases toxic fumes when it burns. The sheets can be clunky and fragile, and most foam has a much greater environmental impact than fluffy types of insulation. And even though rigid foam can be used in nearly any part of your home's thermal boundary, not all types are suitable for all applications. If you choose to use rigid foam, there is a lot to know. Here are the basics to help you make the right choice.
Polyiso – Polyisocyanurate
$0.42 to $0.96 per bd. ft.
Polyisocyanurate, a urethane-based product closely related to spray polyurethane foam, is available in a couple of varieties. Polyiso is always formed between facings of some sort, usually aluminum foil, fiberglass, or fiberboard. It has an R-value of 5.6 per in. at 75° and a compressive strength of 25 psi. The primary blowing agent for all polyisocyanurate foam, pentane—with a global warming potential (GWP) of 5—is benign compared to the hydrofluorocarbons (HFCs) used in the manufacturing of XPS. Unfortunately, the foam will absorb moisture if unprotected and its R-value drops by about half a point per inch in temperatures below 25°.
EPS – expanded polystyrene
$0.44 to $0.79 per bd. ft.
Tiny beads of polystyrene are heated, expanded with a blowing agent, and then molded with steam to form blocks. EPS is most often white in color, and you can see the expanded beads packed together in the finished product. It is produced in a range of types, with R-values from R-3.1 to R-5.0. Lightweight type I EPS (10 psi), which is fine for roofs and foundation walls, is what you're most likely to find at the home center, but type II (15 psi), and type IX (25 psi) are available for residential slabs and foundation footings. In fact, EPS rated up to 60 psi is available for high-load applications.
XPS – extruded ­polystyrene
$0.43 to $0.83 per bd. ft.
Formed by injecting a blowing agent as the melted polystyrene beads are extruded through a die, XPS can be virtually any color, but green, blue, and pink are the readily available versions. XPS is generally rated at R-5 per in. and is available in densities from 15 psi to 100 psi, but type X (15 psi) and type IV (25 psi) are the most common. At the same density, XPS is stronger than EPS, but its manufacturing process is the most damaging to the environment. The most common blowing agent, HFC-134a, has a GWP 1000 to 1500 times more damaging than CO2. The switch over to less damaging blowing agents with a GWP of 7, called hydrofluoroolefins (HFOs), has been slow in the U.S.
For technical specs on rigid foam options, click to read: Choosing the Right Thickness of Exterior Foam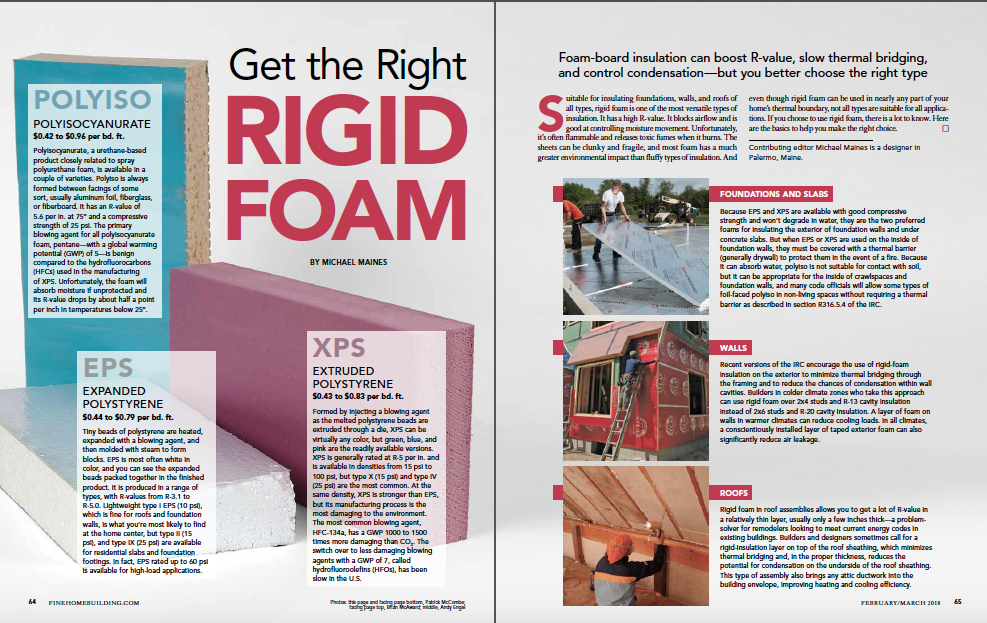 From Fine Homebuilding #273
For much more detail on how to select and use rigid foam panels, click the View PDF button below.
View PDF
Previous:
Rigid-Foam Insulation
Next:
Spray-Foam Insulation