Net-Zero Homes
High-performance features reduce energy consumption, but family habits are everything.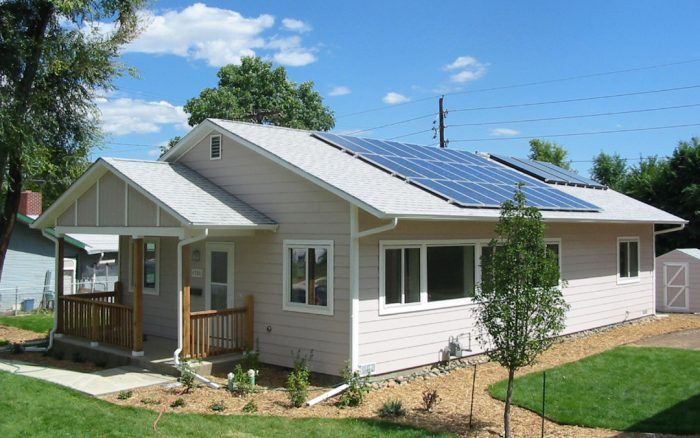 More advanced building materials and a better understanding of building science have made it possible to drive energy consumption down to nothing, resulting in a net-zero house when energy use is counted over a whole year.
Net-zero houses rely on renewable energy produced on-site, and they are usually connected to the utility grid. At times of excess energy production, electricity that's not needed is exported to the grid. For a solar home, this is during the summer. When there's not enough renewable energy produced on-site, the house draws on the grid for the electricity it needs. When the ebb and flow of electricity over a calendar year balances at zero, that's net-zero, or, as the Department of Energy prefers, a zero-energy building.
At first blush, that definition sounds simple. But net-zero can get complicated. There are actually a number of ways to define it, as Allison Bailes of Energy Vanguard explained in this post and then in a second, followup article. In a more detailed scenario, homeowners must account for the difference between "site energy," what's used at the house, and "source energy," the energy that's consumed at the house plus the energy it took to get it there. In this case, production as well as transmission losses and other inefficiencies are taken into account. When fuels other than electricity are used, such as natural gas for cooking or for heat, still other adjustments are made to the calculations.
If you want to dive deeper, you might consult this paper from the National Renewable Energy Laboratory for more detail. The Department of Energy addressed the issue in a 2015 report and devised its own definition, which you can read here.
Net-zero buildings are still relatively rare, but they are on the rise. A group called the Net-Zero Energy Coalition publishes annual  inventories of zero-energy buildings in the U.S. and Canada. The numbers are certainly up.
Common traits of net-zero houses
Net-zero houses are as varied as the architects and builders who design them. In addition to having a source of renewable energy on-site, these houses usually share a few common characteristics:
They have more insulation and better windows than conventional, code-compliant houses.
They have very low air-leakage rates.
Because they have so few air leaks, they also have whole-house ventilation systems that provide fresh air around the clock.
They have more efficient appliances, lighting, and HVAC systems.
They are grid-tied.
It's very difficult for an off-the-grid house to meet a net-zero definition because homeowners basically have no way of storing excess energy. With an off-the-grid house, all that extra electricity produced during the summer has no place to go. Off-grid homeowners usually end up running a gas-powered generator in the winter to keep their batteries topped off. A grid-tied house, in effect, stores the electricity on the grid for later use.
Building performance and net-zero energy
The net-zero concept for single-family houses doesn't make sense to everyone. One skeptic is Jean Carroon, who raised a number of concerns in an article published by the Northeast Sustainable Energy Association in 2017. "Why would we want an individual building to be its own energy plant?" Carroon asks. "This has never made sense to me."
One issue is the electricity storage that utilities provide to their grid-tied solar customers. Power production at all net-zero houses in a given region follow the same basic up-and-down curves during the year. But if all those buildings are drawing on the grid at the same time, aren't we asking the utilities to provide enormous storage capacity? And is that storage capacity ultimately good for the environment?
Another niggle is that if net-zero is reduced to a simple accounting problem—energy produced must equal energy consumed—buildings can still be relatively inefficient as long as they have the renewable energy to balance it. She uses as an example an office building in California with an "unremarkable" energy-consumption level that still hit net-zero because it relied on biogas and fuel cells for power. In theory, even a drafty cow barn could be considered net-zero if the roof could hold enough solar panels.
Net-zero also glosses over the carbon impact of buildings by focusing solely on how much energy is used. Carroon wrote, "I like the idea, found in a 2012 paper by Nick Grant of Elemental Solutions, that proposed energy demand targets be set for all buildings, new and old, independently of any renewables that may be purchasable or located on site. Even though this system doesn't address carbon accounting, wouldn't it instill higher overall performance in our building stock than a NZE [net-zero energy] moniker?"
Chris Magwood, who leads a sustainable building school in Canada, is among the builders and designers who have addressed carbon-accounting in construction. In a white paper published in 2019, Magwood argues that the need to cut carbon in the very near term has more important climate implications than building superefficient houses that will save a lot of energy over several decades. Net-zero is great over the long haul, but doesn't address our immediate climate problems.
It's the occupants who really count
Finally, consider the impact that occupant behavior has on energy consumption. On paper, a house may have the potential to operate at net-zero, but carelessness or inadvertent mistakes can easily tip the scales in the wrong direction.
Families living in nearly identical high-performance houses will use varying amounts of electricity based on their behavior. Some will hit net-zero and some won't. This was the case on Martha's Vineyard where the South Mountain Company built five net-zero houses for the Island Housing Trust. The company offered a $400 reward to any household that achieved net-zero operation; two families succeeded, the others did not. One family used twice as much electricity in the year as the solar panels provided. In another case, a child turned off a switch in the PV system that cut production one month to less than half of what it should have been.
Andy Shapiro, an energy consultant, summed it up this way: "There are no zero-energy homes, only zero-energy families."
More about net-zero homes
Net-Zero Design for Aging in Place – Homeowners work with Living Shelter Architects to build their energy-smart future.
On the Way to Net Zero – Renewables are part of the strategy, but conservation comes first.
6 Tips for Net-Zero House Design – Lessons learned from a high-performance, low-impact, and zero-maintenance home with stunning views to spare.
Net-Zero Historic Victorian – SALA Architects beefs up the energy efficiency and historical details of an early 20th-century house.
Net Zero-Ready Community – High-performance, affordable homes characterize this modern pocket neighborhood.
Previous:
New Homes: 9 Things You Don't Need, and 5 You Do
Next:
Anatomy of a Net-Zero Home